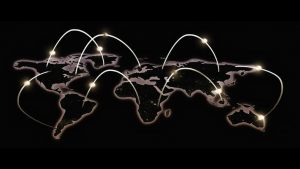 Concord is one of the leading vendors in contract management lifecycle. In December 2017 it announced the addition of collaboration to its platform. That news followed a $25 million funding round led by Tenaya Capital. Enterprise Times recently spoke to Travis Bickham, VP Marketing at Concord to understand more about where the company is headed in 2019. The conversation also covered how Concord will spend that investment and his views on marketing.
How will Concord spend the money from the funding round?
On the matter of where the investment is being spent Bickham answered:"It's all about growth. We will be investing on the product side. With that investment you will continue to see features and approaches that drive up market and horizontally in our customers. We are really focused on adoption. Contract management increases drastically in value the more it can be adopted within our customer base and across their companies. We are building out our team to focus on that."
Bickham clarified this by saying that the emphasis is on both industry verticals and horizontally. He added that the Concord vertical approach is fairly agnostic but also acknowledges that some verticals such as healthcare have more complex contract requirements.
Bickham added: "When I say horizontally I mean internally at a company. What we see is about 30% of our customer employees end up on Concord which is very high compared to other platforms. Our vision is that agreements touch every business process and every business user. We want to have every user in our customers on our platform. That's one reason why we have different pricing models to allow for that. From a future development stand point it is very key that the platform mimics the tools that we use in our day to day life."
There is an inference that Concord will address usability and use cases across internal departments in preference to industry specialism. The idea has merit but is the opposite of companies like Seal which are taking a specifically vertical approach such as with its Finance apps.
What is on the roadmap?
Bickham answered: "Nothing specific but we have some exciting stuff coming out. What we are focused on as a use case, is empowering the business user to create contracts that legal is comfortable with, without needing to go back and forth with legal."
This is not merely through the use of templates according to Bickham. He would not be drawn further on any specifics. What isn't on the roadmap is integration to either Slack or Microsoft Teams. Bickham noted that if organisations feel that they need integration to other collaboration products they can use the existing Concord API to do so.
Bickham justified this approach by saying: "Our vision is much more that all documents, all people and all processes should flow through Concord. The reason for this is that when you have all the data flowing through one system the analytical power of that and the business decision making power of that is significantly higher. We do not want to bifurcate the data flow and we really want our customers to have a single platform for all those business processes."
It is an approach that others may challenge. Employees do not only collaborate about contracts and many will not want to add another collaboration interface for its users.
Acquisitions and Partners
Organic expansion is not always the fastest method. ET asked Bickham whether Concord had any plans for acquisitions in 2019. He answered somewhat evasively: "None we are going to talk about. (We are) – focused on deploying the capital and going upstream to more enterprise customers."
To do so they may need to add more strategic partners similar to the existing Salesforce partnership. However Bickham does not see the company adding anymore strategic partners in the short term. He added: "For us Salesforce is our biggest strategic partner. It is something we will always consider going forward. Not necessarily for us personally, but where I think there is a lot of value is continuing to connect with e-procurement players, e-payment players and HR Players. We are continuing to roll out integrations with various partners. But in terms of giving someone that full strategic label we haven't found a partner besides Salesforce that we are ready to do that with, yet."
What might happen is that if Concord starts to integrate throughout businesses, ERP vendors may come calling. If they find traction in organisations using Oracle, SAP or even Infor ERP it could become a natural acquisition target for one of those vendors.
A maturing market?
While the Concord product is expanding its functionality are there any market trends that are concerning Bickham. His view is that the recent consolidation in the market, notably the acquisition of SpringCM by Docusign and Apptus by Thoma Bravo will continue. Fewer, larger competitors with keep the market landscape competitive but clearer. Are there any macro trends that concern Bickham at the moment.
"For us as a company certainly not. For the market as a whole we are looking at a few different things. Global trade being very impactful for our customer base. One thing I think we will see in the market in 2019 is that supply chains will need to be re-orientated and potentially renegotiated. This is potentially very painful for businesses with manual contracting processes.
"For example, North America with NAFTA and Europe with Brexit, you are looking at companies that may have to look physically at where they do business, their digital and physical supply chains and even where they hire employees. That is going to require a very high volume of agreements and if you are not able to execute quickly and in compliance it is going to turn into a major headache."
The disruption to trading agreements may mean that business for Concord and CLM providers is buoyant. With a mass of contracts to update more companies will look to automate the process as the savings could be considerable.
Evangelism or Education?
Bickham also believes that Concord still needs to educate the market about CLM. ET challenged him on this notion, is it evangelism or education? He clarified adding:
"I wouldn't say that it is zero to one type education. But I would say that given how long Contract management has been in the market and the unfulfilled promise in this space there is still a lot of legacy apprehension over: 'I bought this 5-10 years ago, it didn't work for me, why is it different now' and so seeing is believing. That is why we focus so much on implementation times, adoptability, the ability to expand within the customer base.
"Once people actually see what modern contract management looks like and the fact that it is not just for legal teams, it is really for everyone, that's the aha moment."
Bickham then summarised the state of the market and Concord by saying: "What we are seeing overall is that there is a maturing in the market and that maturing is leading to a belief that contracts are much more than documents, contracts are this agreement business process and that is what we are seeking to tap into with our 2019 road map and where we are going with our customers."
On marketing
Marketing is evolving rapidly and Bickham is one of a new generation of marketing leaders. He has a modern view of what marketing and especially content marketing should deliver.  He commented in a CONEX podcast that: "The content pyramid keeps you honest in your content creation and also keeps your content very clear and focused."
Enterprise Times asked Bickham how he would define marketing today. Bickham answered: "The way I think about marketing. If you were to envision a triangle. One leg of the triangle is product design. One leg of the triangle is company design, which is brand. The third leg is category design and that's defining the market you are in. I see marketing as owning that triangle and if you own it well that's how you win said market.
"Things like demand generation, customer touch points, content, all of those roll up to this bigger strategy. We have really seen marketing step to the front of company strategy around everything from go to market, to pricing and packaging, product feedback customer relations. In the world we live in the reality is that marketing is in a place to provide insights and move quickly to support all departments and take feedback from all departments."
To assist with this ET wondered whether he had a favourite tool?
"For me Bizable – which is marketing attribution, recently bought by Marketo. The reason is the ability to do full cycle revenue reporting. Marketing is actually similar to contract management in the sense that it doesn't live just within marketing anymore so you need the ability to understand how it influences the customer journey, the sales journey, anything really. The insights are key."
Enterprise Times: What does this mean
Concord appears to be on a roll. It is placed in the leader quadrant of the G2 Crowd contract management software. It does not yet appear in the Enterprise Grid though. This is something that Bickham is hoping to rectify but not at the expense of the mid-market customers.
If Concord achieves its objective in 2019 it may see more integrations with ERP companies. Whether it will do those itself or rely on those ERP vendors to integrate to it is unclear. To date it has integrations with Salesforce, Google Drive, Box and Dropbox.
Concord's approach to the market s slightly different to its competitors. It will be interesting to see if others follow its lead. Additionally, its existing funding will only take it so far. It will need to deliver the growth its investors expect to get in another round later in 2019 or beyond.