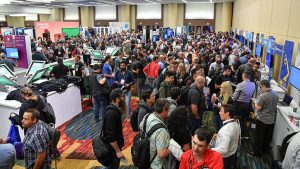 On day one of  DevOps World and Jenkins World, the Contributor Summit took place. Enterprise Times was lucky enough to catch up with Kohsuke Kawaguchi, CTO, CloudBees and creator of Jenkins. Kawaguchi was much in demand during the summit as Jenkins prepared for a major set up updates to its products.
Kawaguchi said that this is one of the few times the Jenkins has held a contributor summit to get everyone together. With contributors spread around the world, it's hard to create a real collaborative environment. In Kawaguchi's keynote, he announced five products as the Jenkins five super powers. He said that the Contributor Summit was a chance to update the community and get them engaged with these new products. CloudBees has worked hard to keep the Jenkins community at the heart of what it does and the Contributor Summit was a chance to show that.
Two years ago, Kawaguchi told us that Jenkins was working to clean up the number of plug-ins. It launched the Adopt A Plug-in programme to help those that no longer have time to support a plug-in. Kawaguchi says this is about thanking people for their stewardship and it is working really well. For many open source projects this ia tricky problem to solve and few have managed to do what Jenkins has done.
Jenkins is all about continuous integration and continuous delivery. Kawaguchi is keen to move beyond the idea of a plug-in world to something that is more responsive to user demand. While it will use the plug-ins as a base, the goal is to become more adaptive and deliver new capabilities in a continuous fashion.
Kawaguchi also talked about automation and the benefits of CI/CD when it comes to security. With Kawaguchi coming from the open source space we also asked if CloudBees recruited Jenkins skills from its contributors. The answer was no and in the podcast Kawaguchi explains why.
One project that was announced earlier this year and which has been getting a lot of traction is Jenkins X. It is focused on brining Jenkins and Kubernetes together
To hear more of what Kawaguchi had to say listen to the podcast.
Where can I get it?
obtain it, for Android devices from play.google.com/music/podcasts
use the Enterprise Times page on Stitcher
use the Enterprise Times page on Podchaser
listen to the Enterprise Times channel on Soundcloud
listen to the podcast (below) or download the podcast to your local device and then listen there