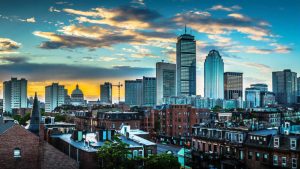 Kimble held its first US customer conference last week in Boston. The event was well attended with all those who registered attending. The program was a varied mix of thought leadership, product and case studies with ample time for networking in breaks. It was clear from the calibre and conversations that Kimble has built a solid list of customer advocates that should help with its expansion plans. Those plans were boosted significantly by a funding round led by Accel-KKR recently.
Customers had an early sight of not only the Summer '18 release of Kimble's application but also the future roadmap. With the release due out in a few days those customers unable to attend should take comfort that the changes were well received by the audience.
Rob Bruce hosted the event and gave a brief overview of Kimble's rapid progress. It has over 200 customers and more than 43,000 users who are logging more than 6 million hours each month. Growth in the US is accelerating fast with sales now higher than the home UK market.
The company is set to grow significantly thanks to the AKKR investment and will add 50 new heads in 2018 alone. It will also shortly open a new office in Boston to accommodate the new hires. Its presence in the US has also been helped by becoming a premier ISV Salesforce partner, one of only a few European based companies to achieve that status. It has meant that Kimble is now invited to more pitches by Salesforce than ever before where companies are looking for a PSA solution.
Best practices shared
The day was divided into 8 segments, the same number that make up a scrum in Rugby. With the event held at Scrum HQ the number was probably coincidental. Sean Hafferty, Director, Product Owner Private Clients & Partners at Scrum, Inc.gave a brief talk introducing Scrum. Scrum and agile working works, Hafferty commented: "In organisations that can make decisions in less than one hour their projects were 58% successful, it dropped to 18% if they took over five hours."
The issue that many companies face is that Scrum is not always uniformly implemented.  Hafferty emphasized that Scrum needs to become more of a culture than a methodology.  He noted that Scrum can start failing where there isn't full engagement. His view is that scrum meetings should replace all other meetings and as soon as companies start to introduce new meetings, or not use retrospective meetings correctly, it can lead to delays and failure.
Best practice in resource management
He was followed by Randy Mysliviec, Founder and MD of the Resource Management Institute. Mysliviec outlined the importance of resource management in professional services. He spoke about how project failure in the industry is the same as it was 20 years ago, 35%. He added: "My contention is at its because the industry hasn't solved the resource management issue."
His experience of consulting with companies reveals they have well documented processes for project management, but they don't have the same level of documentation for their resource management. His premise is that the most expensive resource for professional services firms is its capital. Companies not using best practice in resource management are wasting valuable resources. Issues that they often see are project churn where companies move people from project to project. This is disruptive and costly. The RMI promotes best practice, they aim to improve matching of people to projects, forecasting both short and long range through tools and techniques. Those individuals registering for RMI gain access to several white papers that can assist.
Mysliviec had five observations:
Have a centralised approach to resource management
Peer benchmarking is really important.
If you don't have a process you should get one.
Have an RMO (Resource Management Office)
Implement and get maximum value out of your PSA/PPM tool
Principles in practice
The final presenter was Shane Anastasi, author of The Seven Principles of Professional Services. CEO of CirrusOne, a company he helped to set up and led using the seven principles, putting his theory into practice. The company was very successful, becoming leaders in Quote-to-Cash consulting for both Oracle and Salesforce before its sale to VC backed Simplus. Anastasi view is that consultants should be proactive in engagements rather than reactive.
The results were impressive, of 200 projects delivered, 98% were succesful. Only one failed, according to Anastasi this was due to CirrusOne being caught between the software vendor and the customer.  Although others failed, they failed profitably for the business. His approach is radically different from traditional approaches.
He believes that the customer should never lead the project. Consultants are the experts and as soon as a customer takes control the consultant is no longer effective. He identified 10 consultant processes that needed changing. These included delivering a career path for consultants. This was well thought out and not something that would be achieved in six months, but it was achievable. The result was better engagement from those consultants and higher retention.
Anastasi is now the founder of PS Principles and is looking to spread his theory throughout  consulting. Having documented his theories and then successfully applied them in practice his principles and methods could revolutionise consulting across the globe.
What does this mean
The Kimble User conference may have been small but it was well organised with some inspirational speakers. As Kimble looks to grow, its relationship with RMI may become more important. If the views in the room are a reflection of the wider customer base then the company should grow significantly during 2018.
Its 2019 conference may require a larger venue and, if the speaker list is as strong, it should be equally well attended.