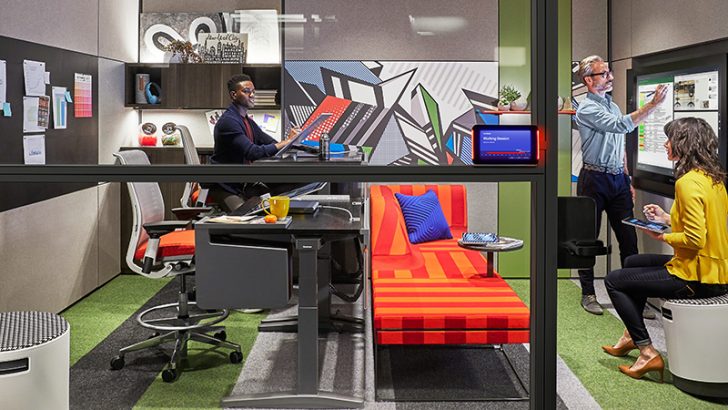 Ryan Gavin, General Manager, Surface Devices announced in a blog that Microsoft and Steelcase are joining forces. Steelcase is a leader in workplace design and architecture. This deal sees Steelcase integrate Microsoft Surface into five Creative Spaces aimed at unlocking employee creativity.
What are Creative Spaces?
Creative Spaces is the name given to a range of new work environments that mix space and technology. They are designed to allow employees to unleash their inner creativity for the good of the company. In a recent PWC CEO survey, creativity and innovation was one of the top five skills that employers are looking for. Over 30% of CEOs said it was more important than problem-solving , leadership and collaboration skills.
There are five different Creative Spaces as part of this announcement. They are:
Ideation Hub: A space for people to collaborate on new ideas
Respite Room: A quiet room for people to relax in while developing ideas on their own
Focus Studio: Big enough for two, this space allows people to work alone or with a creative partner
Maker Commons: Designed to bring entire teams together to generate and explore new ideas
Due Studio: Larger than the focus studio this is designed for two person collaborative projects
Steelcase is to showcase the Creative Spaces in their WorkLife Centers in 10 cities worldwide. This includes London, Munich, New York City and Los Angeles. They are also going to be reselling Surface Hubs to their customers as part of the Creative Spaces architecture.
Conclusion
Creativity isn't always top of the list inside tech companies. This is evident in the generally poor state of the User Interface (UI) and User Experience (UX) of many tech products. As companies look for new ways to win market share and to appeal to a new audience, creativity is becoming more important.