Workday posted record revenues in the fourth quarter driven by subscription revenues up 35% year on year to $436.7 million. Full year total revenues were also up 35% to $1.57 billion. Aneel Bhusri, CEO is now looking towards $2 billion in revenues for 2018. Robynne Sisco, Chief Financial Officer, Workday commented: "As we look ahead to fiscal 2018, we estimate that total revenues will be $2.005 to $2.025 billion or growth of 27-29%, putting us on track to be only the second true cloud company to reach this significant milestone."
While Workday posted an operating loss of $376.7 million (24% revenues), up from last year it has a non GAAP operating profit of $29 million (1.9% revenues). After hours trading saw a fall in stock price but the overall trend is up with these results well received by analysts. The share price closed on Monday at 90.19 (up 0.61%) and the overall trend for the year is still up. The close on 29th February 2016 was $60.45.
Cash flows are also strong at Workday with cash standing at $540k compared to $300K a year ago. This stands the company in good stead for the coming year. While Bhusri did not reveal the latest customer satisfaction rate he was succinct when asked about renewals saying: "I will just say is, it was over 100%." (Source Seekingalpha.com)
More customer big wins for Workday
Bhusri also unveiled some new customer wins for HRM as he commented on the last quarter.  The deal with Wal-Mart hit the headlines and was the highlight of the quarter. This caused the shares to be temporarily suspended due to market reaction to the deal. It was not the only deal last quarter with BP (79.800 employees), Deutsche Bank (over 100,000 employees in 2015) and Dow Chemical (10,000 employees) all mentioned.
At the end of the year there were1,528 HCM customers including 136 of the Fortune 500. Over 70% of these are in production and therefore earning revenues.
Expansion and restructure at Workday
Another sign of Workday's success is that Bhusri announced a restructuring of the sales function. Chano Fernandez, takes on the role of executive Vice President Global Field Operations. It was unclear who would pick up his role as head of Europe and APJ or if he will continue in both roles.
Over the last year the company has expanded rapidly, adding 1,400 employees and reaching a total workforce of 6,600. Bhusri announced that the Sales function in North America will now be split between mid-sized and large enterprises, with a senior executive heading each one. This is a sensible move as it will allow Workday to deliver different strategies for each market segment. As the European operation grows it will be interesting to see whether it completes the same restructure there.
New products
Bhusri also announced the arrival of a new product, Workday Financial Performance Management (WFPM) which is available now. WFPM consists of financial consolidation, financial reporting and management reporting. It also has a connector that will allow it to integrate with third party applications.
That integrator is important as it will allow companies to start using ASC606 reporting once installed using Workday rather than a legacy solution. This is an interesting tactic as it will allow companies to implement the reporting system while retaining their legacy solution to deliver the new accounting standard. It gives Workday a foot in the door that they will hope to expand to swap out the legacy solution.
Workday also announced that they will publish their results using the new revenue recognition rules in future. It demonstrates that the software is ready to deploy and meets the new regulations. It is another smart tactic from Workday, ten months ahead of when they needed to do so. Under ASC606 their non GAAP operating margin actually increases to 3.3% from 1.9%.
Workday planning sales have gone well, with five Fortune 500 companies signing up since it became available in September 2016. These include Wal-Mart, Nationwide, Stryker and Netflix. Bhusri seems confident that the take-up of Workday Finance is also increasing.
Conclusion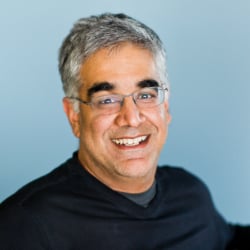 This is a solid set of results from Workday. The announced wins backed up Bhusri's statement that they are winning business from SAP and Oracle. With Workday seemingly winning new customers and their revenues increasing steadily the future looks positive. The introduction of WFPM is a smart move. It may see them further penetrate the Oracle and SAP market.Companies are looking for a lower cost option to meet revenue recognition requirement rather than a complete upgrade to their existing systems.
The key thing for Workday is the Walmart implementation. If this goes well then other large companies will consider them a real alternative to SAP and Oracle. They are starting to get the early adopters live on the system now. With renewals at an all time high other large enterprises are likely to come across to them.
While Bhusri indicated a fall in professional services revenues, this is not a bad thing. It shows that the maturity of the implementation tools now delivers their solution faster and for less cost to customers. It will also help Workday to scale more rapidly and bring in an increasing number of sales without major impact on resources.