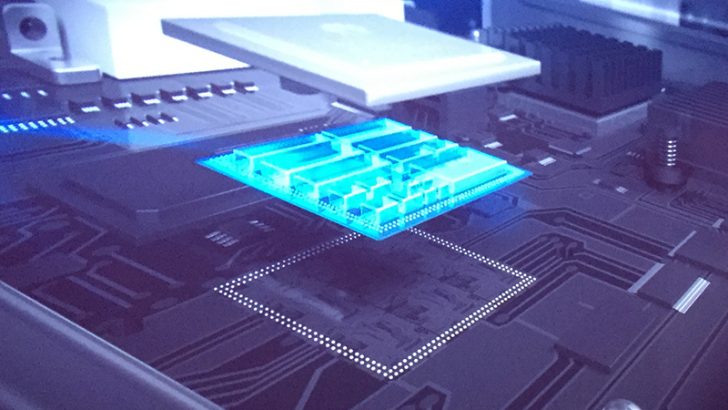 Huawei has announced its latest multi-socket monster the Huawei KunLun 32-socket server. The announcement further strengthens Huawei's position in the enterprise server market and puts it at the top table when it comes to enterprise computing.
According to Gartner, in Q3 2015 the mission critical computing market represents around 10% of the server market by volume but 60% in terms of cost. With companies continuing to rationalise their enterprise IT environments this market becomes more important. It should come as no surprise that with so much money being spent on these systems Huawei wants to be a player.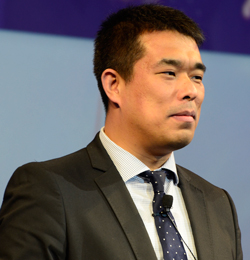 On stage at the launch Cody Wang, General Manager, Mission Critical Server, IT PL, Huawei said: "Mission critical computing is a huge cost for customers especially in banking and manufacturing. We needed to make a change and now we are seeing a new era of mission critical computing."
It will be interesting to see how enterprise customers respond to this launch and who Huawei announces as its first customers. For example, it has announced that its deal with Deutsche Telekom to deliver a cloud service is now live. Surprisingly there was no discussion of what hardware was installed and it would have been interesting to see the KunLun 9032 deployed as the basis for a highly dense cloud platform.
Another potential customer announcement is SAP. Huawei has been delivering the FusionServer converged system for SAP HANA for a few years now. Although the launch went on to talk about performance with SAP HANA in-memory databases there was no significant announcement of SAP deploying the KunLun 9032 across its own cloud computing environment.
Moving mission critical from RISC to x86
What is a surprise is that unlike many mission critical solutions that are built in RISC chip technology, Huawei has focused on Intel Xeon processors. This is good news for Intel who has begun to see the impact of IBM's POWER processor in the high-end server market. Intel has also struggled to find a champion among its hardware partners who is prepared to invest the large sums required to create a 32-socket solution.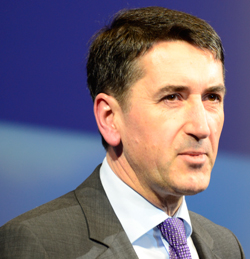 The announcement has been welcomed by Peter Gleissner, Vice President, Sales and Marketing Group Director, European Union Region, Intel who told the audience that the KunLun 9032 was: "..using the latest Intel Xeon E7 processor which is designed on the legacy of the Intel Itanium processor."
What Gleissner chose to ignore was that the US Government has already put restrictions on who the Intel Xeon E7 can be sold to in China. What will be interesting is how that control will be maintained here.
Huawei would be the purchaser although not the end-user of the processor. Will Intel now require Huawei to clear every sale of the KunLun server family with it before they are shipped to customers? Without that it is hard to see how Intel can meet the requirements of the US Governments export controls.
Three members of the KunLun family
There are now three members of the Huawei KunLun product  family, the KunLun 9008, 9016 and 9032. The number of sockets is determined by the last two numbers which means customers can buy an 8, 16 or 32 socket product. What isn't clear is if there is an easy upgrade path or a complete rip and replace approach to this solution.
With all of the components including the processor and memory being hot swap it would make sense to look at a single motherboard rather than multiple boards. This would allow customers to upgrade by just adding in the additional processors and more memory rather than swap out the hardware for a new model. It would certainly be less disruptive but talking to people on the Huawei stand the company has no plans to go down this route.
In order to achieve their goals of mission critical on a 32-socket server Huawei had to create its own chip and write key parts of the software. Wang told the audience: "[We are] using a Huawei chip to make this work. We coded our own BIOS and built a proactive failure analysis engine to forecast the potential failure. You don't need to power off the system to replace the potential component changes."
X86 means a ready access to software
One of the advantages of building on x8 technology is that Huawei has a ready access to a large amount of software and operating systems. At the CeBIT launch of the Huawei KunLun 9032 it pointed out that the system would run Linux and that meant there would be a large amount of software that was readily available for the platform.
Among the launch partners were SAP and SUSE who have ported their Linux Advanced Server. How long it takes to get Red Hat and Canonical to port their applications to the server is unknown. If it can capture the big three then it will have a much more interesting package to offer customers. It will also be interesting to see when Huawei announces that the OpenStack port it has built with Deutsche Telekom runs on the KunLun 9032. This will then show just how open the platform is.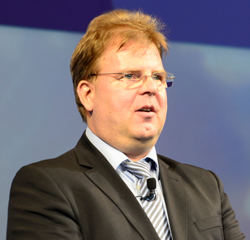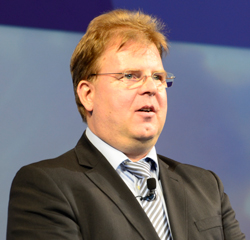 Ralf Flaxa, President of Engineering, SUSE told the audience: "Whether it is chip, systems or software we are pushing Open Source to the limits and giving it the German quality it needs to be mission critical." It's an interesting statement and one that raises a question as to exactly what, other than their operating system, SUSE has contributed to this development.
Unsurprisingly one of the software packages mentioned was SAP. Huawei and SAP have been getting closer and closer over the past few years with Huawei becoming a critical partner in delivering converged hardware platforms for SAP HANA. At the launch it was announced that a 24TB HANA single node had not only been tested, but successfully evaluated and deployed.
The 24TB SAP HANA was tested against Huawei's own FusionServer 8100, an 8-socket solution running a 6TB SAP HANA database. As this was a private test the details of configuration and data are unclear but in both instances the database was apparently fully in-memory. What appears impressive is that rather than get a 4x improvement in performance the KunLun 9032 achieved a whopping 11.3x overall improvement.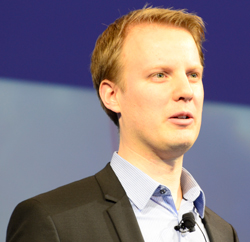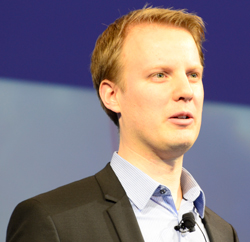 On stage Johannes Woehler, Vice President, HANA Platform and Databases, SAP said: "For us everything is built around HANA. HANA changed the game for customers who want to do real-time access for data and they are now able to run transaction and analytical workload on the same data in-memory."
Talking specifically around the relationship between SAP and Huawei Woehler said: "[We have a] joint collaboration technology centre in China focused on testing and collaborating around S4 HANA. HANA operates Huawei FusionCube servers for customers who want a mission critical appliance." This latter statement seems to have sidestepped an endorsement for the KunLun server family to be the replacement for the converged infrastructure FusionCube servers.
Taking benchmarks to new levels
To further emphasise the performance of the KunLun 9032 Wang showed off some benchmarks that they had achieved. Huawei is now claiming the No 1 spot for the SPECint_rate2006 Benchmark. The KunLun 9032 achieve 22,700 edging out the SGI UV 300 (22,600) which is also a 32-socket server. While an increase of 100 might not seem much of an improvement at this end of a benchmark it is fairly significant.
Wang also showed off a test by HammerDB around the tmpC for OLTP workloads benchmark. Here the Kunlun 9032 was more than 1.5x faster than the KunLun9016 and an unnamed 16-socket RISC server.
It will be interesting to see if Intel pushes Huawei to capture more benchmark records. When it launched the Intel Xeon E7 v3 it pushed all its partners hard to ensure it could claim back a bunch of benchmarks IBM had taken with the announcement of its Power Systems solutions.
Conclusion
Mission critical computing is expensive but a growing market. Driving it is the realisation that there is no room for downtime in a modern Internet driven world. What Huawei has done is something that HP, Dell, Lenovo and other Intel partners have shied away from and taken the x86 architecture into direct competition with RISC-based systems. Part of the reason for others being slow is the cost involved in doing that development work and this project is as much about Huawei making a statement as it is delivering a solution that customers want.
Watching all of this will be IBM. It has been gaining a lot of traction with its new range of mainframes and Linux on z Systems. Huawei has made it clear that it is going to target OLTP systems with the KunLun 9032 and that means it will come into competition with IBM z Systems group.
There is also a clash pending between IBM Power Systems and the OpenPower Foundation with Huawei. The KunLun 9016 is likely to find itself head-to-head with the POWER8 processor especially around big data and analytics as well as cloud. With the POWER9 processor likely to be announced this year and ship in 2017 it will be interesting to see how IBM fights back. China is a big market for mission critical computing and IBM has been clever in giving the POWER8 code to the OpenPower Foundation members which includes a number of Chinese partners.
Whatever happens from here will be fascinating. There hasn't been much in the way of aggressive competition in the high-end mission critical space due to the cost of getting involved. With Huawei clearly setting its sights on this market we should see new products and capabilities emerge over the next couple of years and prices come down.
Will Huawei take a significant portion of the mission critical computing market? It's hard to say at this early stage as it will all depend on getting the price right and demonstrating enough solutions on the platform. That said, it's hard not to see a future where Huawei takes a sizeable bite out of the existing incumbents.