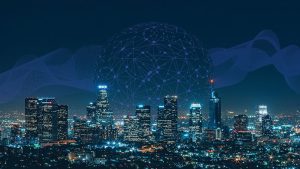 PropTech isn't one of those shiny buzzwords that get tossed around before disappearing into oblivion or taking years to achieve a practical level of maturity. Instead, PropTech is irrevocably changing the real estate industry by reinventing how residential and commercial properties are researched, rented, bought, and sold. Powered by the cloud, automation, AI & ML, and data analytics, it plays a significant role in creating new business models and becoming more customer-centric.
From the PoV of developers/owners/managers, it allows them to effectively manage the property lifecycle – from eliminating manual workflows and lowering TCO to offering virtual property tours and personalizing marketing communication. From the prospect/tenant's PoV, PropTech empowers users to effortlessly browse curated listings, make payments, get real-time maintenance alerts, and more.
Read how technology improves property management in real estate.
Given the industry-agnostic certainty of digitalization, the speed at which realtors, customers, and overlapping third parties have adopted PropTech software shouldn't be surprising. Changing user preferences and new customer demands are driving digital transformation across many competitive marketplaces. The real estate industry is no different.
Recent studies indicate that it has seen an uptick in adoption.
Why business users are at the heart of PropTech innovation
Like any other future-ready technology, PropTech's success is heavily influenced by the multiple teams impacted by its implementation. While autonomous solutions are gaining traction today, business users are at the front and centre of real estate innovation. Unless property management solutions help them overcome their biggest challenges, it will impact the customer experience they deliver.
For instance:
Will the property management software bring together sales, marketing, and finance functions and make it easier for these teams to collaborate and achieve their respective goals?
Can their business intelligence teams avoid the delays and inaccuracies inherent to property/customer data collection?
PropTech should simplify the lives of property managers too.
Does it free them from tedious processes to focus more on tactical tasks?
Can they easily centralize record-keeping on the cloud instead of going back and forth with multiple touchpoints?
If the answer is anything but "Yes," it may not have been the right PropTech solution.
One of PropTech software's goals is to build a fully integrated ecosystem that tackles traditional real estate challenges that continue to haunt several property management teams. However, even if these teams use multiple tools, the lack of a cohesive digital strategy may negate the benefits of modernizing day-to-day operations. As a result, business users are likely to slip up during some step or the other of the property management lifecycle.
So, what are the biggest challenges that an integrated PropTech solution can help them overcome?
Challenge 1: Costly and time-consuming manual-intensive processes
Mission-critical property management processes like sales, leasing, renting, billing, subcontracting, and facility care have been traditionally manual-heavy. Employees must clock several hours – performing lengthy and repetitive tasks so that the lifecycle is uninterrupted. Property managers may face difficulties trying to communicate with customers on a timely basis. Or finance teams may get slowed down by complicated workflows while enabling billing or payment.
How PropTech delivers:
PropTech software primarily looks to streamline daily operations – backed by AI and ML-led automation. Realtors can deploy automated pre-defined workflows for their business teams to complete their day-to-day back-office or front-office processes quickly, efficiently and with high accuracy. These processes include lead generation, transactions, contracts, asset management, etc. It results in more operational efficiency while giving employees the freedom to focus on delivering strategic value.
Discover how an end-to-end property management software can streamline real estate transactions.
Challenge 2: Poor information transparency leading to reactive decision-making
Large volumes of property data traditionally get stored on physical servers, which can be expensive to maintain and upgrade. There's also poor information transparency – leading to reactive decision-making. Realtors have had to let their business users go on a wild goose chase for far too long when they need data the most. Realtors have relied on their gut instincts to manage growing portfolios, assess compliance risks, widen the supply chain, engage tenants, etc., instead of leveraging hard-hitting data insights.
How PropTech delivers:
New property management solutions use cloud hosting that centralizes the database. They deliver easy access to backup and updates while offering cost-efficiency and on-demand flexibility. It's also crucial that the data collected from disparate touchpoints is quickly interpreted into business intelligence and easily accessed by different property management teams so that they can act in real-time. PropTech software also offers easy access to backup and updates while offering cost-efficiency and on-demand flexibility.
Challenge 3: Archaic customer experience out of tune with current digital habits
As earlier mentioned, today's customers have uncompromisingly modern expectations on their property buying/renting journeys. In addition, they are so accustomed to digital transformation that archaic communication channels or cumbersome paperwork may lead to a premature end to the journey. Unfortunately, adapting to their current digital habits is no easy task. It involves meeting their demands across multiple channels throughout the property management lifecycle.
How PropTech delivers:
PropTech focuses on driving proactive customer experiences. It will allow prospects and tenants to find the information they need, make payments, and connect with property managers quickly and easily. Hence, customer portals are deployed to provide a secure digital interface for users to carry out these processes. And since the property management teams are armed with real-time data analytics, they can do their bit to elevate customer engagement.
Wrapping up
As 2022 is about to reach the mid-way mark, it's increasingly clear that remote and hybrid work cultures will dictate software adoption in the real estate industry. Digitalization is both a short-term and long-term strategy that is not just worth investing in to be future-ready but also a means to survive. While the pandemic remains the elephant in the room as realtors discuss their future plans, there's no doubt that cutting-edge PropTech solutions will keep emerging as a powerful catalyst for change.
---
Aspire Systems is a global technology services firm serving as a trusted technology partner for our customers. We work with some of the world's most innovative enterprises and independent software vendors, helping them leverage technology and outsourcing in our specific areas of expertise. Our services include Product Engineering, Enterprise Solutions, Independent Testing Services and IT Infrastructure Support services. Our core philosophy of  "Attention. Always." communicates our belief in lavishing care and attention on our customers and employees. Aspire Systems, An Oracle Partner has built iEstate, a SaaS, Proptech solutions for Real Estate, Retail, Banking & Telecom industry sector on the Oracle cloud platform. It helps lease management firms business process, property developers, real estate companies and so on. To learn more about Aspire Systems iEstate visit: https://www.aspiresys.com/real-estate-property-management-erp-software/ or more information, write to [email protected]