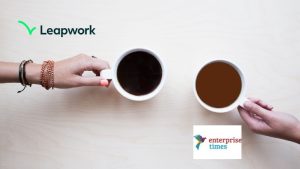 Enterprise Times recently spoke to Christian Brink, CEO of Leapwork. We first asked him to explain a bit about Leapwork.
"We're working in the QA automation space. We have created a visual language that enables business users to do automation. It is the only tool that can do that. When you look into key tech applications like Salesforce, SAP, etc., those who understand the business processes are business people and not programmers. We have created an automation tool for them."
What can you share about the size and progress of the company to date?
"We are above 200 employees and have more than doubled our growth every year. We have 11 offices throughout the world. In the summer we received $62 million in external funding from KKR and Salesforce (Ventures)."
The company also has more than 30 partners, including some of the largest Global SI's such as Accenture, Capgemini, TCS, and KPMG. There is also a mix of IT consultants, technology vendors, and training experts from across the globe.
What's your target market?
"Geographically, it's EMEA and US. When we look at industry, 40% of our customers are banking and financial services. In fact, we're industry agnostic. If you're a big enterprise, then you can make good use of the Leapwork because they share the tech stack: SAP, Salesforce and ServiceNow and web technologies and onwards."
On product
Leapwork works across various software solutions, including Oracle, SAP and Salesforce. What are the product capabilities?
"We are an end-to-end test automation platform and we use best of breed technologies to automate each area. We can automate everything web-based using Selenium, but you don't have to know anything about Selenium to use it. Leapwork uses this flowchart model, like Lego blocks that you just cobble together. You click this, type this and so on, which makes it easy for business users to use.
"We do this across all applications and any technology. As I mentioned, web-based technologies such as Salesforce, ServiceNow, and so on. Desktop technologies for Windows, and we have mainframe technology. We're the best platform to automate green screens. For everything else, remote desktop and Citrix environments we use advanced imaging and text recognition, AI and so on."
What is on the roadmap?
"In the short term, it's getting better at all of these and expanding on all of these platforms. For the longer term, it's autonomous testing."
Why Leapwork matters
Where do you differentiate?
"We differentiate from any other platform by being end-to-end testing, Most of the test tools out there are web-based. Then we differentiate by being the only platform that business users can use to automate, which is why Salesforce bought into Leapwork.
"When you understand the business processes in a sales department, you should be able to automate. With today's tools, you need to be a programmer. If you're a programmer, you don't know what happens in Salesforce."
When you say business users, are you talking Salesforce admins or business analysts?
"It can be a business analyst or testers in a QA department. The big differentiator is we've created a methodology that is easy for business users to automate, which means that we're democratising who can automate. We also have made a methodology that is easy to maintain.
"The thing about test cases is that they are dynamic. The automated processes you make break all the time because the software changes. If you want to make it scalable, you need to make it easy to maintain. That's what we cracked with Leapwork."
What's the big problem you want to solve?
"All enterprises right now are going digital-first, especially since COVID. The pitfall about being digital-first is that you're now dependent on business continuity, on all systems. That is ever increasing, which is why that automation is becoming even more important. Capgemini says that 15% of all test cases worldwide are being automated. The majority is manual work, and that's what we're solving with Leapwork."
Pricing and partners
What's the pricing model?
"It's bespoke to the large enterprises. It's a mix of the number of users and the load to the specific use case. The use cases can be almost infinite because it can support all the applications that you have in a company, which are at least in the hundreds."
Knoa is another testing platform that has a close relationship with SAP. ET asked Brink whether it has similar relationships?
"Web-based technologies like Salesforce is definitely one of the key drivers to get into companies, mainframe is another one, and then web-based technologies in general. We're super good at Salesforce but equally good at Microsoft Dynamics 365.
"Most vendors are good at one thing, but if you are in a QA department, you cannot have 40 to 50 Different automation tools. That will not scale. That's the one that we've cracked for these large enterprises. We can support it all."
The book question
What's the latest book you read, and what was your takeout from it for it? Promise?
"It was John McMahon's latest book, which is called The Qualified Sales Leader (Amazon Aus, UK, US). My takeout? How to build consistent, predictable revenue streams and how to sell enterprise solutions."