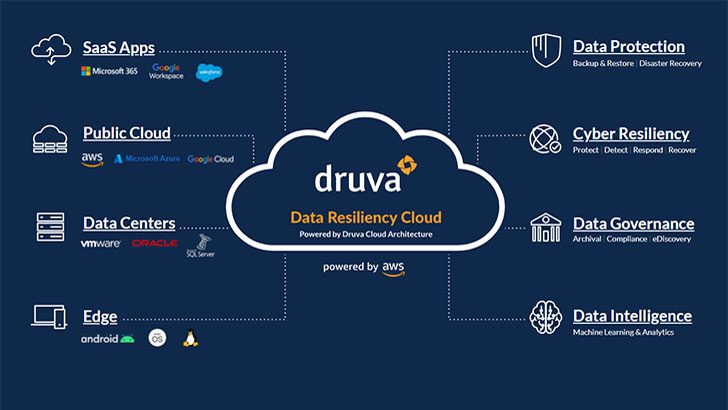 Druva has unveiled what it calls the first Data Resiliency Cloud. The SaaS solution is part of the company's plans to help companies move to the cloud. It is designed to protect an organisations data assets from endpoints to servers, SaaS applications to the datacentre. It sits on AWS, and one of its targets is to provide a single point of protection for data scattered across multiple clouds.
Jaspreet Singh, founder and CEO, Druva, said: "Enterprises are working to stay ahead of three major trends: the accelerating rate of cloud migrations, the massive growth of data, and the concerning levels of malicious attacks.
"When data is resilient, a business can get back to business, and we are on a mission to make data resilient, secure, accessible, and actionable for organisations around the world.
"The Druva Data Resiliency Cloud is the culmination of years of unparalleled industry experience building a completely cloud-native platform, which we believe is the end-game of data resiliency. Leveraging the core innovations and benefits of the public cloud, we are bringing customers and partners a truly unmatched experience."
What is Data Resiliency Cloud?
It's an expanded backup system that draws data from wherever you have it. It doesn't have a problem with scale, as it will continue to grow as your data grows. There is no hardware or media to add to the solution, just a cost for the cloud storage sitting on AWS. Druva claims that there are five benefits that customers will get every day:
Multi-Cloud Control Pane: Support for all data and applications with globally distributed, cross-cloud recovery capabilities.
True Cloud Experience: Druva's 100% SaaS, consumption-based pricing allows customers to benefit from economies of scale and drive down the total cost of ownership.
Multi-Layer Cyber Defense: Automatic ransomware protection, scalable orchestrated recovery, and complete operationalisation by Druva with pre-built integrations with Security Monitoring (SIEM) and Security Orchestration (SOAR) tools.
Cloud Data Ops: A pioneering approach to leverage data for multiple use cases including backup, disaster recovery, archiving, e-discovery, data cloning, and analytics.
Autonomous Platform: See the difference with radical simplicity, AI and machine-based deep-learning, and built-in ransomware recovery, policy automation and cost savings.
Digging a little deeper, three Druva products underpin the Data Resiliency Cloud. Druva inSync enables the backing up of SaaS applications and endpoints, Pheonix brings in data centres, and CloudRanger backs up AWS instances.
This leaves several questions to be answered. For example, inSync talks about backing up  Microsoft 365, Slack, Google Workspace, and Salesforce. If you rely on other apps, when will inSync support those, or will it be down to customers to use the APIs to integrate other SaaS apps?
The same is true of CloudRanger. The Data Resiliency Cloud talks about backing up data from any public cloud, but the CloudRanger documentation only mentions AWS. Will there be additional extensions to support Azure, Google Cloud and even OpenStack cloud environments?
Pricing
Cloud-based pricing is under much scrutiny these days, especially when it comes to software. Druva is pricing all of its products by the month, and there are different plans for each of the four elements. It means that companies will need to mix and match for their environments, something that will not be as simple as Druva suggests. This is especially true of cloud-based environments where companies will need some way to track the deployment and retirement of new assets and make sure they are properly enrolled/deleted from the Data Resiliency Cloud.
SaaS Pricing: There are three levels which are all feature dependent and chargeable per SaaS product. Interestingly, although Slack is mentioned in the inSync product documentation, there is no pricing under the SaaS section. The three levels offered are Business, Enterprise and Elite. Pricing is per user, per month, with only Business and Elite providing any protection for Salesforce.
Endpoints: There are just two pricing tiers here – Enterprise ($8 per user/month) and Elite ($10 per user/month). The primary difference is that Enterprise supports what it calls defensible deletion and an eDiscovery feature.
Datacentres: Three plans are available, and all charge per Tb/month. They are Business ($210), Enterprise ($240) and Elite ($300). The costs come after deduplication which should see a significant saving for organisations backing up different data centres worldwide. Only Elite has support for cloud disaster recovery and ransomware recovery.
Cloud: There is NO pricing for anything other than AWS. It once again raises the question over the claims of support for Azure and Google Cloud. The three levels are Freemium, Enterprise ($7 per resource/month) and Elite ($9 per resource/month). The differences between Enterprise and Elite are around the number of managed AWS accounts and the SLA.
Enterprise Times: What does this mean?
Anything that improves the data resiliency of organisations is good news. However, there is some mixed messaging and some real limitations here. Claims to support all public clouds with only pricing for AWS makes no sense.
Neither does the extreme limits on the number of SaaS applications. The most confusing item on SaaS is the use of inSync. It currently supports apps like Slack that are not yet priced into the Data Resiliency Cloud. How soon before Druva adds support for other SaaS applications. If it doesn't, will customers have to use inSync and the APIs to do the heavy lift?
Customers would also benefit from a costs estimator given the number of options that are currently available. For example, with datacentre, the pricing comes after deduplication. A cost estimator providing a realistic idea of the amount of raw data and the expected deduplication level would be invaluable. Without this, organisations could sign up and find they are paying substantially more than expected.
The big value for many customers here will be Druva's multi-layer cyber defence claims and its autonomous platform. Only customers opting for the Elite level across the board, will reap the benefits of all these features.