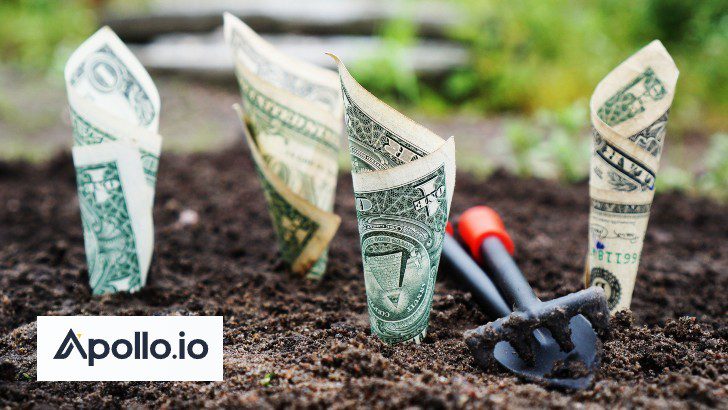 Sales intelligence and engagement platform Apollo.io has raised $32 million in a Series B funding round led by Tribe Capital, with participation from NewView Capital and existing investor Nexus Venture Partners. Apollo last raised funding in 2018. Nexus Venture Partners led Series A alongside Y Combinator and Social Capital, raising $7 million.
The funding round followed a year of success when it grew its user base by more than 200%, with 9000 paying customers and achieved 1 million user signups. Apollo.io has a free tier that offers limited email credits each month. Importantly the company has maintained profitability for the last 18 months and is now poised for growth.
What is Apollo
The Apollo platform combines functionality around the data, workflows and intelligence. The platform integrates with leading CRM solutions, including Salesforce and Hubspot. It helps provide Sales reps with leads from a database of more than 200 million contacts, with an accurate email address and phone numbers. The workflow element enables organisations to create sales processes that include emails, phone calls and tasks to improve the go-to-market for their organisation. Apollo intelligence has an analytics layer that provides reporting capturing insights and performance. It also embeds intelligence into the platform, and users can access a lead scoring engine and the Cockpit. The Cockpit provides Sales reps prioritizes actions to ensure that the best leads are not ignored.
Michael Transon, CEO, Victorious, commented, "We are incredibly thankful for Apollo. We've solved the biggest problem for every business, the lead problem. We are now constrained by sales time and don't lack interested prospects."
Recent improvements to the platform include the addition of an international dialer, contact and account intelligence improvements and a sophisticated automated prospecting engine. It also revamped its LinkedIn extension. In October, it also updated its logo with a new look.
What is next?
With funding secured, it will invest in R&D and also aims to target medium-sized and enterprise clients. To do so, it will invest in sales, marketing and operational resources. It will also look to expand its leadership team. As part of the funding Sri Pangulur, a partner at Tribe Capital, joined Apollo.io's board.
Pangulur commented, "Apollo is challenging the status quo in B2B lead intelligence and sales engagement by making contact data and prospecting tools in this space more accessible. Seeing the company's incredible growth over the past year, enhanced product offerings and new client acquisitions, we are confident in Apollo's ability to disrupt the sales tech market for B2B companies, offering a more intelligent, more cost-effective and simpler solution."
With regards to the R&D investments, the press release is a little vague. It states it will "refine its category-leading technology". However, if it also seeks to target enterprise customers, it may need to improve the administration and compliance within the application.
What is clear is that there is an opportunity, one that Tribe believes exists. Apollo.io Co-Founder and CEO Tim Zheng commented, "Sales professionals at B2B companies are burdened by a go-to-market process that's manual, tedious and complex.
"It's stifled by convoluted workflows, very little guidance, lengthy onboarding and high price tags for name-brand solutions. This funding will help us further accelerate our product-led growth model, which has seen tremendous success in the contact data space.
"Apollo's vision is to give its customers the most powerful and intelligent GTM platform in the industry so that they can reach their full market potential. We want to make access to B2B data even easier while enhancing the data with sales intelligence and automated workflows." 
Enterprise Times: What does this mean
The Apollo Sales Intelligence platform is certainly one to watch. It is already a momentum leader in the latest G2 Grid for Sales Intelligence. It just places ahead of the pack for the main G2 Grid for Sales Intelligence. However, it is not yet a leader in the mid-market or enterprise grids. Can it move up the grid?
This is a crowded market, and one concern is that it does not have a clear focus for its efforts yet. Can it grow fast enough across all segments for its solution? How will it further improve the platform? Will it extend the functionality? Make acquisitions? Perhaps with further growth, a much larger organisation might acquire the startup?