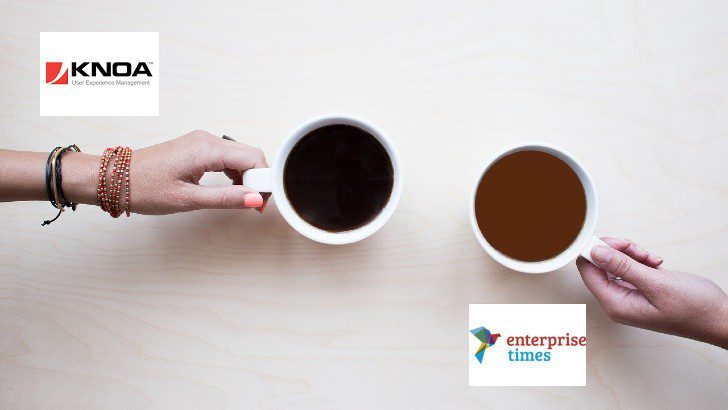 Knoa Software provides User Experience Management software. While it has a close relationship with SAP, and its software is on the SAP price list, it works across all solutions. That includes Oracle; a relationship boosted recently when Magia Solutions, one of the largest Oracle partners in Australia, signed on as a channel partner. Enterprise Times caught up with Brian Berns, CEO and Chairman and Josh Tambor, Customer Success Manager at Knoa Software.
Over the last few months, Knoa has also introduced new features into the product. It launched Oracle UEM in March. It also announced a new ROI calculator that benchmarks and measure the ROI and potential ROI of Knoa.
On Knoa Software
Enterprise Times first asked Tambor to give a thirty-second pitch for Knoa.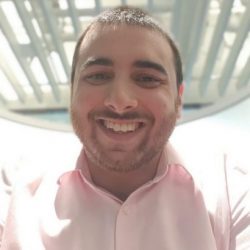 "There are three components that go into Enterprise Applications: people, process and technology. There's a lot of time spent monitoring process and technology, but very little looking at people. Knoa is the missing puzzle piece to that. Knoa unlocks and helps organisations understand how people interact with process and technology to drive a business outcome.
"Something I share with customers, which resonates very well, especially in the C suite, is, 'What we show to you is the lived experiences in moments that matter'. The most important transactions that your employees are taking on. Whether they're internally or externally facing with customers, and how that impacts the business process that you ultimately take on."
Berns shared that while it has hundreds of customers worldwide and over 2.5 million agents, as a private company they do not share much about the company itself. Its sales team is effectively virtual as it leverages the SAP sales organisation rather than a direct sales team. LinkedIn notes the company has around 39 employees, but it acts like a much larger company with mainly indirect engagements.
On partnerships
Besides SAP, what other strategic partnerships does Knoa have? Is Oracle one yet?
Berns replied, "I would say it's not formal, but we are speaking with Oracle. We have relationships with practically every SI in the field: EY, Accenture, IBM, Infosys and Deloitte."
And the SAP relationship, how is that?
Berns answered, "Good. The whole pandemic situation has driven demand. With SAP, we extended our partnership through additional use cases and then we continued to support additional SAP platforms."
Are you looking for another strategic partner outside of SAP and Oracle? Someone like Salesforce and ServiceNow?
"Yeah, I think those are all opportunities for us. Technically, the product can support any enterprise application, and we support many beyond SAP and Oracle. We're going to have the market demand drive the partnerships. It doesn't make sense to be in a partnership just for the sake of raising the flag. We want to get buy-in from the customers and their partners as well. We're certainly interested in expanding the partnerships."
Is the Magea Solutions in Australia partnership a reflection of your international strategy or the Oracle strategy?
"We've always been global. Magea, our partner in Australia, is a reflection of the Oracle go-to-market strategy. We've always been a partner-oriented organisation, putting SAP aside. We're sticking to our bread and butter, which is advanced technology and advanced unique analytics. Our partners are the subject matter experts.
"One of the challenges is the varied use cases that our software supports, from training and education to help desk to migration, digital transformation and RPA. For each use case, our goal is to partner with a subject matter expert, who then can work with our clients to apply these analytics. What's exciting about our software is we can verify the efficacy of those solutions with a before and after snapshot."
On achievements
What has Knoa achieved this year?
Berns replied, "We're continuing to sell the software and bring in new customers. We are also seeing expansion within our customer base, which is always exciting for us. The one interesting thing is we often get deployed for a specific use case.
"One of the challenges we have is despite being in this market for well over ten years, it is still, in some sense, an emerging market. Companies aren't investing as much as we would like them to in employee experience.
"That whole definition is quite broad. It ranges from survey software to heavy analytics. The challenge has been who really owns that. Who owns employee productivity and enterprise software adoption within these organisations? We're seeing a trend towards understanding the value of employee experience and analytics.
"The other really exciting thing for us is the Oracle rollout. It's generated some really strong interest. We've signed on a partner (Magia). We're talking to many, many other partners and companies. Initially, the feedback we're getting has validated the need in that market as well.
"It's interesting timing, combining some of the market dynamics, work from home or return to the office, and the cloud deployments seem to be accelerating. If you look at SAP S/4HANA and Oracle cloud and listen to the analyst calls, they're all focusing on the cloud. We address and support the resolution of some of the inherent challenges in these processes."
On the future
What do you hope to achieve in the next six to 12 months?
Berns replied, "Right now, we want to continue to execute. In six months, I want to review Oracle success stories. Right now, it's down to execution in the field. We're starting to get out there in person more. I'm planning on attending an in-person conference in a couple of weeks in Florida. It's good to get out and start meeting the customers."
Knoa provides software for both on-premise and cloud solutions. Does Knoa differentiate between cloud and legacy solutions?
Berns said, "We have solutions for both. We're obviously emphasising the cloud. That's where everyone is going. Another challenge with the cloud is these upgrades. It used to be back in the day; you have your upgrade plan, it's once a year, once every two years, and you manage it.
"With the cloud, the vendor applies the upgrade. How do you measure the impact of that upgrade on the employees to change how they conduct their business? So that's another great use case for us in the cloud. The cloud is the future; certainly, that's where everyone is moving."
While larger enterprises are now looking at cloud software, what about the mid-market which is also digitizing. Does Knoa provide a solution for smaller companies?
"We have solutions, depending on how you define the mid-market. We have customers with a few hundred licences. We're in the mid-market now. It's just not as lucrative a market, that's why we haven't emphasised it. Our approach would be to go with the partner channel for the mid-market. That's why we just haven't been pushing for that yet."
On customers
What are the customer challenges?
Tambor replied, "Companies have resumed these large digital transformation efforts that were put on pause for large parts of 2020. Some customers are restarting, or some customers were midstream before the world stopped, and they have to figure out how to go ahead and deploy.
"The challenge for them is, 'I have large scale digital transformation that's happening, how am I ensuring that I have a smooth hypercare process'. In the last three months, I've had two customers who have gone through very rough hypercare deployments from an SAP perspective.
"Knoa was able to step in for them and help be proactive in identifying both user issues and performance issues to help mitigate some of those risks and also help them identify some of the underlying causes. Ensuring a smooth hypercare is part of the digital transformation process, but also just general user adoption.
"Some of these customers are making cutovers from legacy systems that are 25 years old. There are many inherent holdouts. How are customers ensuring adoption and ensuring that those holdouts are converted early to people who can be influencers?
"The benefits of the cloud are great. You don't have to sit there and manage these large maintenance and update cycles. The challenge is that things inherently break during an upgrade cycle. How are you managing that so there are not these large disruptions to the overall business process and generally user experience? How do we see that happening as a whole?
"The second one is, how are we managing the productivity of these more dynamic or hybrid workforces? How are they balancing the same level of productivity? How were they ensuring that those employees experiences are the same and consistent across the enterprise? Those are the most common challenges that we see with customers in my department."
Solving those challenges
Where and how has Knoa helped resolve these challenges
Tambor replied, "HPE has undergone a large scale S/4HANA deployment globally. They've been effectively trying to consolidate as many as 20 ERPs into a single global ERP and took a phased rollout across the globe. They've had to focus on adoption and engagement with the platform."
According to Tambor, they defined several questions that needed answering:
Are people adopting the redefined business processes?
Are people adopting the new applications that we've rolled out to them?
What are the challenges that we see with adoption?
What are training needs?
How do we create training content?
How are we creating an ongoing training programme for existing and new people?
What and how do we measure that progress long term?
The project also completed changed the UI as well as the best end business processes. Effectively gutting the house and starting from scratch, according to Tambor.
"HP has also created a new category of workers that they call edge workers. They're largely working out of their homes or remote offices. That creates challenges not only from a technical interface perspective in terms of working within applications that may have historically performed very well in an office environment or on-premise, but maybe not as well remotely. How are they addressing those issues? How do they proactively respond to some of that?
"HP took Knoa and applied it to different areas of that programme to look at not only adoption and performance, it also helped build out a curriculum for them and helped them identify different areas of need from a training perspective. Then it helped to measure the return on investment that they've got from training."
Measuring success at HPE
"They've been live Knoa customers and not operating in a training or development environment for the past 90 days. They have already started to see immediate value.
"Last week they pulled Knoa data up in front of one of the VPs out of the CIOs office and the CIO himself and said, 'Look, the proof is in the pudding in terms of system performance issues that we've had, here's where we've identified them.'
"We were able to walk through a use case of exactly where we deployed training. This is where it was successful, and this is where we need to go back to the drawing board. HPE has rolled this out not only programmatically, but they're looking to make this a broader part of their user experience programme or  UX experience integrating inside of HPE at a corporate level."
The book question
What was the latest book you read? And what was your take out for business from that book?
"The latest book I read. I've been reading a lot of autobiographies. I just started to read the book by Robert Iger on Disney." The ride of a Lifetime: Lessons and Creative Leadership from 15 years as CEO of the Walt Disney Company. Amazon Aus, UK, US.
"I also read Billion Dollar Loser. That was interesting, quite depressing. That's about WeWork. It is surprising that relatively sophisticated people can still be charmed. Quite surprising that deals at that level didn't require the due diligence that I've seen at much smaller deals. That was quite surprising to me."  The Billion Dollar Loser: The Epic Rise and Fall of WeWork by Reeves Wiedeman Amazon Aus, UK, US.)
"Have you read's Peter Frampton's autobiography? That was good too." Do You Feel Like I Do?: A Memoir, Peter Frampton with Alan Light (Amazon (Aus, UK, US)