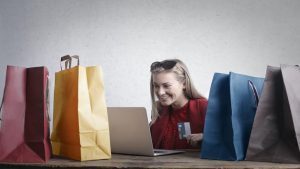 Nearly a third of Brits expect retailers and supermarkets to deliver their online shopping the same day. According to a research report by Loqate, a GBG solution – Fixing Failed Deliveries: Responding to the Rise. The findings in the research suggest that increasing consumer demand could lead to a rise in 'rapid retail.' A service where online shopping is delivered hours after the order is placed.
The research was commissioned by Loqate, a GBG solution, and conducted by Censuswide. It reveals how the Covid-19 pandemic is continuing to shift customer expectations. The majority (72%) of consumers admit to developing a greater dependence on online shopping since the start of the pandemic. Pre-pandemic, people completed around 5 shops per month online. However, this had risen to 6.35 trips per month between May and June this year – an eCommerce increase of 24%. During the same period, in-store shopping decreased by 15%.
Increasing consumer expectations
Online shopping may have increased but consumer expectations have increased in tandem, the research reveals.
Users were asked whether the choice of delivery slot and timescale would influence whether they shopped in-store or online. 39% of people want next-day delivery, with 31% demanding same-day delivery. Interestingly, leading retailers – including Tesco with its one-hour option, branded Whoosh – are beginning to experiment with rapid delivery. The research suggests that this looks set to become a major battleground in the future.
Is the online surge here to stay?
Simply offering same-day delivery will not be enough to satisfy consumer demand. The research suggests, with potential issues caused by failed deliveries and delivery costs.
The survey of 1,029 consumers reveals the average price Brits are willing to pay for online delivery is £3.30 (US$4.60). Although around one in seven (17%) stated any delivery cost might be enough to drive them back in-store.
Brands failing to deliver goods when promised is also a major concern. 51% of respondents hesitant to shop with that same retailer again and nearly a fifth (18%) vowing never to return.
Two-thirds of respondents said online goods delivery driver has trouble locating their delivery address at least some of the time. And more than one-in-ten (12%) of respondents aged 25 to 34 claim it happens with every order they place online.
Matthew Furneaux, eCommerce expert and director, Location Intelligence at GBG, said, "We're entering a new phase in the retail economy where eCommerce will continue to thrive and grow. However, the success of retailers will depend, on delivering a great user experience and delivering goods quickly and efficiently. Consumers will no longer accept clunky websites or failed deliveries, in the world of rapid retail.
"The trouble for many retailers, however, is that they do not have the correct technology in place to verify the addresses of customers. This can cause delivery drivers to struggle to find an address and can even cause deliveries to be unfilled completely. A major problem when customers are increasingly demanding same-day delivery.
"If failed deliveries aren't fixed, deliveries won't be the only thing left unfulfilled. Customers will bear the brunt of late or lost packages. Their dismay will undermine eCommerce companies at a time when they should be thriving."
Enterprise Times: What this means for business?
During the pandemic, people have been forced to shop online in numbers never seen before. By February 2021, 71% of UK consumers said they were engaging in eCommerce more than ever. Finding goods and services online has become commonplace for many consumers. The trend has spanned a wide range of sectors – from groceries to fashion to entertainment.
If businesses can understand consumers' motivations for choosing either online or in-store shopping – or a combination of both. They will be in a good position to deliver experiences people want and capitalise on the eCommerce boom. According to the research convenience, choice, and delivery speed are critical to consumers increasingly choosing eCommerce. Older consumers are particularly hot on convenience, with 69% of 55+ respondents naming this their key consideration. This was far ahead of their second consideration, which was fear of catching COVID-19 during an in-store trip (42%).
Fulfilment has always been the Cinderella component in the entire eCommerce cycle. The final last leg, that retailers are willing to outsource to another third party on a wish and a prayer. Retailers have traditionally failed to cover all the costs associated with delivery. At the same time, they have to meet rising consumer expectations for better and faster last-mile delivery services. At the same time mitigate the associated profitability risks. The proliferation of free shipping offers, particularly during sales season will be difficult to maintain.
It will be interesting, how retailers will face the new challenge of rapid retail – delivery within hours of online purchase. This will require further investment in fulfilment infrastructure, at a time, when margins are tight. Furthermore, online merchants are still fighting to recoup the revenues lost during Lockdown. The development of rapid retail will definitely be one to watch through 2021/2 and into the foreseeable future.