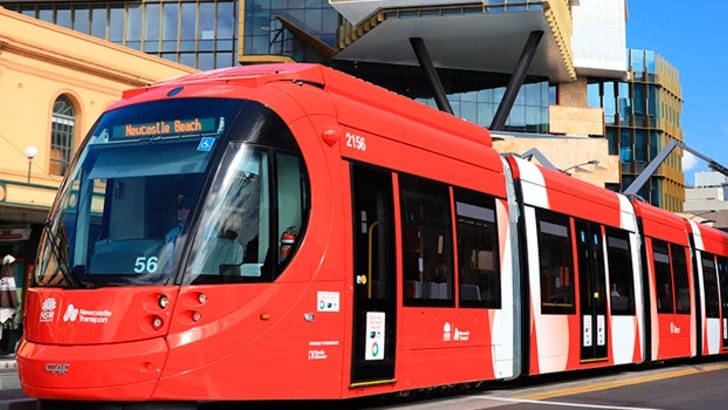 CAF Australia has selected the Infor Enterprise Asset Management solution to support the Parramatta Light Rail Project in Western Sydney. The wider CAF organisation uses Infor EAM in several locations across the world. This time it has chosen to deploy EAM in a multi-tenant solution hosted on AWS. The choice was made after reviewing the wider EAM market with IBM Maximo also considered. Enterprise Times asked Jarrod Kinchington, Infor ANZ managing director about the project. The contract term is for eleven years which will cover the construction and early years of operation.
The Parramatta Light Rail project
The first stage of the Parramatta Light Rail project is a two-way track, 12 kilometres long with 16 light rail stops. CAF will supply thirteen 7-module URBOS Light Rail Vehicles. It will also include the traction system, substations, signalling system, communications and control centre for the project. They will also be responsible for the integration of these systems. The contract term is for eight years with a possibility of a further ten-year extension. The project will connect Westmead to Carlingford and by 2026, around 28,000 people will use Parramatta Light Rail every day. An estimated 130,000 people will live within walking distance of light rail stops. Infor EAM is now an important part of the project and will help maintain the system in years to come.
Ramon Muntada, CAF TE Australia Area Manager commented: "We were extremely impressed with Infor's track record in rail projects – not just their experience locally in Sydney, Canberra, and Auckland, but also globally in North America and Europe. They have the ability to deliver on a tight timeline and in coordination with project milestones.
"We've partnered with Infor for many years globally, and even use Infor's ERP solutions to manage the manufacturing process of our light rail vehicles in Europe. We fully trust in Infor's ability to deliver and meet all the business requirements of the Parramatta Light Rail project. Their solutions will ensure that health- and safety-related practices are enforced and enable us to efficiently and easily manage audit trails."
Why Infor?
Enterprise Times asked Kinchington what functionality appealed to CAF.  He replied: "There were a range of compelling reasons that were of appeal, however, FRACAS (failure reporting, analysis, and corrective action system is a system) was a critical consideration, along with a sound asset register, document management, workflows and integration capability enabled by Infor OS are all key for CAF."
CAF will leverage those capabilities with integration to Microsoft ERP according to Kinchington and several other systems that are mandated by TfNSW.
Kinchington commented: "Infor is proud to be a strategic partner to help CAF deliver a robust and centralised asset management strategy that will underpin the success of the Parramatta Light Rail project. 
"Infor's long experience in delivering enterprise asset management solutions both locally and around the globe will ensure CAF can efficiently manage and maintain a complex portfolio of assets.
"The 11-year contract with CAF is a strong validation of Infor's exceptional track record in providing Critical Infrastructure services to the community – whether that's in Paris, San Francisco, the UK's South Western, or more locally with Auckland Transport." 
The implementation
Infor services will carry out the implementation project. Enterprise Times asked Kinchington about the phasing of the project.
"PLR service operations expected to go-live end of 2022. EAM project phase 1 go-live expected in May this year. Phase 2 will be planned later."
The EAM solution will leverage a huge volume of data, analysing it and ensuring asset performance is optimised. The solution will provide support for automation as well as IoT and telemetry integrations. ET asked Kinchington how many devices the project will monitor when completed. He replied: "The project does not look at device count. The scope of the engagement is to maintain all the moving stock, the tracks, the supporting infrastructure and other assets such as any trees, stops, etc. that are along the tram routes. "
Enterprise Times: What does this mean
This is another major win for the Infor EAM team in ANZ.  Transdev Australasia recently selected Infor EAM and it also won in a competitive tender against SAP at Auckland transport in 2019.
This win sees one of the first deployments of the multi-tenant EAM solution within the CAF group. Others will watch the benefits that this delivers against their legacy deployments. It may mean that some look to move deployments to the cloud to reap those benefits. Infor is certainly winning a lot of business for this solution in the transportation industry. Where will the next big win come from?