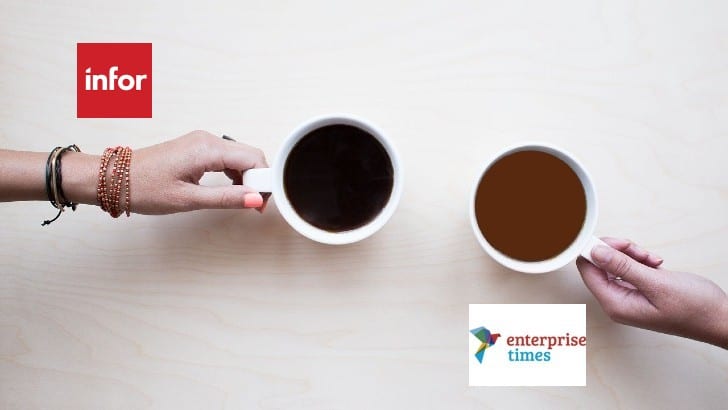 Enterprise Times had the opportunity to talk with Andrew Kinder, SVP International Strategy & Sales Support at Infor. When Enterprise Times last spoke with Kinder, he was the VP Industry and Solution Strategy. Kinder has been at Infor for over sixteen years and before that worked in several manufacturing firms. Enterprise Times asked him what his new role is?
"I would describe it as product and industry marketing. In my former role, that strategy was aimed more at sales. In my current role, it's aimed more at product management and product marketing. It's a very similar skill set. What I'm doing now is partnering with product management to be the bridge between the product management team and the market.
"Outbound, I am messaging through content, but inbound, I'm bringing those requirements back to product management. So our conversations are then about functionality that we need to support a particular industry or partnerships that we need that we think will help stimulate our growth. That could be technology partnerships, or in some cases yes, acquisitions and things that we might be targeted at. "
On Industry
Infor describes itself as the cloud industry company. It builds software applications for specific industries. The approach, it believes, gives it a better chance of winning against the large monolithic platforms that do everything in a single application. Broadly speaking, Infor has solutions for eight major industry verticals. Some of these are broken down further. Enterprise Times asked what the three top verticals for Infor are at the moment?
"For Infor its manufacturing. In discrete manufacturing, it's industrial manufacturing. In process manufacturing, it's food and beverage in this region. I'm going to put healthcare in this region on that list.
"From an Infor perspective, healthcare is a very large industry for us. It's mostly been in North America. You will see us bringing that to Europe this year. Because healthcare institutions have been stressed in a different way, they are more open to looking at modernization than they have been in the past. In North America, we're well known for this, and we're the leading provider in that industry. Here in Europe, we're not.
"We also have industry specialisation in automotive and aerospace and defence and fashion. But if you're looking for the top three would be healthcare, industrial, and food and beverage."
Healthcare trends
What is the main business trends you're seeing and addressing within those three industries?
"In healthcare, it's about the connection of the data of healthcare and the business of healthcare. What they're realising is it's not about the back-end systems anymore, that's important, but it's actually about the data that's passed between the healthcare institutions. Then that helps ultimately in clinical and patient care. "
Food and Beverage trends
"If you look at food and beverage, the trends are probably still toward efficiency. There is still an issue there around margins for most food & beverage businesses. If you take it up a notch, they will be much more concerned about sustainability. If we were not talking about COVID, I'm pretty sure that you and I would be spending the whole of our time talking about sustainability across the discrete industries. Both food and beverage, and the fashion industries, are hyper concerned either about the use of plastics or what we put into our mouth."
Do you see the circular economy come into the conversations as well?
"Yes, sustainability, recycle, reuse, and stop using it in the first place. If you have to build something, are you building something for the end game? "
How is sustainability manifested in Food and Beverage?
"Some of it is traceability and some of it is PLM. Traceability, extending beyond your own supply chain as far out as possible in both directions. Then the other one is about the creation of a recipe in the first place. PLM has become a higher profile in both the food ingredients business and the fashion business, interestingly. Two completely different PLMs but the same challenge. How do we design for manufacture, and how do we design for long-term use?"
In terms of that traceability, do you see Infor Nexus coming to the food and beverage industry?
"Not yet. Whenever anybody asks for an application example for blockchain, traceability often emerges. That's something that Infor has explored, but we haven't commercialised. My guess is it (blockchain) would go more on traceability than it would go on financial transactions. I know all the arguments about banking and financial transactions. The reality is, it's more around data that people are prepared to share. "
Industrial Manufacturing
"Two major trends there. Sustainability is still there, but most of the industrial world is still obsessed with talking about industry 4.0 and connected equipment. Those two trends are running parallel. One is more aimed at the shop floor and connected capabilities from the factory. There's a lot of talk about smart factories. We're building our smart factory in Wichita, which will be online in the summer. We'll no doubt do some of our presentations from there. Other manufacturers will still be thinking about how they organise their supply chains to be more efficient from a sustainability perspective. The biggest pull right now is more toward the automation and the industry 4.0 question."
Future trends
Looking forward, can you do some blue-sky thinking about what you think the next major business trend will be?
"Networks are still being explored by companies. We've talked about supply chain networks before, so you see the value of those, but they're still only used by a small percentage of the marketplace. I think financial networks will be explored. We had an interesting use case just recently started by customers that we're potentially looking to take broader. They really wanted to take the financial payments outside of the traditional ERP route. Typically your invoice, you give them 45 days notice, the supplier pays. What kicked off this particular initiative were the changes in payment terms between manufacturers and suppliers due to COVID. Suppliers have challenges with that, having to go to their local banks and not always getting credit. It created a need.
Could we do all that on the Nexus platform? Could we have access to the bank so that you can get credit for it through selected banks for selected invoices and could you arrange a network of payment providers for selected suppliers. We said yes, we'll do it. We did, and it's been very successful, and there's something in it for the manufacturer, the supplier, the banks, and something in it for Infor. It provides a new service for if you like the supply chain of money, which is externalised between you, the customer and the bank, or their local bank, "
On Product Strategy
How is the approach to product strategy changed since the pandemic?
"I don't know that it's changed our product strategy. It's changed our solution strategy as in, we are now a service provider. More than 50% of our business is cloud and subscription. The benefits of being a technology company are you're expected to use technology to monitor, to perform intelligence on the inside of a business. Where that's extended now is we have initiated entire projects, run them, implemented them, and taken them go live without taking a foot on site.
"If you'd have asked me whether we could have done that two years ago, I'd have said it would have been most impractical, and why would we. But we've actually done it and what surprised me is the number of new projects initiated through 2020 that we completed in that fashion. We can explore for value. You can do the discovery sessions. You can deliver the sales part of the presentation and help customers complete their buying cycle. Then even those discovery workshops when you're in implementation were done in a remote capacity.
"Actually, in some cases, there are some advantages from doing so, which are the things that we have learned. It's accelerated the move to the cloud, but I think that was happening anyway. If it's done anything, it's maybe just compressed that timescale a little bit."
The book question
What's the latest business book or book you read?
"The Power of Moments (by Chip Heath and Dan Heath – UK, US, AUS)? It's thinking about the relationship that you have with your customer. There are certain points in that journey that really matter to the customer, and it could be anything. It could be when you first engaged with them and the nature of that engagement. Or, it could be when they do something that they're proud of, like when they go live. It could be a time when things do not go well, and then it's about what you do in the recovery for that, that becomes a moment that matters.
"The book gave me some insights about recognising that they exist. In some cases manufacture them, if they're not naturally there within your business. Go live should be something that you celebrate. So why not make that a moment that matters. Not just 'go live' when you do your first business outcome study; go beyond go live to see whether you really did achieve the business benefits that you said you were going to achieve nine months before you started. That's a moment that matters. "