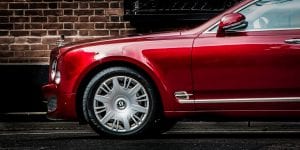 During the Dreamforce keynote Adrian Hallmark, Bentley Motors Chairman and CEO spoke to Marc Benioff, Salesforce Chair and CEO about the transformation it is undertaking. Bentley Motors Limited, founded in 1919 and now a subsidiary of the Volkswagen Group, is a brand closely associated with luxury vehicles. It currently produces both performance luxury cars and SUVs. It is now looking to deploy Salesforce solutions to deliver a personalized white glove experience to its customer.
Hallmark revealed that 2019 has been a phenomenal year for the company. Celebrating its century, it was re-invigorated with historic highs for both revenues and profits. Hallmark continued the story saying: "We were set for record 2020, absolute historic highs in revenue and profits in 101st year, and then COVID hit. Late March, everything stopped, it looked like we're out of business. I guess for seven weeks we were. We recognised that to get through this crisis. We had to rapidly evolve our digital capability. Then instantly, we realised that it wasn't just to get through the crisis."
Bentley realized that it needed a customer-centric approach. Dr Astrid Fontaine, board member, Bentley noted: "We're talking about the digital revolution for our customer journeys. And that vision we have for a sustainable luxury mobility company of the future. There is only one partner for us, and that is with Salesforce.
"With Customer 360, we can create a single source of truth that allows us to create extraordinary experiences for our customers. And that's what we need moving forward to create something new regarding products, services and the way we resonate with a completely new customer group because that's the foundation of our future growth."
The Salesforce deployment
Bentley has deployed Salesforce solutions to its 4,000 staff to deliver a 360-degree view across the 60 markets it operates in. It has deployed Sales and Service cloud to create a unified experience to both prospects and customers through the life of their engagement. Customers are now able to use live chat on their chosen channel for sales or service engagements.
For prospects, Salesforce is leveraging Marketing Cloud to deliver personalized journeys to ensure that customer questions are answered at the appropriate point in their discovery of the Bentley experience. This includes the eco-friendly ranges that were first introduced in 2018 with a hybrid.
Using Marketing Cloud Bentley can deliver custom and personal experiences across email, SMS and web. These are based on the customer's interests and experience. For example, as an electric vehicle, the natural successor to their existing combustion engine model is launched Bentley can update them in a personalized way.
This is also not just about cars. Interactions are driven to expose options and addons that are applicable to each individual. Whether that is a sustainable addon features for the ecologically savvy customer or a pastime related item.
The combination of Mulesoft and Tableau will also enable Bentley to leverage the data it has collecting about customers and their vehicles to optimize their experience. Tableau will also provide an overview of customer preferences and trends as they start to happen across different demographic groups. This ensures that marketing campaigns are smarter and better targeted in a timely way.
Tableau is also being used to track sustainability across the whole company as it aims to achieve the goal of carbon neutrality by 2030. It will also help in its endeavours to monitor its supply chain to ensure all materials are ethically sourced.
Mutual focus on sustainability key
Bentley is perhaps not the obvious choice for a Dreamforce keynote with the carbon footprint commonly associated with motor vehicles. Sustainability and carbon neutrality is a key goal for Benioff. Benioff's vision of Ohana is all-encompassing, not just within the Salesforce ecosystem but beyond it. During the pandemic, the company solved challenges for many organisations. It even helped to provide 500,000 surgical masks for UCSF Medical Centre. Another interest is sustainability. He announced, during his Dreamforce keynote, that "We're a net-zero company because the planet is a stakeholder."
Benioff was also impressed by the Bentley strategy on sustainability. Bentley has a clear strategy for sustainability. Hallmark explained: "Over the next five years, where, by 2025 we will only offer electrified power trains. That means plug-in hybrid with great range or battery electric fully, and by 2030 we will only offer battery electric vehicles. We are also going to go carbon neutral for the whole car and the whole of our operations by 2030."
The hybrid also delivers a suite of connected car experiences which will further enhance the personalization of the ownership experience. The journey towards electrification has started. Bentley has already unveiled its first fully electric concept car, the EXP 100 GT, aiming to deliver extraordinary journeys of tomorrow, today.
Enterprise Times: What does this mean
Yet again, Salesforce has provided attendees with an iconic brand to drool over. In this instance, Bentley is leveraging the latest that Salesforce can offer. As a luxury goods provider, it can leverage the customized and personalized marketing that Salesforce offers down to a person. Most companies rarely take the ability to micro-segment your target market down to that level. The proof point will be how successful Bentley can be.
Benioff commented: "Bentley Motors has defined automotive elegance and sophistication for more than a century. Now, as the company reimagines its business for the future, we're thrilled to help them deliver a next-generation of luxury mobility that's sustainable, connected, and completely personalized for every customer."