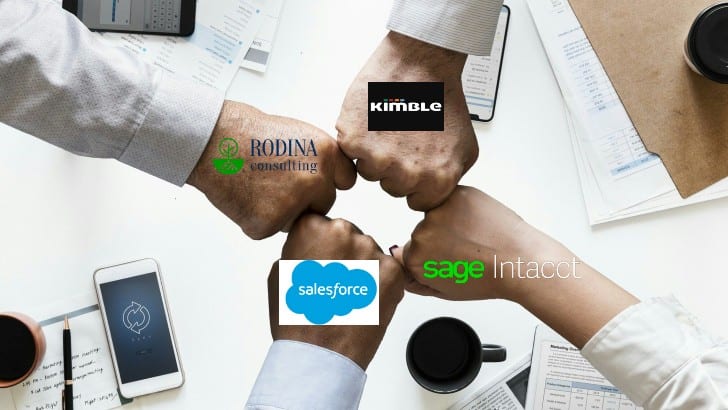 Rodina Consulting recently announced a new channel partnership with Sage Intacct. This sees the firm deliver a complete lead to cash solution for customers in its target industry sectors. Sage Intacct will complete a trio of vendors to deliver on that commitment; the other two are Salesforce and Kimble PSA. Rodina has worked with Kimble and Salesforce for several years combining the CRM and PSA solutions. Enterprise Times spoke to Dave Kremer, Founder and Practice Director of Rodina Consulting
Kremer commented: "We are excited to expand and partner with another "Best in Class" organization. Sage Intacct compliments our technology best practice approach and passion to grow our clients' professional service businesses."
Why Sage Intacct?
As Rodina was already working with Kimble and has a significant customer base, there was only ever likely to be one choice. The press release cited its ability: "to streamline and automate complex financial processes and deliver unmatched visibility/insight into what's driving company performance." It also cited the high level of customer satisfaction that the solution has. It placed as a leader in the current G2 Grid for ERP systems, with a 4.3-star rating.
Rodina has two customers already using both solutions. One is BSR for whom Rodina implemented Kimble although the company has used Intacct for years before their engagement.
Enterprise Times asked Rodina about its existing relationships. Kremer responded: "We are a Salesforce consulting firm. We started implementing Salesforce as a  CRM. We became Kimble customers and then eventually became a Kimble partner because we started using Kimble and started leveraging the tool and understood that the power of it.  Then eventually became focused around the tool and decided to stay focused around Kimble strategically.
"There's clearly a need for project management tools. The marketplace is still trying to understand how PSA is needed and customers are still coming to grips with how Salesforce is evolving. Most people still identify Salesforce is as a CRM, and as a front end tool, and not necessarily as a back end tool. Salesforce is becoming more acceptable as a back end tool. What we're seeing is this end to end solution of CRM, delivery and financial tool with Sage Intacct. We're looking to partner up with implementation partners on the Sage Intacct. Our ultimate goal is not necessarily to become the implementation team for financial management.
It is more about Financial Management
Kimble has a deep integration with Intacct. It first launched an integration with the leading ERP company in 2018. It has since strengthened it. Kimble has also just released an integration with NetSuite in its Summer 2020 release. Rodina already works with Kimble and integrates the solution with NetSuite. While the partnership with Sage Intacct is important Kremer doesn't rule out working with any other financial management system. Rodina's expertise lies in the PSA and CRM solution and this flexibility means that Rodina can meet customer demand. Besides Sage Intacct, Rodina Is also considering partnerships with both NetSuite and Acumatica.
This is also the formalizing of a relationship that has been in existence for some time. As Kremer stated: "We have worked on these successful implementations with Kimble/Intacct integrations. This is our market segment niche, and we are currently the only consulting firm that specializes in Kimble/Intacct."
Rodina has now invested further in the relationship and is building up a team dedicated to Sage Intacct. Kremer informed Enterprise Times: "We have four Intacct trained sales resources and three Intacct certified implementation resources. "
Its initial focus is pre-sales and sales as it developed its experience on implementation and service for Intacct. Rodina will work with existing Intacct partners, and Kremer commented: "We are interested in partnering with accounting consulting firms."
Good news for vendors
This is good news for both Kimble and Intacct. It will help cement the relationship with the existence of a shared partner. Kimble will hope that Sage Intacct partners will see the benefits of the dual vendor relationship and start working with Kimble. Kimble is also available in the UK and Australia, where Sage Intacct launched recently.
Taylor Macdonald, SVP of Channels for Sage Intacct commented: "The Sage Intacct Partner Program continues to attract top firms who bring extensive expertise in business applications and embrace our customers-first approach. Rodina Consulting fits well in our program, as they serve key services industries that can benefit from the process improvements and increased business visibility, our cloud financial management software provides."
For Kimble, this also validates its strategy as it competes with other PSA vendors both on and off-platform. Daniel Keating, President of Americas for Kimble commented: "Rodina's decision to add Sage Intacct to their partnership portfolio alongside Kimble and Salesforce validates the work that we have done in partnership with Sage Intacct to make sure that our best-in-class solutions work seamlessly together.
"Rodina has been a great partner for Kimble, and we're excited to see them make a commitment to help businesses overcome their challenges with integrated lead-to-cash processes that incorporate our two closest technology partners, Salesforce and Sage Intacct."
Extending Kimble
Kremer also shared that Rodina is looking to extend the functionality of Kimble with an add-on application. Rodina is building an integration with Trello to connect Kimble projects and tasks with Trello Smartsheets. The intent is to extend that connector to link to other work management solutions such as Asana and potentially Microsoft Projects. Though with the deeper integration by Kimble to Microsoft Projects that may not be necessary any more.
Enterprise Times: What does this mean
As VARs grow, they need to carefully select the list of application vendors that they work with. Something recently highlighted in a podcast with Beata Wright of Unit4. Salesforce, Kimble PSA and Sage Intacct complement one another nicely. While Sage Intacct is not on the Salesforce platform, it has continued to strengthen its integration with the Salesforce solution in recent releases.
Sage Intacct is also laser-focused on its target industries and will enable Rodina to provide a complete lead to cash solution for those services organisations looking to replace legacy, barely connected solutions. Having invested in its staff, the proof will be seeing how quickly Rodina can add to its existing customer base, which includes West Monroe.