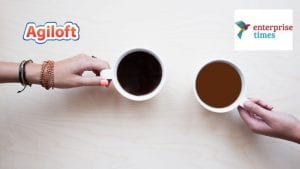 Eric Laughlin is the CEO of Agiloft. When Enterprise Times spoke to Laughlin, he had been in the role around 100 days. The first question asked was for him to explain Agiloft succinctly. His answer is worth noting in full.
"Agiloft is a Contract Lifecycle Management solution that helps legal, procurement and sales, centralise their contracts, unlock the data within them, and build repeatable processes for authoring, negotiation, execution and obligations management. Our secret sauce is our no-code platform, which means we can configure to your company's exact specifications with zero custom code. That saves time that implementation and absolutely saves heartache down the road because without knowing code, you can evolve the system as your department evolves."
What do you mean by a no-code platform?
"What I share with customers about a no-code platform means is this. As we are configuring a system to specific customers needs, we can configure it to the most complex specifications. We can do that in the browser without having to change any code and without any custom code. In fact, all of our implementers are non-coders, they know how to implement a system. They know contracts workflows, and they know how to work with a client to bring out the most important elements of the system design. That's really helpful on implementation.
"When you think about the total cost of ownership for a platform, no custom code means no custom bugs to fix later. No custom code means that as the client changes, which they will, the platform can easily change because it's just done through configuration, not through custom code. That solves a lot of problems down the line, saves a lot of heartache, versus a platform that is custom coded and is difficult to upgrade or difficult to evolve."
About joining the company
Enterprise Times asked Laughlin why he joined Agiloft and why Agiloft saw him as the right person to take on the role of CEO.
"I chose Agiloft because, in my prior life, I was working as the head of an alternative legal service provider named Pangea3. Our customers were relying on us to do contracts services for them. We saw a lot of different contract lifecycle management platforms in the course of that business. What we saw was that our customers who took contracts and transformation seriously were investing in great products that could evolve with them. I found Agiloft to be just such a platform. I got to know Agiloft and created a partnership between Agiloft and Ernst & Young when I was there. And I was excited about its future and got involved.
"They chose me, because I had that experience, both in legal technology as well as legal services. I have grown companies from the $25 to $50 million stage into the $100 million stage, which is where Agiloft is going."
On growth
Agiloft is growing quickly but does not share figures. In August 2020 it secured $45 million in a growth equity investment from FTV Capital at the same time that Laughlin was appointed CEO. It currently has around 140 employees. Most are based in North America though it has a development hub in Eastern Europe. It has more than 600 customers and added 140 during its last fiscal year, which ended on September 30, according to Laughlin. Some of the expansion is international. How will you approach that and has the pandemic made that harder?
"International expansion is a combination of putting more of the Agiloft team into geographies outside of North America. Our first approach is into Europe, as well as gathering a really good partnership ecosystem around us to support those efforts. We already have a number of European customers, but we've been supporting them primarily through partners and our North America staff. Our goal is to put more people into local geographies that can support them in their time zones.
"The pandemic hasn't changed that plan. It makes international travel more difficult. One thing that's pretty unique about Agiloft is it's always been a virtual company. Well before the pandemic, the majority of our employees were not working out of headquarters. We are used to being a distributed team and working with customers on a virtual basis as well."
Some companies have found the home working in Eastern Europe a challenge, how has Agiloft approach it there?
"Our development team in Eastern Europe has always been virtual. We haven't had to move from an office space into home spaces. We've always been in home offices, so the infrastructure has been there for our folks in Eastern Europe for a long time."
What about that $45 million?
Agiloft raised $45 million in August this year. How are you looking to spend that investment?
"Our first investment is in customer-facing functions, in support, in go to market, primarily sales and then partnerships. Anywhere where we can have more bandwidth to talk or support our customers locally. Frankly, some competitors just had more coverage than we did in the past, so we're fixing that. Secondly, to continue investment in the no-code platform. There's a huge amount of opportunity for us to continue to innovate what we do for clients who are working with Agiloft for CLM."
Any acquisitions planned?
"No acquisitions on the near term roadmap."
On Partnerships
What are your strategic partnerships?
"The biggest strategic partnerships right now are with system implementers and consultancies. Agiloft sells software; we also do a lot of implementations. But we have partnerships with firms like Ernst and Young, TCS and  Deloitte. They can bring consulting as well as implementation power to the platform and our customers."
What about a cloud vendor?
"We use AWS. Right now, it's a technology partnership. I would say our technology partnerships are still in the crawl or walk phase. We're looking to deepen and get some very interesting strategic technology partners. We've just brought on a new head of global alliances, and that's one of our core missions."
The Agiloft site highlights integrations with Salesforce and Dynamics, what is the integration strategy, especially for other CRM and ERP solutions.
"We do integrate with other folks on a bespoke basis and have taken the guidance from our customers. Agiloft also integrates through middleware such as Dell Boomi. We respect that CLM and contracts processes are part of the enterprise stack. If it's a system of record, which we believe it should be, it has to integrate with the commercial solutions around the enterprise. We are absolutely open to more pre-built integrations, as well as the bespoke ones that we do today."
What about partnerships?
"Absolutely, we'd love to talk about partnerships."
Looking back
What have you achieved in your first hundred days?
"Well, I'm happy to say, though I certainly can't claim any credit, that the last quarter has been the best sales quarter of Agiloft's history, which is pretty remarkable coming out of a pandemic. That's certainly an amazing accomplishment to have in the first three months. We've closed on that $45 million round of funding from FTV and with that, we have started to hire. We've hired a CFO and key sales leaders. That foundation of cash, as well as starting to bring in new leaders, and having momentum in the market, is a great start."
A CRO was your first appointment, the first CRO for Agiloft. Why hire a CRO?
"Agiloft has been founder-led, profitable and growing, but it has primarily been a product-oriented company. My decision to put in a CRO is to add more of a sales and customer relationship focus to the company, beyond the amazing product that it already has."
On the pandemic
How has the pandemic impacted the business internally and externally?
"Internally, the amazing thing about the pandemic is that Agiloft was able to continue to operate as a virtual company. Although we are headquartered in Redwood City, California for 80% of the employees, it wasn't much of a change. From a business perspective, we have been able to weather that storm. From an employee perspective, it's changed everybody's life and life balance, especially for working parents. We've had to make sure that we're respecting people's lives and energy from that perspective.
"Externally, and in terms of market demand for Contract Lifecycle Management, it's been a positive. As enterprises went virtual, they realised more and more that they can't rely on informal in-person networks. They need to have their contracts in one place, they need to have repeatable processes around those contracts, and they need to have controls that work, no matter where their employees are.
"One of the interesting impacts of the pandemic, is that people have realised that they can move to new locations. They can change jobs more easily, and the talent marketplace might even be more fluid in the future. Companies need to make sure that the processes they're working on, that the documents that they have, that the negotiations that they're doing are all in one system. So that as one person leaves, they don't lose the history of that contract negotiation, or the work that they've been doing. All of these things are pointing to wanting to have a more robust and repeatable process around contracts, which is exactly what Agiloft does."
On potential
Where is the opportunity for Agiloft at the moment?
"If you look at the global top 10,000 companies in the world, about 15% of them say that they have enterprise-wide CLM and about 85% say that they will in the next five years. There is a large amount of buying at the enterprise level right now. It used to be that, a single division or a single department would buy a CLM tool, and then expand from there.
"What we see more and more of is that the procurement, sales and legal teams are getting together and making an enterprise-wide purchase with the support of the CFO. It's a very different mentality going into a full enterprise software buy, versus maybe what used to  to be a legal tech buy."
Which verticals are Agiloft focusing on?
"Well, we have great traction right now in pharma, biotech, health care, as well as education, the public sector and technology. But, CLM is something that works across all verticals."
Looking forward
What do you hope to achieve in 2021?
"Certainly greater coverage for sales, support and implementation, across the map in North America and Europe. Number two would be to enrich the partner ecosystem technology partners, implementers, and resellers. The third is to show how this platform can shine. Both in terms of refreshing the UI, as well as demonstrating the power of the rapid development we can do on the no-code platform by releasing new business applications that sit right next to CLM. Sourcing is the first example."
How do you see the competitive market evolving?
"The competitive market is interesting. There's a lot more money flowing into Contract Lifecycle Management. That's very good for our customers. Because it's ups everyone's game, it allows us to invest in our platforms, and in our service capabilities, not just Agiloft but the rest. In some ways it's all boats are rising together from that perspective.
"There are some other trends in the marketplace with more private equity involvement; there's more consolidation. That's cause for concern for customers who partner with one company, and that company gets gobbled up as a consolidated play under a private equity banner. That is a little troubling for some of the folks we've talked to in the market."
On challenges
What are your challenges?
"One of the challenges that I have coming in as a CEO is to make sure that I'm growing responsibly, and that means two things. That means making sure that, the company stays as stable and grounded as it has been in its long history, as well as that we're able to support the customers that have gotten us here, as we grow. That fast growth, while retaining our customer focus, is fairly critical for us."
You're one of the few CEOs where the previous CEO, who is also a founder, is still in the organisation. Have you got any tips for that making that dynamic work?
"I grew up in a family business environment and have seen what that looks and operates like. What I first did is just respect what that is. It is a well-functioning organisation that's headed by a dynamic leader or leaders that care about this organisation, not just as a business, but as a second home that they've made. 
"For Colin and I, the most important thing that we did is that we worked together for an interim period. First, as a consultant, then starting to do real work with his team so that we saw how each other worked. It was important to me to get the confirmation from Colin, that he was bringing me in. It was the founder himself realising that he wanted to do something different. Which is to be the CTO and that he was happy to hand the CEO responsibilities over to me. You have to establish a level of trust somehow. Colin and I did it by being partners first and then working together closely before locking in."
The book question
What is the current book you're reading at the moment?
"I'll tell you the one that I finished right before my job started because I haven't had time to read much else. I finished a book called Designing your Life by Bill Burnett and Dave Evans. I don't read a lot of business books. But this was a sort of a life design book, or maybe a career design book. It tries to apply the principles of design thinking to how you try to design your own life. For example, thinking about problems and doing rapid prototyping, whatever that looks like. Applying those same things that you might think of for product development, and doing those for your own life."