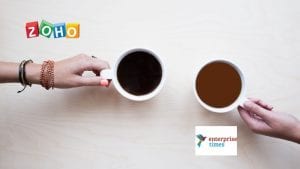 Enterprise Times spoke with Sridhar Iyengar, Managing Director, Zoho Europe about the company recently. Zoho is an application suite provider. Customers can purchase and use various point solutions or elect to select bundled solutions such as its complete CRM platform or Zoho One, its complete operating system for business. Unusually Zoho has built its own platform and developed all of its applications from scratch. It very rarely makes acquisitions. The last was ePoise in 2019, which was an acqui-hire rather than a full purchase. The company takes data security seriously and has attained certifications for ISO 27001, ISO 27017, ISO 27018, Soc-2 type 2, Trust-e, GDPR and most recently ISO 27701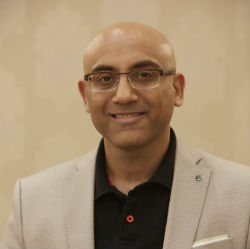 Enterprise Times asked Sridhar what numbers about the company he could share. The company is private and rarely announces either revenue or profits.
Sridhar answered: "We have 60 million users across our 55 different applications which cut across different segments. In terms of employees, we have over 9,000 employees spread across 14 offices worldwide. Our customers are present in 180 countries. In terms of growth rate,  I would say within the late 30s, and it varies based on product. "
What is the most popular product?
In terms of user numbers, our largest footprint is in the CRM customer experience area. Although, this year with COVID, we've seen very strong traction in the Office Productivity Suite. Things like digital Workplace, remote working and conferencing. In addition, our low-code platform has allowed organisations to build their apps for various needs. We also have Zoho One, which is a very strong offering and has also seen (growth). At a certain point, they realise Zoho One offers a tremendous value proposition, and that's had a very strong uptake as well in the market."
On Partnerships
What's happening with your alliance partner programme?
"We have a mixed model which also varies based on geography. In English speaking countries, we have our own direct sales force operating. Our channel is very strong in certain non-English speaking regions like in mainland Europe. Partners are not just resellers; they also perform a lot of services. In English speaking regions, our partners offer a lot of services. At the same time, we have recently engaged with some SI's. I cannot disclose names at this point. The focus there is for larger international customers who need partners across regions. "
Zoho just announced one such partnership with TCS. This interview predated that announcement.
Looking back at 2020
"We are being recognised as a broader technology provider for businesses, and that's something that we will continue to work and engage and educate our customers on. The other thing that is coming across is the philosophy that the company is built on and the type of company we are. That is something that customers see and appreciate a lot. Some initiatives we launched during COVID are not for us to be profitable or make money but to help our customers out. People and customers recognise that.
"We are building a team in Europe. We will focus on sales, marketing and customer support. This is a multi-year roadmap for across various geographies: UK, Germany, France, Spain and Italy."
Sridhar also explained about its cloud-enabled rural revival. Zoho set up rural offices for employees to gather, initially in India and now in the US. It aims to help revive rural economies. The only requirement is fast internet.
Product direction
What's on the product roadmap for 2021?
"We will continue to add products as it makes sense. But the focus is on deep integration and being able to solve problems giving a great user and customer experience. Initiatives that we're working on are data analytics and BI, and our AI and automation capabilities. These are horizontal technologies that will make their way into the existing products. It may be a new functionality or a new way to solve problems in an innovative way with existing products."
What is the Zoho approach to verticalization?
"The verticalization strategy is based on our platform approach. The platform allows a company in a specific vertical to take Zoho and white label it and build it as a customised solution for a vertical domain. We will rely on partners to do this and then offer to customers."
Will you start to add more third-party vendors onto the platform? Do you have plans to add some strategic partnerships?
"Absolutely we have. Our marketplace is one of the things that's part of our platform strategy. A marketplace that third-party vendors can integrate to. Not just application providers, but also vendors who can complement our solution."
An example is this is Zoho's approach to finance solutions. Sridhar added: "Our accounting package in Europe doesn't support all the countries. This is one area where we're building integration with third-party, local players to complement our offering. If our finance software doesn't do 100% job of being tax compliant, or able to provide the various financial compliance for that country, we would partner with a local provider.
"We just crossed a thousand integrations on the marketplace a couple of weeks ago. A thousand extensions with 1000 different third-party applications that are now integrated with 50 Zoho apps."
Looking forward
What do you hope to achieve in 2021?
"There are two things. One is at the company level. We focus on strengthening our products and building these integrations within Zoho and also external third party products. That is something that's going to continue. We will also enable third-party developers and application providers to build on our platform because of the way it's evolved. Zoho is not just an end-user product, but it's also a platform that people can build solutions on. Our regional offices will see a much stronger push in 2021 and beyond, it's a multi-year project and multi-year focus for us. That's going to keep going in terms of having a strong presence in various countries, various regions, and to be self-sustained to a large extent within the country and the region that is building up expertise, knowledge and personalities."
Where is that expansion in Europe and will you add more countries?
"Our first effort is to strengthen the teams in UK, France, Germany, Spain, Italy and also Benelux, but also strategically look at opportunities as they come up. In Eastern Europe, we are seeing a digital push, especially with certain product categories. We will tactically address that as the opportunity comes up.
"We also see partnership requests from Telcos and distributors, we have to find a way that works mutually, and also works in a way that suits our model. There are a lot of interesting things happening. A lot of that is learning for us. Now we're here in Europe, we're seeing all these different opportunities."
Any plans for acquisitions?
"None on the horizon."
On COVID
Zoho made several announcements earlier in the year to help out businesses, existing and potential customers. Were there other initiatives?
"One of the things that we have started, not just in Zoho internally but also with our extended partner team and customers, is a lot of remote training sessions. During COVID, we ran training sessions for our partners for 55 days on various product categories and products. We have taken that and conducted sessions for our customers remotely. Everything is done on our platform; customers can sign up and learn about our products.
"Customer experience is a strong theme for us; there's a lot of focus on that.  Organisations worldwide feel that to offer a great customer experience, they need to get their own organisation in a shape that people are able to collaborate within their companies in a very effective way. That's where Workplace has come up in a very strong way. Workplace enables and empowers your employees to collaborate well so that they can serve customers well."
How are Zoho applications coping with events post COVID?
"We have an event management software called Zoho Backstage. That's being used to conduct not just internal events, but also allows companies to conduct external events for their customers, virtual events."
Zoho recently added a new feature, in beta that enables organisations to run virtual events, including the addition of sponsors.
Sridhar continued: "Virtual events have become the way to go, as physical events are practically non-existent or not possible. We are seeing people take our products for conducting virtual events, not just events, it's also training. We have a software called Zoho Showtime, which again has found traction for conducting remote training and virtual training."
On challenges
What are your challenges?
"One of the things is brand recognition. We still have work to do on that side. That's something that will come with time, and as people see value as we focus on demonstrating how large companies or companies have used these products, and that's just organic."
Enterprise Times: What does this mean
Zoho continues to fill out its product portfolio. Its suite is starting to appeal to larger customers. Sridhar noted the partnerships with SIs. Zoho recently announced one with Tata Consulting Services. That will see the companies working together on projects in Europe, the US and India.
As Zoho attracts more interest from SI's larger enterprises will take note. The reason? The licensing cost of Zoho is well below many other companies. Organisations can also consolidate multiple applications into Zoho One.  There are a couple of things missing. It still needs better finance solutions. Also, while it can try to rely on verticalization by its partners, it should consider building some functionality into its solution for some key verticals.