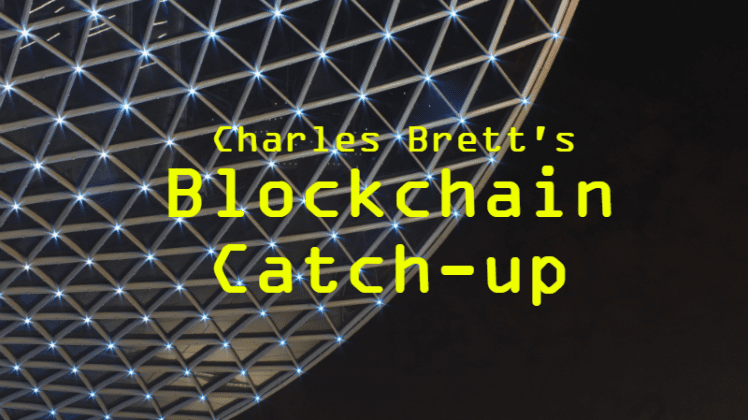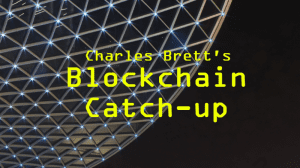 This is a Charles Brett's start-of-the-week Enterprise Times 'blockchain catch-up' for Week 42. Necessarily it is idiosyncratic and selective.
It is not intended to be comprehensive but does seek to highlight 'Quick Takes' on specific developments as well interesting pieces to read, a listing of some (not all) announcements/press releases and pointers to upcoming events.
Quick Takes – Charles Brett's Blockchain Catch-up Week 42
JP Morgan veteran Daniel Masters explains how blockchain will end commercial banks
"But truly, when I see things on a regular basis, like decentralized peer-to-peer lender Compound Finance having a billion dollars in assets under management, you have to pay attention. There's just so much brilliant innovation taking place. Today, the borrowing and lending can be done transparently, remotely and in a self-governed manner on chain. That's a hell of a lot better than doing it with Citigroup."
Quick Take: Foreseeing the demise of commercial banks has many attractions, and makes for a good headline. Yet, given the excessive size of the JP Morgans, Citibanks, HSBCs, Banco Santanders and other 'systemically important financial institutions' (SIFIs), blockchain could prove a blessing if it enables a return to a more specialist/local finance sector. Whether this is possible remains uncertain. What is certain is that the SIFIs will fight tooth and nail to resist – which will likely hamper blockchain adoption.
Why is regulation increasing for Blockchain?
World Bank and University of Cambridge report highlights increasing digitalisation of financial services has accelerated the pace of regulatory innovation during Covid-19
The World Bank and the Cambridge Centre for Alternative Finance (CCAF) at the University of Cambridge Judge Business School have published the results of their Global Covid-19 FinTech Regulatory Rapid Assessment Study. This reveals that the priority of fintech regulation and the pace of regulatory innovation have increased amid the global pandemic. The study, which gathered responses from 118 central banks and other financial regulatory authorities in 114 jurisdictions worldwide, highlights that the majority of respondent regulators have either accelerated existing regulatory innovation initiatives or introduced new initiatives. For example:
72% of respondents have either accelerated or introduced initiatives on digital infrastructure
58% have either accelerated or introduced initiatives regarding regtech/suptech
56% did so in regard to innovation offices
no surveyed regulators reported the cancellation of an innovation initiative due to Covid-19, although around 20% indicated they had delays.
Quick Take: this is somewhat of a surprise. Prima facie one would not have thought regulatory innovation would be a 'beneficiary' of Covid-19. Yet, on reflection, perhaps is is less so than on first examination. After all, what do regulators do when locked down? Create more regulations. Whether this is 'good' remains to be seen – but it is better than the 'wild west' approach that could otherwise reign.
To read – Charles Brett's Blockchain Catch-up Week 42
Selected announcements/press releases – Charles Brett's Blockchain Catch-up Week 42
Selected upcoming events