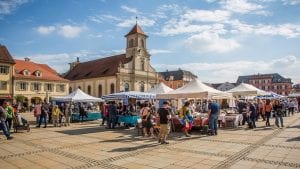 OnBuy, a fast-growing marketplace has launched integrations with an array of leading eCommerce solutions. The integration should enable millions of retailers to join the platform ahead of its global expansion.
Through this partnership with CedCommerce, an eCommerce solution facilitator, OnBuy can welcome millions more sellers on board. They will join the thousands of sellers already growing their businesses through OnBuy.
eCommerce platforms integrations
The integrations include Shopify, WooCommerce, Magento 1, Magento 2, PrestaShop and OpenCart. Users of these platforms can now connect their store with OnBuy, ready to start growing their business. The integrations facilitate streamlined product import and seamless management of products and orders to make selling with OnBuy even easier.
Cas Paton, OnBuy's founder and CEO said, "OnBuy is changing the way the world looks at marketplaces. We have seen some of the industry's largest retailers and brands come on board. We are well on track to become the world's first truly global marketplace.
"This partnership with CedCommerce offers millions of retailers a new route to selling with OnBuy. OnBuy is open to all sellers – small, medium and large. Opening our doors to these solutions means we can seamlessly cater to more sellers than ever before. By driving offers from more businesses, we'll be adding millions more products to our 20m+ product range and driving even better prices for our buyers."
A short cut for European online sellers
The partnership is expected to be a short-cut for European online sellers to grow with CedCommerce and OnBuy platform. CedCommerce gets another opportunity to solidify its position in the European region and enable online sellers to scale their businesses on global marketplaces.
CedCommerce's CEO Abhishek Jaiswal suggested, "Over the past few years, we've studied European retail and eCommerce very closely. We observed that European merchants are interested in selling across borders. Overcoming eCommerce challenges by implementing innovative ways to reach out to local as well as global customers.
"The partnership between CedCommerce and OnBuy is expected to be key for sellers and retailers in Europe who are planning to pursue multichannel selling, through creating a frictionless onboarding process and allowing sellers to reach out to customers in diverse channels with enterprise-level support. Together we are planning to assist local businesses and community members by setting up the perfect platform to list, sell and revive their businesses amidst the ongoing pandemic."
Enterprise Times: What this means for business?
2020 has already been a good year for OnBuy. The marketplace has seen a record 11x growth in just 12 months and won additional awards. It has been named the world's fastest-growing marketplace and the fastest-growing large eCommerce site in the UK by SimilarWeb in April. It is now targeting the European marketplace which is already pretty overcrowded. Whether OnBuy can raise to this retail challenge, particularly during these surreal Covid-19 times, only time will tell.