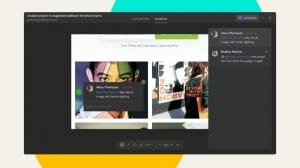 Wrike has added a new feature to Wrike for Marketers to assist marketers in this task: HTML proofing. Wrike for Marketers already includes the ability to proof more than 25 file formats, including images, videos, and documents. This latest feature, embedded within Wrike means that marketers can check web content without leaving the platform, increasing efficiency and assisting with the release of content in a timely fashion
HMTL proofing enables Marketers to collaboratively check HTML content in collateral, including website pages, email, and landing page assets. It supports marketing automation systems, CMS, and most cloud-based MarTech applications. However, details of this were not readily available.
Lee Odden (@leeodden) once wrote "Content isn't King. It's the Kingdom". Part of any marketing role is to ensure that the content a company produces is accurate and error-free. This includes content on websites and other online or digital collateral.  It is not an easy task.
Frank Tramble, Sr. Director of Communications Strategy & Operations at Georgetown University commented: "Collaborating and reviewing static content, like collateral and print pieces, is easy; collaborating and reviewing digital web content is much more complicated. Web content is typically reviewed through a series of screenshots and multiple email threads. This opens the door to missing feedback and making mistakes and also makes this process very time-consuming and convoluted. The new HTML approver option in Wrike for Marketers has significantly increased the ease and ability of the review and approval process – internal and external stakeholders find the new process so much easier than before. Now, we can have all parties weigh in on the web content all in one single, centralized platform."
Wrike Proof for HTML
Wrike Proof for HTML is part of the Wrike Proof add-on. It is available to Wrike for Marketers and Wrike for Marketers Enterprise accounts as well as for Professional, Business, and Enterprise accounts. Customers can access the add-on as a free 14 day trial within their account.
The solution enables them to add comments and links direct into web pages from within Wrike. Once checked, the user can invite guests to review the documents. In a similar way to the proofing of images and videos, a user can also export comments in a PDF file for external review.
The solution only currently works within the Google Chrome browser. There is a Google Chrome extension that users need to enable to allow them to open links while proofing. The system works similarly to other Wrike proofing, and users can:
Add, view, and reply to comments
Add web links to approvals
Create page snapshots
Preview the page in different resolutions and on different devices (laptop, tablet, mobile browser)
See links' metadata
The benefits of HTML proofing
Website creation often involves multiple teams across different organisations and departments and in some cases countries. Wrike calls out three capabilities in the press release that the new solution enables:
Streamline and centralise the review and approval process, ensuring teams deliver high-quality web content faster. Teams can identify approvers and approval deadlines to streamline the approval process.
Invite clients and stakeholders to participate in the review and approval process whether or not they have a Wrike license. It allows for a more open collaboration process – more visibility enables better collaboration from more stakeholders.
Keep time-sensitive projects on-time and on-budget with an easy-to-use interface. A positive user experience eliminates friction and

Alexey Korotich, Director of Product Management at Wrike

chaos while increasing adoption.
Alexey Korotich, VP of Product Management at Wrike, commented: "Wrike changes the workflow from inefficient and limited manual approval processes to on-demand solutions that open the review process to a wider audience. With Wrike, leading organizations can help their teams simplify and streamline their creative and marketing production, spending less time on disjointed processes and instead focusing on serving the needs of their clients."
Enterprise Times: What does this mean
With the shift to online working, collaborative tools are even more important. HTML proofing can take time and involve multiple parties. In embedding the proofing solution within Wrike, it has suddenly become easier and quicker for the marketer to proof their HTML content.
What isn't clear is whether the proofing tool checks HTML or provides any hints on best practice about the content displayed. For example, how does an email created in HTML render when this is not available?
This is a welcome addition to Wrike Proof and can help drive more work through the Wrike platform. It will enable Marketers to improve coordination with other teams working on websites and should also help speed up the review process for marketing campaigns.