FinancialForce hosted day one of the FinancialForceX Summit yesterday. FFX Summit was a virtual event this year instead of the annual event in Las Vegas. Refreshingly, the sessions, that Enterprise Times attended, despite being live, went off without any issues. The whole event was thought through, and there were some lessons for other vendors. While there were over 2,000 registrations, the attendance during the keynote was around 700. It is both smaller and larger than some other conferences that have had difficulties with the organisation and technology.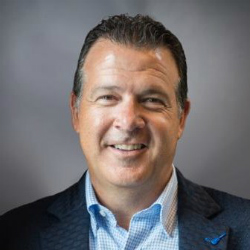 At the start of the day, there were separate streams for different regions. For EMEA, and at a time that was during the working day, it hosted a well-run customer panel. Introduced by Stewart Monk, GM and VP FinancialForce EMEA, he also made the first announcement of the day. FinancialForce will open its first office in the Netherlands in September this year. FinancialForce first mooted this four years ago when Jeremy Roche was CEO. Now, it has the product ready, and Monk is also preparing to scale up the office with new hires.
The main event was kicked off by Tod Nielsen, CEO. This year the keynote was more serious and perhaps a little less idealistic. He struck a tone that was empathic with the current state of global events. Starting from a personal and company point of view of how he and FinancialForce especially have navigated the crisis. He commented: "I'm extremely proud of the fact that we are able to keep businesses running without missing a beat."
On the World today
Nielsen also took the time to recognise the Black Live Matter movement. He commented: "I want to take a moment to restate our position that there is no room for racism in our company, or society." This was not just lip service. The company closed its doors on June 19th, Freedom Day "to allow our employees to stop, reflect and learn more about diversity and inclusion," added Nielsen. On the issue of inclusivity, he also noted that June is Pride month with the world celebrating the LGBTQ plus community.
The only constant is change
COVID-19 and its impact are dominating thinking today across governments, business leaders and individuals. Nielsen argues that one of the issues for businesses has been that initially, there was no indication of how long the crisis would last. Nielsen was honest in admitting that when he first closed the offices in March, he expected to hold the FinancialForceX Summit in Las Vegas as usual. Now is considering keeping the San Francisco office shut until January 2021. The key is: "Knowing where you are and in what context is critical. planning and executing quickly is everything else."
Knowing where we are is not easy. Nielsen then shared a quote, which while nearly two hundred years old, still holds some truths today.
"The world is too big for us, too much going on, too many crimes, too much violence and excitement. Try as you will, you get behind in the race, in spite of yourself It's an incessant strain, to keep pace… and still, you lose ground.
"Science empties its discoveries on you so fast that you stagger beneath them in hopeless bewilderment. The political world is news seen so rapidly, you're out of breath trying to keep pace with who's in and who's out. Everything is high pressure. Human nature can't endure much more!"
~Atlantic Journal, June 16, 1833~
What is important for leaders is to try and grasp an understanding of context. Nielsen went on to describe his strategy, not just for FinancialForce, but a theory that could apply to many customers too.
Getting to the flow
The impact of COVID-19 has made companies consider or accelerate digital transformation journeys.  Companies that are already on them found that COVID-19 also unveiled some shortcomings.
Research by Pegasystems recently revealed that 74% of business leaders found the crisis exposed more IT gaps than expected. The result of the transformation journey should be to streamline service delivery, whether that is in a professional services organisation, high tech manufacturer or software vendor. Nielsen proposed three pillars for a digital transformation journey: Signals, Context and Flow.
Signals
Signals are everywhere. Nielsen noted: "These days there are so many signals. The goal is to get your business flying by instruments instead of flying blind." Businesses need a process to collect all those signals and understand what they mean.
Context
To achieve understanding, one needs context. Flying at night above an ocean is very different from flying above a mountain range. One cannot just trust the altimeter. Nielsen added: "In addition to the signals, you need to be able to interpret and react to them in context. So context is everything, without context, you may have a lot of signals, but you don't know how to derive any knowledge or action."
Nielsen believes that FinancialForce is well placed to help organisations collect signals and provide the context around them. He commented: Context allows all of the signals to be aligned and paint a picture that makes sense since connecting the dots to understand your business is critical. One of the big benefits we get from being natively built on the Salesforce platform (is it) allows us to provide a complete and seamless picture of your business across the front and the back offices. So you can not only have the signals, but the context to take informed action."
Flow
The third pillar is flow. It is a concept first proposed by Mihaly Csikszentmihalyi, a Hungarian-American psychologist. Nielsen was first introduced to flow by Charles Simonyi at Microsoft where Simonyi led the applications group. The concept is often used in programming, Sport and business. "It is critical to be able to react and handle things as the world throws things your way. You need to be flexible and agile. How do you flow without obstacles? How can you achieve business flow?"
As an example, he related a conversation with Marshall King, SVP of IT solutions at JLL. King has used the Salesforce and FinancialForce combination to: "accommodate, adapt and encompass the business model changes or ideas the business comes up with."
Foundation, ending and beginning
Nielsen then revealed that while the pillars are important, they need a foundation. That is the core concept for the business. Nielsen acknowledged that this might be different for each organisation, but for FinancialForce, it is a customer-centric perspective. Nielsen noted: "We fundamentally believe the most effective model is to have your customer at the centre of everything. This requires that your business listens to these signals, puts them in context, provides you with the right insights and actions to create continuous, seamless business flow, all optimised for your growth.
He summarised with a call to action for people to start their journey to the cloud now. He recalled one CIO saying to him: "Tod, I realise that to not be in the cloud is effectively like putting my money under my mattress. So I need to go to a place where the cloud is going to offer the security and accessibility for my employees to be able to really do their jobs regardless of the environment."
The never-ending journey
Nielsen then revealed how FinancialForce itself has not ended its journey. When COVID-19 hit FinancialForce realised it needed a tool that could better understand its own signals and context to achieve flow. To achieve this, it created a risk tracker for internal use. Nielsen then announced that it has now made this tool available.
The Risk Tracker is available free to Salesforce Einstein or FinancialForce Analytics users (based on a specific license). It can draw from multiple sources on the Salesforce platform, and administrators can download the application from the AppExchange now.
Enterprise Times
This was a thought-provoking keynote. Nielsen peppered his speech with anecdotes and stories that brought it to life. The strategy that he laid out is one that Dan Brown picked up in his product keynote as well, especially around how FinancialForce is offering analytics functionality.
The Risk Tracker is an interesting piece of functionality that many organisations will want to take a look at. Sometimes tools developed internally in organisations can have a significant impact on how organisations are perceived. The Risk Tracker is something that many organisations will look at and consider moving their ERP solution.