Workday has made three significant announcements. It released some impressive Q1, 2021 results, which show solid growth despite the COVID-19 impact. It also revealed an additional partnership with Salesforce and a new and notable strategic partnership with Microsoft.
With the Workday first quarter running to April 30, there was always a risk that COVID-19 would impact revenues. It does not seem to have been the case, yet. However, the impact of any license fee reductions due to job losses is more likely to come in later in the year. As companies reduce headcount, they will look to reduce fees at the end of each year, though Workday rarely make public any details of financial agreements with customers. The key figures in this quarter
Revenues up 23.4% year over year to $1.02 billion
Subscription revenues 25.8% year over year to $882 million
An operating loss $144.5 million, this is down to 14.2% of revenues compared to 15% in Q1 2020
Operating cash flow stands at $263.7 million, up from $209.2 million in Q1 2020,
Cash, cash equivalents, and marketable securities were $2.60 billion as of April 30, 2020.
Robynne Sisco, co-president and chief financial officer, Workday commented: "Despite a challenging environment, we reported solid first-quarter results, which we believe are a direct reflection of the mission-critical nature of our solutions."
There were some significant wins in the quarter. During the analyst call, Aneel Bhusri, co-founder and CEO, Workday commented: "We saw continued momentum in Q1, including a Financials first win, a Fortune 50 company, Fannie Mae." (Source: Seekingalpha.com). Workday continues to win significant customers across the globe. Bhusri also called out the success of Workday Planning and Scout RFP.
On the future with COVID-19 in mind
Some companies are struggling with the impact of COVID-19. Workday is seeing an impact, but it is not as great as those supporting smaller businesses. Sisco commented: "While we believe we remain well-positioned for the long term, we are reducing our fiscal 2021 subscription revenue guidance to account for the near-term impact from COVID-19. We now expect fiscal 2021 subscription revenue in a range of $3.67 billion to $3.69 billion. We expect second-quarter subscription revenue of $913.0 million to $915.0 million. We are raising our fiscal 2021 non-GAAP operating margin guidance to 16.0%."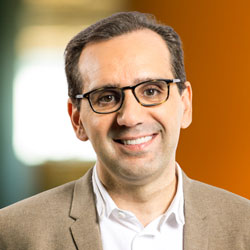 While in the short term the guidance remains cautious, there is an explanation with a possible boost as companies return to work. Chano Fernandez, Co-President commented: "…most of the pipeline impact has been opportunities moving into later periods rather than deals altogether going away, with the largest expected impact to be in Q2 and Q3. It's also important to note we have seen improved prospect engagement since April. We have also seen healthy pipeline growth for FY '22 as opportunities shift from the first half to both Q4 and into FY '22."
Workday is performing well. While COVID-19 is delaying deals, they are not disappearing. The company is still adding customers, and while revenues might slip after customer job losses in a similar way that other companies revenues could fall. The impact of any downturn is as yet unknown.
Getting back to work with Work.com
The new partnership with Salesforce centres around the Work.com platform. Workday is to integrate its HCM solution, notably the Workday Skills Cloud ontology, with the Work.com's safety, health, and workplace information. Pete Schlampp, executive vice president, products, Workday. "Organizations require an incredible amount of workforce insight to build a return to work strategy and quickly tackle the twists and turns that will come with it in our changing world. Combining the data in Workday with the Work.com toolset is a powerful pairing. The result will be an integrated solution set that we believe delivers what HR leaders need to lead in the current environment – more intelligence and trusted systems to make decisions that unlock the potential of the workforce in entirely new ways."
Workday highlights three areas where the combined solutions will assist customers as they bring workforces back into the workplace:
Prepare and protect the workplace, leveraging the regional healthcare information available.
Safeguard and support the workforce with screening, shift management and wellness features.
Prepare for the changing world of work to identify and improve new skills requirements.
The combined solutions will enable joint customers to fully leverage the two components. Bret Taylor, President and COO, Salesforce commented: "Organizations worldwide are grappling with how and when to return to work — and they are turning to data to make safe, smart decisions. Yet, pulling together multiple data streams — like employee skills, employee wellness, cleaning schedules, regional health info — can be complex and time-consuming. By integrating Workday employee data directly into Work.com, we're making it easier for employers to centralize critical data and get their businesses up and running again."
Taking the Microsoft partnership to the next level.
In 2016 Workday announced a partnership with Microsoft which saw the company integrate its solution with Office365. It has now announced a new multi-level strategic partner that sees those ties strengthen. Notable improvements are
It will make Workday Adaptive Planning available on the Microsoft Azure Cloud.
Microsoft itself will implement Workday Adaptive Planning across its global finance operations for planning, budgeting, and forecasting.
Workday will integrate its applications to Microsoft Teams and Azure Active Directory.
The outcome is that both sets of applications will be better integrated with single sign-on. It allows users to access information from different ecosystems without leaving their current application. If they need to do so, it can accomplish this using links rather than a new tab and logging in. Furthermore, the Workday Assistant will also integrate to Microsoft Teams, enabling access to the assistant from within the Teams environment.
Tom Bogan, vice chairman of Workday, commented: "Now, more than ever, planning takes center stage as companies return to the workplace, rebuild supply chains, and in some cases reimagine their businesses in our rapidly changing world. With cloud planning at scale and even tighter integration to help customers collaborate, this partnership underscores what Workday was built for—to help customers unlock potential in their people and the business even in the most dynamic environments."
Why is this important?
This agreement sees a significant new customer added to the Adaptive Planning Workday roster. It is not the news that existing customers are most interested in. Deeper integration between Workday and Microsoft applications will bring significant benefits to many shared customers.
Gavriella Schuster, corporate vice president of One Commercial Partner, Microsoft commented "At Microsoft, we're hyper-focused on continually innovating new ways to empower every person and organization around the world with the tools and insights they need to securely drive productivity and business performance.
"In partnership with Workday, we'll deliver new solutions that connect the people and financial insights of Workday to the cloud productivity of Microsoft Teams and cloud platform of Azure, so our joint customers can do more."
It is those new applications that are most interesting. The Microsoft application portfolio is wide. Increasing the ties between the applications suites will bring many benefits to customers. The combinations will potentially create new application suites that could become a very powerful goto market offering.
Enterprise Times: What does this mean
Workday is still performing, despite COVID-19. There are two sides to the crisis for Workday. The threat is that it potentially reduces revenues from a reduction of user numbers. There is also the opportunity that more companies will accelerate their move to the cloud when the current crisis ends. With its recent global expansion, this should put Workday in a strong position to take another significant share of the market.
While the Salesforce partnership is about helping existing customers and thereby increasing customer satisfaction, it will also appeal to Salesforce customers who have yet to decide on a Cloud ERP. The Microsoft announcement is possibly more significant, both in terms of what it promises and it's potential. It has taken four years for Workday to take the relationship with Microsoft to the next level. The key question is what progress it makes in the next year?