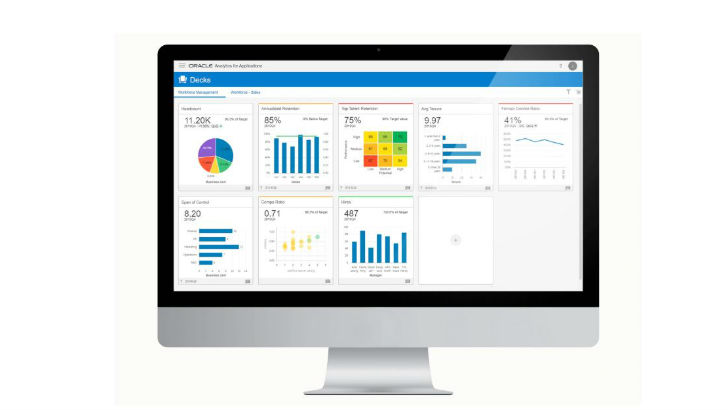 Oracle has announced Oracle Analytics for HCM. This new module delivers preconfigured dashboards with visualised KPI measures for HR leaders, Line of Business managers and HR Analysts. The solution provides pre-built analytic models and also enables customers to extend those models to create new content for dashboards specific to each organisation.
The solution is built on Oracle Analytics Cloud and powered by Oracle Autonomous Database. It enables companies to leverage information from Oracle Cloud HCM better and faster. T.K. Anand, senior vice president, Oracle Analytics commented: "In today's volatile business environment, HR has become a key strategic business partner for the organisation," said "With Oracle Analytics for Cloud HCM, customers are now able to leverage out-of-the-box HR analytics to gain unprecedented intelligence and reduce the organisation's reliance on IT. This allows for closer collaboration between HR and other key business units – such as finance – to help our customers navigate uncertain times and position them for sustained business growth." 
What is in it?
The announcement pulls out two types of features contained within Oracle Analytics for HCM. The first set is functionality features that will improve the insights business leaders can draw from their HCM data. The second relates to the technology that underpins the solution delivering security, extensibility and flexibility to the solution.
KPIs
There are more than 50 pre-built KPI metrics configured within the solution. Organisations can define additional metrics, set alerts against them and change views of them. The best practice library contains detailed KPIs, including:
Workforce demographics, the span of control, as well as hire and promotion status
Turnover (voluntary and involuntary) and retention
Diversity statistics and trends
Compensation trends and ratios
Performance talent ratios and team effectiveness
The solution also supports a more in-depth analysis of these KPIs. For example, looking at top talent retention or turnover by compa-ratio. There are also cross-functional analytic models. These look across different business functions and systems, including ERP, HCM, CX, and SCM. It further enhances the use of the solution beyond HCM.
Business Content
The system has dashboards, reports and KPI graphs ready to use. These deliver actionable insights to users. The tool offers a modern UI, that can leverage data both within Oracle HCM in addition to personal data sources. The UI also supports natural language processing and natural language generation. This enables users to interact with the analytics tool conversationally, rather than needing a data analyst skillset.
Users can share results and visualisations across their organisation securely. This enables collaboration and delivers or visibility of key metrics to interested stakeholders. Users are also able to interact with the solution using mobile devices. Business Leaders can, therefore, interrogate their data no matter where they are using their mobile device.
Enterprise Architecture and Security
Built on the Oracle Analytics platform, and leveraging the Autonomous Database, this new solution provides the security and scalability that large organisations require. Integrated to Oracle HCM, it also maps user permissions. Therefore, individuals are unable to access or view information that they are not allowed to, unless HCM leaders publish it.
What do others think?
Todd Randolph, Principal, Advisory Services, KPMG and US Oracle Analytics Leader commented: "Oracle Analytics for Cloud HCM enables HR professionals to hit the ground running in turning workforce data into meaningful insights. As a result, our customers' HR teams are empowered to become highly strategic advisors to the entire business."
Customers already see the value. Andrew Dennan, head of HR shared services, Synlait Milk Limited commented: "The packaged insights and architectural flexibility of Oracle Analytics will quickly enable us to drive strategic initiatives in partnership with the CoEs and HRBPs in a data-driven manner."
Synlait Milk is using Oracle Analytics for Cloud HCM to gain insights on team effectiveness, diversity, and attrition. It is already leveraging extensibility of the solution by combining survey data with Oracle Cloud HCM data.
Enterprises Times: What does this mean?
This is the latest of the analytics applications added to the Oracle Analytics for Fusion Applications Suite. Oracle launched Oracle Cloud ERP in September 2019. Still to come are:
Oracle Analytics for Cloud SCM,
Oracle Analytics for Cloud CX,
and Oracle Analytics for NetSuite
What isn't clear is how this module is priced. As Oracle adds further modules to its solution ,is it asking for additional money? If so, for larger organisations ,this upsell will increase costs for their solutions. Companies will need to decide whether they are better creating these data visualisations themselves or leveraging a solution that will increase OpEx costs.
What this does offer is the ability for companies to rapidly understand changes in their workforce, identify trends and take mitigating actions to counter them if necessary. Dave Menninger, SVP, Ventana Research commented: "Organisations routinely report that utilising cross-functional data delivers competitive advantage. Analytics based on a range of data that extends beyond the limits of the department – such as the capabilities in Oracle Analytics for Cloud HCM – enable line-of-business personnel to make decisions and take actions for the organisation to best meet its strategic and operational objectives."