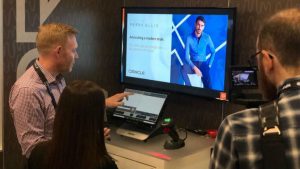 Oracle has unveiled its latest Point of Sale hardware for retail. It has introduced two new models to its range of devices. Designated Workstations 655 and 625, these appear to be enhanced models from the 650 and 620 models respectfully. However, the current data sheets on the Oracle site give no updated details about these new models.
What is different is that both new models come pre-installed with either Oracle Linux for MICROS' operating system or Windows 10 IoT Enterprise as their operating system. Previous models do not appear to have supported the Linus option. Though the Workstation 5A was the first Micros hardware to support this OS.
Combined with Oracle XStore Point-of-Service solutions it enables retailers such as Burberry and McColls to focus on customer service without worrying about scaling up. The new workstations offer a modern design, durable equipment and a small footprint to optimise space usage. McColls rolled out Micros Workstations in 2017 to more than 1300 stores are currently using Workstation 6 hardware combined with Oracle Retail XStore.
Neil Hodge, information technology director, McColl's commented: "McColl's performs more than four million customer transactions per week through 2,700 POS terminals and we need fast and reliable store systems to support our customers and store colleagues We chose Oracle Retail Xstore Point-of-Service and the Oracle hardware because it is an adaptable solution capable of supporting our growth as operational requirements change."
More choice for customers
The new devices come with a new design and fully integrated to the Xstore software. This will provide customers with a more modern looking and future proof solution. The option for the Linux operating system may help to lower the price point for these terminals slightly. However his is not made clear as no pricing is available.
Jeff Warren, vice president of strategy for Oracle Retail "Our latest hardware delivers a modern look and feel, and a more streamlined and resilient user-friendly footprint, which supports full feature store applications. Couple this with our hardware service offering and the result is an agile approach that enables retailers of all sizes to pick and choose the POS that is most brand-appropriate to their image, without sacrificing software features and functionality."
Enterprise Times: What does this mean
This is an interesting announcement that disappointed in its execution. There are very few details available about the new hardware either in the press release or in the documentation available on the Oracle website. That Oracle chose to use a quote from a customer that is almost four years old also seems odd. They might have released some beta products to a few customers and asked for a quote. This could have highlighted the improvements and new options that this hardware delivers.
Hopefully Oracle will soon update the information on their retail site so people can see how the new models differ. Customers and prospects should be able to see the new models at Shoptalk 2020 where Oracle will display its hardware and retail solutions.