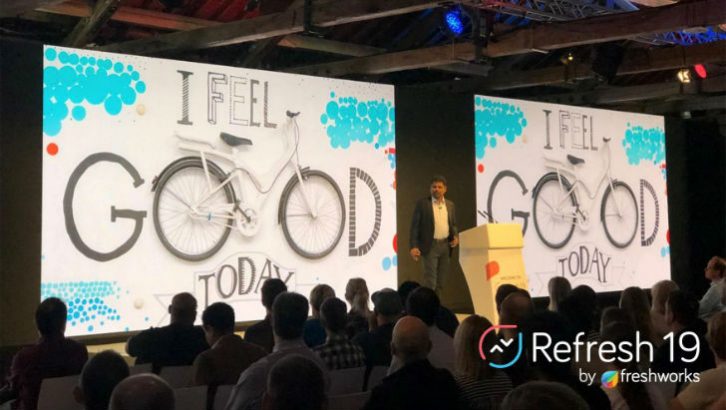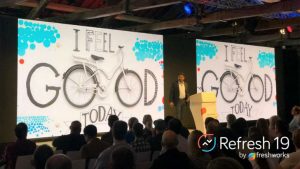 Freshworks kicked off its first European Refresh conference at Tobacco Docks with an announcement and demonstrations of its latest iteration of AI. Freshworks has named its bot Freddy, a combination of FREshworks and buDDY, personified in the form of a "lovable dog" according to David Thompson, CMO Freshworks. Freshworks announced three new capabilities for its AI engine around predictive analytics in the sales and service cycle. It also revealed some simple results from a survey of 3,000 consumers from six countries. Held at Tobacco Docks the event was attended by 400 people and were given the time and opportunity to engage with Freshworks employees and partners to understand more about the company and its products.
Introducing Customer for life brand initiative
Girish Mathrubootham, CEO, Freshworks spent most of his keynote talking about a new brand message that the company is looking to promote. He said: "Don't think of Freshworks as a vendor or partner think of us as your friend, that relationship captures what we are trying to be. A true friend is there for life. This is our new found brand identity."
That brand message is underpinned by the vision for Freshworks that Mathrubootham shared: "Enable every team to deliver moments of wow." To deliver that vision Mathrubootham added that: "Success is in the big things, happiness is in the small things." It is delivering moments of happiness constantly both in terms of product features and customer service engagement that Mathrubootham expects to deliver on the vision. To deliver on the big things Mathrubootham sees three key trends that will take customer engagement to the next level.
Customer 360. Mathrubootham admitted this is not new and his analogy of the holy grail seemed apt. He seems confident that the combination of CRM, Marketing, Support and Chat once combined can deliver it. There is still work to do on the Freshworks product though. Freshworks 360 is the vehicle to drive this vision but still needs to have a single underpinning database which is work in progress, according to Mathrubootham. At its heart lies IT and HR systems that deliver the employee engagement experience. Freshservice to provide internal service support and Freshteam that provides onboarding for new hires.
Collaboration.  It is "not the job of support person to take care of the customer alone". The key for this trend according to Mathrubootham is where collaboration meets context. It is something that Freshconnect aims to solve and it will be integrated to all products in the "near future" Mathrubootham added.
Artificial Intelligence: The final trend is AI. Mathrubootham commented: "We believe that there is a tremendous opportunity in AI." He likened it to the WSJ Marc Andreesson article entitled Why software is eating the world adding that "AI is eating software". Freshworks vehicle for doing this is Freddy and he then gave a demonstration of the latest updates for their canine AI engine and its new features.
Freddy gets new features
Mathrubootham demonstrated three of the new capabilities of Freddy and the Freshworks solutions. The first two deliver improvements for sales and service organisations.
Lead Scoring: A new bubble chart is available to Sales managers. This maps the age of deal against the deal score. The size of each bubble is scaled to the deal size. The resulting diagram gives sales managers a clear indication of which deals are likely to disappear, especially as the chart is also colour coded  to assist with analysis.
Know what your customer wants to know before they ask: Freddy is now able to convert static FAQ's into a conventional chat interface view, both chat and text. However the voice interface still has limitations as demonstrated by Freshworks on stage during the keynote. The demonstration dd not go exactly as planned. This is not a Freshworks issue, rather an indication of the quality of voice recognition on mobile devices. It is an issue shared with many other companies, with the text interface a better example of how advanced the AI engine is. Freddy will interpret and learn new ways to answer the same question. An example being: "What are your opening times? When will you close? How much is parking?"
Mathrubootham also spoke about the next stage of this, where the AI will start to understand the intent of the question. For a zoo, for example, someone asking what time the location opens will probably mean that they are intending to attend, in which case it is an opportunity to sell a ticket. That contextual awareness can be built into the AI.
AI does not mean the end of humans:
Central to Freshworks thinking, is the belief that AI will not replace humans but make jobs more interesting according to Mathrubootham. This view may be slightly naïve in our opinion but Freshworks recommends that if sentiment is negative then a bot communication should swiftly be handed over to a qualitative human interaction. Freddy is now able to detect that negative sentiment, not just in the words used but also behaviours. For the time being this appears limited to interaction with the website rather than any tone analysis of voice (though this is technically possible). It can currently detect the following actions and flag them:
rage clicking
dead clicks
confused cursor movement
random scrolling
error messages that signal customer frustration
potential drop-offs
Freddy transfers the communication automatically to a human who can continue the interaction with full visibility of the history and the ability to defuse the situation, according to Thompson.
Esteban Kolsky, Principal of ThinkJar and leading CRM analyst commented: "AI is driving massive disruption in the CRM space providing opportunities for brands to engage customers more deeply than ever before. Businesses who are adopting AI are quickly discovering that the real value is found by breaking down silos and providing predictive capabilities across the organization. Done correctly predictive AI should optimize operations, engender customer engagement and improve the experience at each and every interaction."
Why is this important?
Recent proprietary research by carried out by Freshworks highlighted why companies need to consider adding such proactive features to their systems. The survey asked 3,000 consumers across United States, United Kingdom, Germany, France, India, and Australia, what led them to favour brands? 69% of respondents indicated a preference for brands that offered proactive notifications and service. Worryingly for many, 56% of those surveyed said that they would stop doing business with a vendor that offered a poor service experience. In the US that figure was even higher with 70% walking away. The power of social media also meant that 60% of those affected would share their experience on social media, further decreasing brand value.
David Thompson, CMO, Freshworks commented: "Today's consumers are extremely demanding and expect a great experience. The predictive engagement engine by Freshworks helps sales personnel identify and capitalize on opportunities and enables support teams to smartly predict leads, identify frustrated customers and optimize performance."
Enterprise Times: What does this mean
Will Freshworks attain that holy grail of customer 360? It seems to ET that it might fall short. ERP vendors would argue that a true 360 degree vision includes a view of finance and in some cases operational information. ET challenged Thompson about this and he argues that those insights would be available through its integrations with third party systems. Certainly Freshworks has a lot of those. In a roadmap session on Freshsales, Srivatsan Venkatsan, head of product Freshsales, indicated that by the end of the year Freshsales alone would have 150 integrations available. ERP integrations include QuickBooks, Xero and Dynamics 365. However, Freshworks may need to extend the list once it has its own products in order.
What Freshworks does have is a direction and a vision that makes sense. It has an openness and a willingness to partner which enables it to offer customers a wider choice. It also has a product roadmap that will strengthen its portfolio of products. No timescales were put against the delivery of the vision. However, supported by its recent funding round, it should continue to grow as it meets the needs of its customers and partner ecosystem.