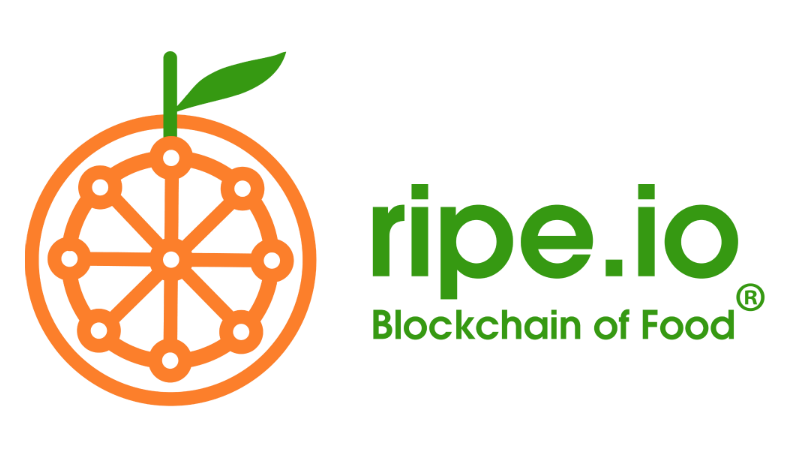 The National Pork Board and Ripe Technology (Ripe) have entered an agreement to pilot blockchain technology use in the U.S. pork industry. Through this partnership, Ripe will enable an ecosystem for pork producers to monitor, evaluate and improve sustainability practices based on the We Care framework.
"Over the last 50 years, America's pig farmers have followed the We Care principles to produce a product that has become increasingly sustainable using 75 percent less land, 25 percent less water, and 7 percent less energy," said Dr. Brett Kaysen, assistant vice president of sustainability at the National Pork Board. "We look forward to working with ripe.io to use blockchain technology to record proof points through a system that can benchmark performance while increasing transparency of the entire pork value chain."
The WeCare framework and the National Pork Board
The WeCare framework consists of defined ethical principles to guide the U.S. pork industry. Launched in 2008, these principles provide industry standards applicable to:
food safety and public health
animal well-being
protecting the environment
improving the quality of life for the industry's people and communities.
These standards serve as the pork industry's commitment to continuous improvement.
The National Pork Board has responsibility for research, promotion and consumer information projects – including communicating with pork producers as well as the public. Through a legislative national Pork Checkoff, pork producers commit to investing $0.40 for each $100 value of pigs sold. Similarly, importers of pork products contribute.
The Pork Checkoff the funds national and state program addressing:
advertising
consumer information
retail and food service marketing
export market promotion
production improvement
science and technology
swine health
pork safety
sustainability and environmental management.
The Ripe connection
Working with Ripe, the National Pork Board will demonstrate to its producers the value of possessing a responsible supply chain which consolidates sustainability data and activities. All this information will be made available on the Ripe blockchain platform which will highlight how pork producers create a sustainable pork production environment.
In addition, through a distributed permissioned ledger, program data will:
be visible to partners in the ecosystem to ensure valid certification
remain anonymous (in order to create a benchmark indicator for each ethical principle).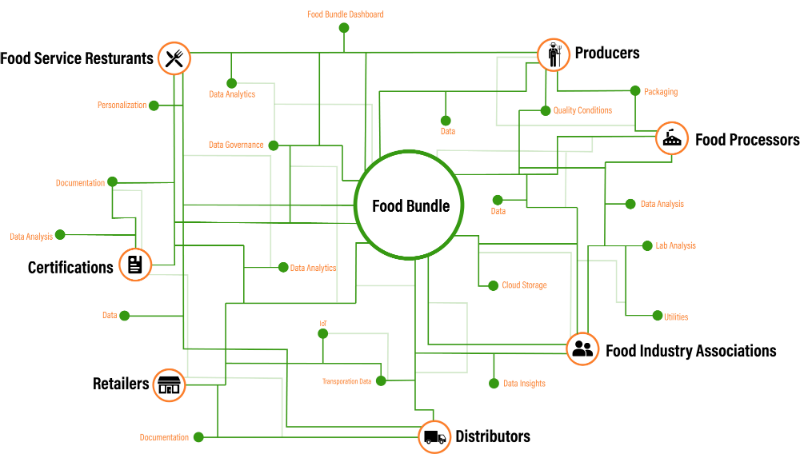 Ripe self-images as the 'blockchain of food' (see above). It wants to re-imagine the food supply chain (see diagram above). By leveraging blockchain technology, it seeks to create a digital bridge which promotes, for food producers, distributors, and consumers:
transparency
trust
honesty.
Transforming the food message
By working with participants throughout the food supply chain Ripe hopes to transform food system narratives and establish create a food environment where access to data demonstrates integrity, sustainability, security and better food:
farmers will be able to leverage IoT and sensors to automate processes and efficiently meet market demand for high quality, sustainable products
distributors will be able to transparently track food products to provide real time data on food safety and delivery
consumers will receive trusted, certified information on the journey of their food, creating a new standard of food quality.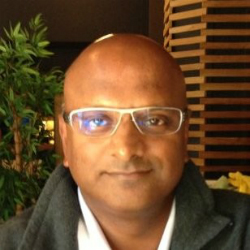 "The growing demand across the entire food supply chain – including end consumers – is to 'Know Your Food.' The ripe.io platform generates powerful levels of transparency and trust by enabling collaboration and consensus of data and activities within food systems," said Raja Ramachandran, co-founder of ripe.io. "Through blockchain, customers like the National Pork Board can enable its organization and members to create shared, immutable trusted records that address critical food issues such as sustainability, quality, traceability, waste and fraud."
Enterprise Times: what does this mean
Food is assuming an ever-greater importance to blockchain. Enterprise Times has covered numerous initiatives (IBM/Carrefour/Food Trust, SAP/Bumble Bee,  Kelly Products, Block Commodities/Uganda, and more) where the food supply chain, in some form, wishes to provide assurance to the end customer, whether for health or for quality or for ethical/sustainability or for production reasons.
This National Pork Board initiative with Ripe seems to embrace all of these. By providing value to producers (farmers), efficiency to the supply chain and comfort to consumers it will encompass a broad range of remits. Whether there is conflict or congruence of objectives will require careful observation.