SAP and Bumble Bee Foods (Bumble Bee), a North American seafood company, have announced the latter will use the SAP Cloud Platform Blockchain service to trace the journey of yellowfin tuna from the Indonesian ocean to the dinner table.
Together, SAP and Bumble Bee hope to improve upon seafood traceability. This matters when more and more consumers demand to know their food is safe as well as sustainably sourced.
Bumble Bee Foods Chief Information Officer Tony Costa said: "With SAP, we have the ability to track fish the moment it's caught and as it travels around the world, telling the story of each tuna while positively impacting ecosystems and the lives of the people all the way down the line. "Bumble Bee has long been an industry leader in tracing its seafood products, and the addition of SAP's blockchain technology allows us to further elevate our efforts in complete transparency with consumers and customers, providing assurance that their fish is fresh and it's been sourced fairly according to our commitments to the International Seafood Sustainability Foundation."
A record, from sea to kitchen
With SAP's blockchain technology, consumers will be able to access the origin and history of Bumble Bee's 'Natural Blue by Anova' yellowfin tuna. They will do this via their smartphones and the scanning of a QR code on the product package.
With this snap of the QR code, the blockchain will provides immediate information about the fish-to-market journey, including:
the size of the catch
point of capture
the fishing community which made the catch.
In addition, consumers will be able to obtain other insights regarding:
authenticity
freshness
safety
fair trade fishing certification
sustainability.
Bumble Bee, headquartered in San Diego, offers canned and pouched tuna, salmon, sardine and specialty protein products. It markets these in the U.S. and Canada under a variety of different brand names. Bumble Bee's mission, it says, is to provide nutritious products sourced sustainably which is why it is a founder of the International Seafood Sustainability Foundation (ISSF) — a global partnership of scientists, tuna processors and WWF, the global conservation organization.
The blockchain dimension
Blockchain technology enables enterprises, like Bumble Bee, to store data and create a tamper-proof supply chain history. It is this which consumers can share.
SAP Cloud Platform Blockchain enables:
customers, partners and developers to exploit distributed ledger technology
build new solutions
add extensions to existing applications.
For Bumble Bee, blockchain is the safest possible way to share data between parties, because it is:
incorruptible
verifiable.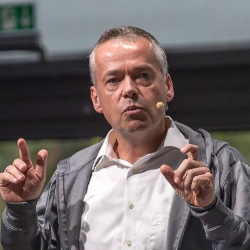 Bumble Bee says it is the first food company to incorporate SAP blockchain technology into its production cycle.
According to Oliver Betz, global head and senior vice president of SAP Innovative Business Solutions, part of SAP Digital Business Services: "This solution is an example of how blockchains can be used to revolutionize the future of food.
"It creates transparency and traceability across the food supply chain, from the ocean, across the cold chain, to the warehouse, store and our table. When we help enterprises like Bumble Bee to make innovation real, we support the consumer's need to know and reinforce their faith in the brands they trust."
Enterprise Times: what does this mean
It may well be true that this Bumble Bee initiative is the first use by a food producer of the SAP Cloud Platform Blockchain. yet there are plenty of other similar initiatives (qv IBM/Food Trust, Kelly Products, eHarvestHub, MyStory, Ambrosus, etc.).
What any food vendor has yet to demonstrate is that consumers can sustain interest in what he or she is buying. This may be due to a lack of understanding or it may be that the data available is essentially meaningless when the source (for instance) is many thousands of miles/kilometres distant. After all, there will only be a specialist few who can assess whether any specific fishing community 'behaves' as the consumer expects.
This leads to a difficult question: is the adoption of blockchain by Bumbe Bee (and others) more about marketing or internal supply chain/ERP controls which add value?