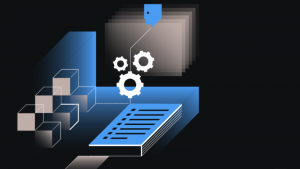 Blockmason is a developer of foundational, base-layer blockchain technologies. It has announced Link which seeks to assist smart contract and blockchain innovation and use in enterprises. Link is a blockchain infrastructure-as-a-service (BIaaS) which enables enterprise developers to use smart contracts and programmatic blockchains – like Ethereum, TRON and others – in applications without requiring blockchain experience. With Link, a developer can create conventional web-based APIs for any smart contract written on a programmatic blockchain. At the heart of Link is BLINK, a utility token which provides Link users with API transaction capacity.
Devin Canterberry, Chief Technical Officer and head of Link development commented: "Link is the one-size-fits-all solution that enables you to build blockchain-based enterprise apps without the typical overhead of doing it all yourself.
"Link handles deployment, logging, access control, authentication, monitoring, alerting, analytics, scaling, documentation, and infrastructure, so you don't have to," he continued, noting that "With Link, you write some code, click a button, and from there you're ready to use what you've built."
The basics of the Blockmason Link proposition
Blockmason views Link as the missing component in blockchain-based app development. It believes that, with Link, developers and users can interact with smart contracts much as with any other web API. For example, there are no:
'gas' cryptocurrencies to acquire
browser plugins to install
servers or web infrastructure to maintain or monitor.
Developers add the smart contracts they want to use in their apps 'to Link'. Once added, they can read from and write to these smart contracts just like any other API. In effect the Blockmason claim is that this creates classic, conventional web-based APIs for any smart contract written on a programmatic blockchain.
The problems Link addresses
Blockchain development has a high barrier to entry. At present, when adding blockchain tech to existing systems, developers must:
learn the essentials of blockchain
code in new languages, and with different approaches
undertake complex processes to sign, send, write to and retrieve data from the blockchain
transcend countless integration obstacles.
It is much the same for users. For the casual user, interacting with blockchain-based apps is difficult – or near to impossible. Before using an app, a user must first navigate some or all of:
cryptocurrency exchanges
wallets
transfers
security challenges
browser plugins
and much more.
Why Link might be a solution
The principle claim made for Link is that there is "no blockchain experience required". Link seeks to make blockchain development accessible to those with traditional programming experience. In addition, the point made earlier applies: there are no 'extra' servers or web infrastructure to maintain or monitor.
Extending this, with Link, developers and users can interact with smart contracts like they do with any other web API. There are no cryptocurrencies to acquire, browser plugins to install, etc . This makes for an app experience where developers can offers users a familiar web-based experience. The blockchain — and its complexities — become invisible to app users.
Benefits which Link could bring include:
convenience (and, implicitly, ease of use)
enterprise-grade security (Link features continuous, automated security monitoring of all infrastructure and associated apps)
mobile application readiness (Link simplifies the creation of walletless mobile apps which can interact with the blockchain)
managed, high-availability infrastructure (Link means not having to build or maintain servers, nodes or other infrastructure in order for users to exploit decentralised apps)
automated documentation and sample code (Link generates, syncs and updates usage documentation and sample code for all registered apps and smart contracts)
monitoring, analytics and data visualisation (here, Link helps to understand how an app is being used – with detailed visualisations, logs and insights).
"Our experience and discussions with enterprise software developers have made us aware just how challenging it can be to incorporate smart contracts and blockchains in large-scale apps," said Michael Chin, Blockmason's Chief Executive Officer. "For enterprise development teams, using Link will drastically improve their workflow. A Link project is your app, your database, and your scaling infrastructure, all in one."
Enterprise Times: what does this mean
The claims are as substantial as backing information on the Blockmason site is light. For any enterprise tempted by Link, far more detail would be necessary – not least about the significance of the BLINK utility token (a topic mentioned but not explored).
That said, anything which makes blockchain easier to deal with, especially if for both developers and users, is welcome. As Blockmason says, blockchain is difficult. If Link reduces the time to implement and can use existing infrastructure and APIs, then it will add value.