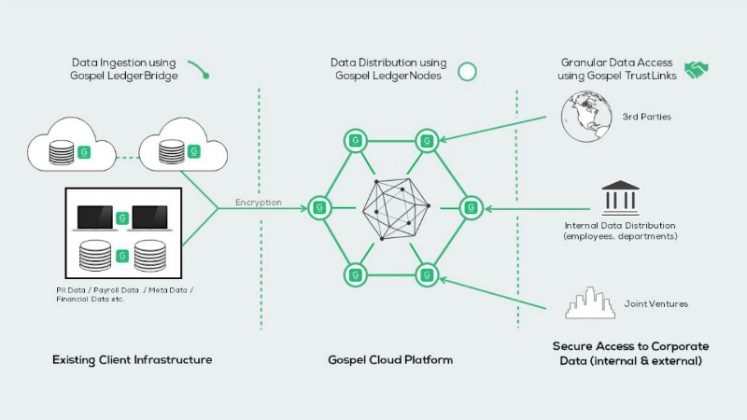 Despite many investments into startups Salesforce Ventures has finally invested in one that leverages blockchain. It has invested in Gospel Technology as part of a $5 million Series A funding round. This was jointly led by IA Ventures and Salesforce Ventures. It follows a seed funding round in February 2018 by LocalGlobe. Enterprise Times caught up with Ian Smith, CEO Gospel Technology and Reuben Thompson, VP Technology Gospel Technology at Dreamforce this week.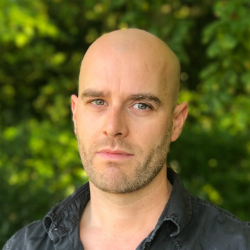 Gospel Technology is a company has grown rapidly since its founding in 2016. It launched version 1 of its data security platform in the same year. In February this year it unveiled version 2 and went into production the following month. It has already attracted the interest of some leading UK firms and this helped attract the interest of Salesforce ventures. Unlike many other blockchain startups it is already revenue generating. Smith commented: "We will do two to three million in revenue this year, the product came out in March , We don't need to fund raise, We are generating the money from enterprise customers."
Why raise funds then?
Smith said that it will help them accelerate growth through development and sales, partner ecosystem and marketing spend. The company has a booth at Dreamforce (not a low cost) and is hoping to break into the US market with its product. With the backing of Salesforce this seems likely and they already have a Salesforce connector according to Thompson. This is not publicly viewable on the app exchange as companies need to have a relationship first.
The connector allows customers to surface trusted data from third parties within their Salesforce environment. With the announcement around Customer 360 today this is a timely funding round. With companies looking to leverage their data within their own organisation, Gospel Technology is offering the utopia of validated data from outside the enterprise as well.
We challenged Smith about the small sum raised. Smith acknowledged that he could have sold the business or even raised three times that amount. However, his approach is cautious. He wants to grow the company at the rate that is needed to service the new and imminent customers. He acknowledged that as a start up they need to grow the organisational infrastructure to support the next phase of growth. This is something that Smith is familiar with having sold his previous start up data analysis and migration company, Butterfly Software to IBM.
A wide customer appeal
The Gospel Technology platform is an enterprise data security platform that creates a fabric of trust for secure data collaboration both within the enterprise and between enterprises.
While Smith could not yet reveal any names of customers he revealed the types of customers they have on board. He did admit that there may be more news to follow including some customer names. However, as the solution is around providing secure data some are concerned about the publicity.
Smith revealed three use cases where they are getting traction:
A large manufacturing company that are using it across its supply chain, validating financial accounting
Pharma company that designs the product and needs to create the product across multiple boundaries.
A payroll business process outsourcing company that is using it to transfer limited amounts of HR data across borders. As a highly regulated business it needs to ensure that the data transferred was the correct data and only the data that was needed.
The first two of these are huge potential opportunities in terms of the wider market. The third has implications for decentralised organisations that need to share HR data. As well as the BPO scenario.
The backers
That Salesforce Ventures is investing in Gospel Technology is no surprise when one realises the synergy between the companies. Smith is also impressed with what it has to offer commented that "Salesforce were compelling". In turn, Alex Kayyal, Partner at Salesforce Ventures commented: "Salesforce Ventures looks to invest in the most innovative enterprise companies globally. We are excited to support Gospel's vision of advancing enterprise data sharing through blockchain, and we look forward to having them work more closely with our customers."
IA Ventures is the other lead investor. Roger Ehrenberg IA Ventures commented: "We are really excited to add Gospel Technology to our trailblazing community of talent and technology. We believe that blockchain can radically transform the way that organisations will collaborate and share data, resulting in improved productivity and innovation. We are looking forward to seeing how the Gospel value proposition matures and how the company acts on its vision for businesses across the world."
Another investor Smith revealed is Tom Stafford of DST Global. This is a personal investment by Stafford whose company has invested in Deliveroo and Nubank. Backing from Stafford is significant in its own right as he tends to make smaller investments himself. Previous investments include Habito and Raisin (Source: Crunchbase). Gospel Technology almost certainly came to Stafford's attention at the MoneyConf event in Dublin earlier this year. Gospel were in a pitch competition in which Stafford was one of the judges. They didn't win it but clearly he was impressed as a few weeks later he personally invested in the company!
What does this mean
Gospel Technology is one to watch. As a blockchain based company it seems to have a solution that actually delivers something that enterprises needs. Its product is in production and its technology has patents pending according to Thompson.
With the Salesforce announcement around Customer 360, the timing is also impeccable. Attendees at Dreamforce will already be hyped about data connectivity within the enterprise, Gospel are offering something even greater. Secure data connectivity between enterprises. It could be a good investment in attending Dreamforce for Gospel and a good investment by Salesforce Ventures and IA ventures.