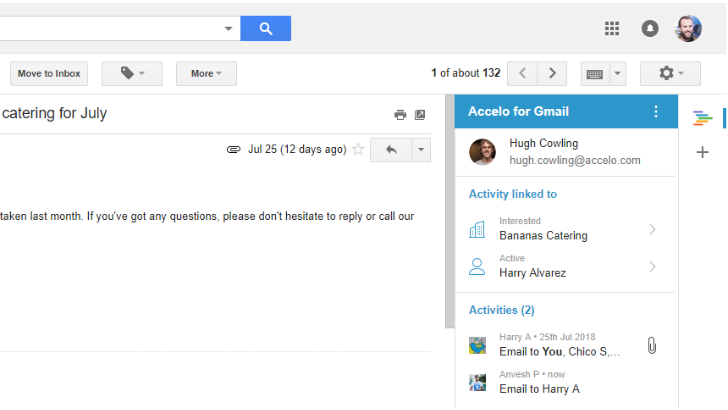 Accelo has announced in a blog by Hugh Cowling, Product and QA at Accelo a new Gmail add-on. The product was released in beta and allows users to work more effectively while still within Gmail. Once installed the Gmail add-on displays in a separate email details about the email if it is already tracked within Accelo.
The user is able to see more information about the email thread. This includes other activities the email is linked to including:  client, sale, project, ticket, retainer or other emails.

The window is also interactive, allowing users to drill deeper into the Accelo data without ever leaving the Gmail application. This will allow the user to see information pertaining to the project, service ticket, opportunity or whatever activity the original email was linked to. The user is also informed if the email is not tracked by Accelo.
With this current release there are no further options. However Accelo intend to add functionality such as allowing the user to create a contact if the company exists. It will also be possible to add the company, add tasks to Accelo and match emails against the different activities within Accelo.
Cowling is promising more updates soon. Accelo often releases weekly updates to its software. It announces changes in blog posts here.
What does this mean
This update was issued as a result of Google discontinuing support for Gmail Contextual Gadgets. The announcement for this was made by Google back in January. Support for the gadgets ended on 1st August 2018. Accelo customers have therefore been waiting six weeks for the replacement. Now that it is here, it does not yet appear to have the same functionality that the original solution had. However, they are pleased that it has eventually arrived and more updates are promised for it. One user, Josh Way even commented: "I'm SO excited about seeing Accelo on this so quickly!! oh… and…. FIRST!!!".
The new add-on is available from the GSuite Marketplace. For domain administrators there is the option to authorise installations across the whole of the company domain, allowing Accelo and Gmail users to start implementing the Gmail add-on. Each user will also need link their Gmail account to the Accelo domain to start working