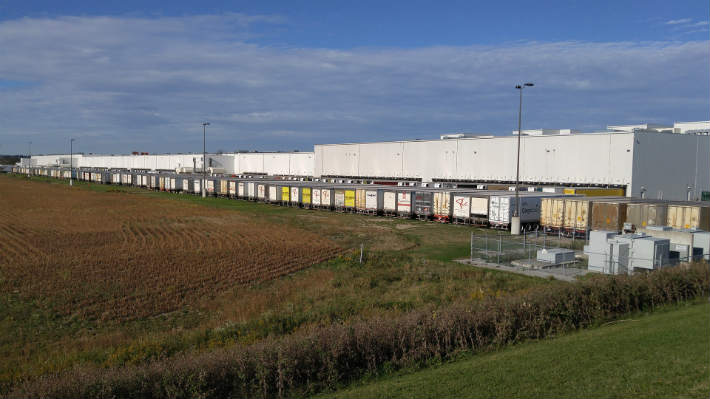 At Insights 18 Epicor announced the latest versions of both Epicor Prophet 21 and Epicor Eclipse, its ERP software for distributors. Steve Murphy, CEO Epicor delivered two tenets that he is bringing to Epicor. The first Fit, Easy and Growth was highlighted during the day the one keynote.
The new releases also follow a second tenet that he spoke about:
"Get current, stay current, and keep growing"
This underpins both Epicor ERP and Prophet 21. The latest release of Epicor ERP has a single code line, which allows Epicor to deploy it both on-premises and cloud, and then allow companies to easily upgrade to the latest version. One of the historical issues is the pain that companies go through to upgrade software, often missing versions out completely. This successful approach was proven during a conversation with Jos Greeve, IT Manager at Boers & Co , who always update to the latest version and find the process easy.
Adam Linger, Technical Administrator, Stellar Industrial Supply has found the same with Prophet 21. He commented: "The largest benefit of updating to the newest version of Prophet 21 is the ability to differentiate ourselves from our competition. Staying up to date gives us the latest tools and technology to stay on the leading edge. Keeping on the latest version helps us to continually streamline our processes and find new ways to work smarter and more efficiently."
There is no point upgrading to the latest version of software though without a benefit for doing so. Not only are the latest versions supporting the cloud ready ethos, Epicor has also improved the functionality of both products.
Improvements to Prophet 21 2018.1
The latest version of Prophet 21 has several features that take the product forward. Further details are available for download here, registration required. The new features include:
Customer refunds: Epicor has introduced the ability for distributors to offer refunds directly to the credit card that was used to pay for goods. The system can do this without the requirement of having the actual credit card present.
Carton packing improved: The Carton Packing functionality now includes the ability for companies to scan and pack items for shipping and print GS1-128 shipping labels.
Improved EDI support: The power of major retailers such as Walmart and Amazon means that distributors often need to interact with them in order to grow. Prophet21 now supports several new EDI transaction sets to support high volumes these retailers require.
Distri-facturers: Distributors are now increasingly requiring support for manufacturing processes. Features now include support for production work flow, remnant material handling, uncosted components, and designating machines as a resource.
New integration services: One the important strategic partnership announcements that Epicor made this week was with Jitterbit. Prophet 21 now has additional APIs built on REST-based web services. There are now more than 250 services available within the API. This should help other ISV's create add-on software that will integrate to Prophet 21.
Other features include some new usability features and enhancement to mobility.
Epicor has also launched a new data analysis module, XL Connect 7. This sits within Excel and draws data in for further analysis using the Excel features. It enables companies to create reports based on data stored within their ERP solution using a familiar interface.
Eclipse benefits from the other Epicor products
The new features for Eclipse are more around add-on features rather than the core functionality. The main core improvement is around the Product Data Warehouse module and improvements to the speed of the solution. Epicor Commerce Connect(ECC) is now fully integrated into Eclipse. This includes the ability for users of ECC to select an order status, specify a required by data and make payments on outstanding AR accounts.
Epicor Data Analytics is also now available for Eclipse users. It will deliver the power of the Epicor analytics engine to their businesses.
What does this mean
While Epicor has made some major strategic decisions and is investing in them, it has not forgotten that the functionality of its solutions also needs to move forward. In many verticals distribution is evolving. This needs both retail functionality as well as manufacturing capabilities.
Mark Jensen, director of product management, Epicor: "Distributors are looking for ways to digitally transform their business. Distributors unwilling or unable to navigate this transformation are already seeing a financial impact; whether it is a slip in growth, a reduction in margins, fewer customers, or losing employees. Epicor enables distributors to grow, thrive and compete in a disruptive industry with these new versions of Prophet 21 and Eclipse. There is no better time than now to embrace digital transformation with Epicor."
In terms of distribution it is investing in both Eclipse and Prophet 21. Steve Murphy also revealed that the investment to globalize the Prophet 21 product is something that he is considering. He believes that it could do extremely well in Europe especially.