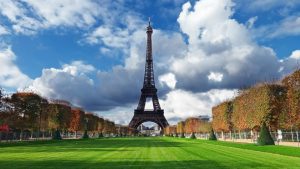 SAP is looking to France for a new generation of innovation. It has announced the acquisition of the French start up Recast.AI and is planning to incubate 50 more. Using the SAP.iO Fund, it will also invest in French start ups in their seed funding or Series A rounds. It will also spend €150 million each year in R&D over the next five years. Though that last figure does not appear to be directly tied to France.
Familiar focus for investment
It will come as no surprise that SAP are looking to invest in companies focussing on Internet of Things (IoT), Machine Learning, blockchain and SaaS software. It will specifically focus on companies that are complimentary to SAP Leonardo. SAP Leonardo is the platform through which SAP integrates the latest technology, including those named above, into its architecture.
In total it will invest more than €2 billion into France over the next five years. Bill McDermott, CEO, SAP, said after a meeting with French President Emmanuel Macron: "There is a real sense of economic momentum in France. President Macron's bold embrace of the digital world will help France rise to an enviable position as a global innovation leader. We see immense potential in the entrepreneurial spirit of France to disrupt business models, create modern jobs and unleash exciting new opportunities that help the world run better."
Macron described digital industry as: "a motor of renewed economic growth and promised to unleash a startup revolution." In recent months he has also announced a €10 billion investment fund in France to fuel the country's rise in the digital industry. This drive to modernise France might see the country reverse its fortunes and punch its weight on the international stage. This could be both an advantage and a disadvantage to the UK economy. That depends, at least in part on the outcome of the Brexit negotiations.
Acquisition of Recast.AI
SAP acquired Recast.AI through its French subsidiary SAP France Holding. No financial terms of the agreement were disclosed. Founded in September 2015 Recast.AI is a collaborative bot platform. It raised €1 million in seed funding in June 2016 and the acquisition probably comes at a time when they were looking for new funding.
For SAP, whose hunt for the next great start-up includes those with global ambitions finds Recast.AI a good fit. Its platform supports more than 20 languages already. Once integrated, it will bring conversational support throughout its software platform. It will add to the work that SAP has already done with Bots.
SAP may also have snatched Recast.AI from under the noses of Microsoft. Recast.AI was the first member to join the Microsoft AI incubation program at Station F. What this means for that program is unknown and it may see recast.AI leave the innovation hub. It also launched its first office abroad last year. It opened in San Francisco intent of growing the company internationally.
That expansion has seen the company work with well-known brands such as Desjardin, EDF, europ assistance, KLM and SNCF Transilien. There is no comment about their existing client base and product but the staff, including data scientists, will "strengthen" ML development at SAP. Whether this is in a separate stream or merging the product lines is unclear.
What does this mean
This is a significant investment by SAP in France. Whether they will make the same level of investment in the UK is unknown. Google and Facebook as well as SAP have recently made investments in AI/ML in France and there are few parallel investments in London or elsewhere. Is Brexit finally having an impact or is it merely a rebalancing of funding that was overdue.
For France and Macron this is positive news. It may start to move the reliance away from heavy industries and towards digital technology. It is something that Macron is keen to promote. While these investments take time to reach maturity it needs to start somewhere. That Recast.AI has gone from start-up to being acquired by a major global software company in under three years, indicates that it is a focus that will start to pay back before the next elections.