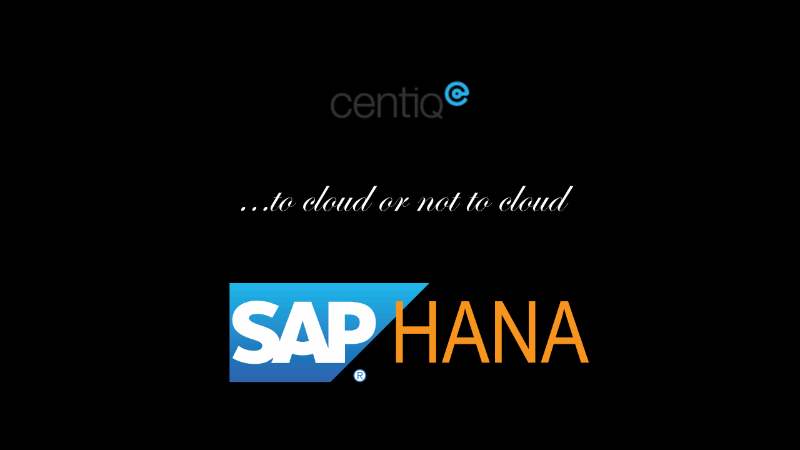 Centiq has the answer
Centiq has announced a set of new "pre-packaged" services to help companies identify if they should migrate their on-premises SAP HANA solutions to the cloud. Some companies claim there are significant advantages going to public cloud providers such as Microsoft Azure and Amazon EC2.
It is also an ever evolving market place with NTT announcing a new cloud platform for SAP deployments. Enterprise Times spoke to Matt Lovell, CTO at Centiq about the new service offering. It consists of four professional services components: Workload assessment, architectural design, cost benefit analysis and implementation plan. Customers can mix and match between these packaged services.
The problem
We asked Lovell: "Why this set of services?" He replied: "What we found is that customers are looking for upfront professional guidance and assistance in terms of the workload assessment. So there are a large number of customers either leveraging HANA or looking to leverage HANA who need to understand the workload assessment and the profile and the sizing of that in traditional SAP terms into the platform.
"We traditionally start out as a professional services or project engagement with the customer. That will shape itself into an architectural design and support of customer specific business case or cost benefit analysis and they could be considering more than Hana at that time."
If the customer chooses to implement SAP HANA Centiq will also assist them through that process. This is what is has done for many of its existing customers. What Centiq has done is pre-packaged these offerings identifying the output that customers want. Lovell believes that this is what customer want. However while customers may want a packaged solution he also admitted that: "The majority of customers have customised them to meet their specific requirements."
Lovell also couldn't be drawn on a standard price as each engagement involves a scoping exercise before a price is confirmed. This was disappointing, though understandable given the variety of requirements that Hana customers are looking for according to Lovell. Lovell continued: "When we have a deeper understand of the customer environment we will confirm the statement of work and confirm objectives."
Workload assessment
To assist with the Workload assessment Lovell revealed that they use Optiq, a tool for SAP Hana developed by Centiq. Lovell explained Optiq by saying: "Optiq provides very specific management and monitoring capabilities. Increasingly we are looking at how we optimise the use of the HANA platform. This is important as more and more customers are leveraging the power of HANA with in-memory structured and unstructured data sets."
While the assessment is carried out by Optiq its capabilities are wider. Having seen the benefits Lovell sees customers take on the software on a more permanent basis.
Ready for public cloud?
In the press release Centiq's Director of Technology and Services, Robin Webster commented: "Typical HANA on Suite implementations are three to four terabytes, so the new public cloud offerings are right in the sweet spot. They only make sense though if all the numbers line up. Centiq's HANA experts help under-pressure IT departments, who need to relentlessly deliver results, to resist buying more hardware, de-risking moves to take important decisions around future IT strategies."
Lovell is more hesitant; some would say realistic about implementing HANA solutions in public cloud. He commented: "I think many SAP platforms are still run on a fairly continuous basis and they are running business critical outcomes and outputs.  They are supporting data analytics for decision making or core processing for business functions. For pre-production and production environments there are a limited number of public cloud offerings that, over a three-year period, would be more advantageous than a private cloud offering."
However, Lovell also feels that there is a strong case for companies to use public cloud in certain circumstance. He continued: "Where you have short burst projects and have a requirement to stand infrastructure up quickly then public cloud offers many advantages over either a private cloud or an on premises solution." He also explained that customers are using public cloud to accelerate projects as well.
Who needs it?
It isn't just SAP HANA customers who should consider the Centiq services. Lovell explains: "We have seen a range of new customers who increasingly are not SAP customers. They may have a different data analytics platform today. It could be an existing Oracle customer or Hadoop customer. There are any number of starting points where HANA is delivering an increasing business value. It is also applicable to the mid-market and large enterprise customers with 2,500 employees and above"
This is interesting as it demonstrates that SAP HANA may be increasing its traction in the in-memory database market.
Conclusion
The question is whether these services are actually pre-packaged. In general terms they provide a definitive output that customers will welcome. Compared to the recent Bluewolf Salesforce service offerings, Centiq's offerings fall short. Bluewolf offer pre-packaged Salesforce service offerings that had a specific scope and costs. This is a shame and if Centiq had offered at least the workload assessment in a series of packages with a fixed price it would have been better.
Optiq is a differentiator for Centiq and is offered on a subscription basis. This might be a good way for some companies to implement Optiq to assess their current estate. If the tool proves its worthwhile during the assessment phase then both customer and Centiq sustain the relationship.