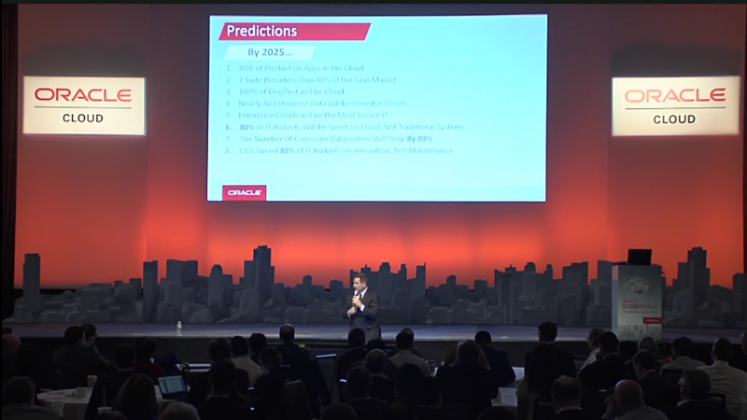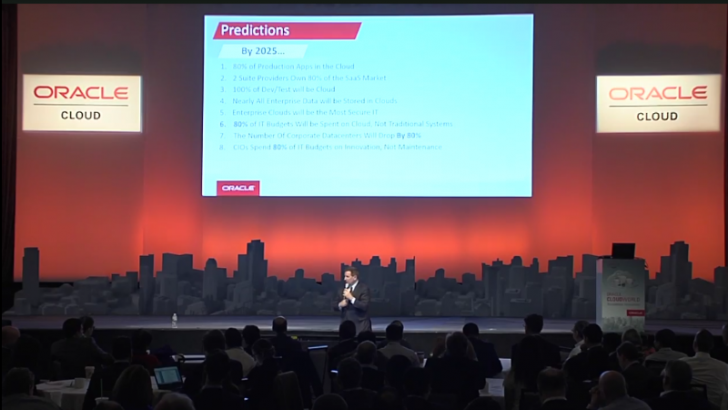 In his keynote speech at Oracle CloudWorld, Mark Hurd, CEO, Oracle gave eight predictions about the world of IT. His list covered things he expects to happen in the IT industry by 2025. The predictions are what is driving the Oracle direction as it readies itself to meet the demand forecast by these predictions. Were these predictions bold, common sense, unlikely  or already achieved?
1: 80% of production apps in the cloud
This explains why Oracle bought NetSuite, one of two companies born out of conversations between Evan Goldberg, Marc Benioff and Larry Ellison. The investment that Oracle has put in its large enterprise solution and its acquisition in the mid market places it in contention for having a large share of both the Mid market and large enterprise market. Oracle clearly hopes and expects that companies will be buying cloud software rather than on-premises solutions.  In fact most legacy software companies we talk to are saying that more than half of purchases are now cloud software. There are some industries such as MRO in aviation that lag behind the rest though.
2: Two suite providers own 80% of the SaaS market
In the first wave of ERP, SAP were the number one vendor with Oracle and Baan in second and third. Oracle is ramping up to retain its top three position and even displace SAP from the top position. This will be challenging. There is stiff competition from several other vendors including SAP and Infor. Salesforce is also a major challenger, especially with its large and growing ecosystem. While Workday is unlikely to have such a large share of the market it does take large deals away from the likes of SAP and Oracle and could yet be a significant player.
3: 100% of dev/test will be cloud-based
This is not a surprise to many, but Oracle, Amazon, IBM and Microsoft are all playing to this market. They are trying to win the hearts, minds and dollars of development teams across the globe. Oracle offers a full cloud stack including IaaS, PaaS and SaaS as outlined by Larry Ellison at Oracle OpenWorld earlier this year. Whether this figure will reach 100% seems unlikely as there will still be many that prefer to develop locally. It is more likely that enterprise development will run on the cloud, or at least partly on the cloud.
4: Nearly all enterprise data will be stored in the cloud
This is perhaps the first outlier on this list. Increasing amounts of enterprise data is being migrated to the cloud. However, there are still challenges to overcome. The biggest challenge is bandwidth which is still to be addressed in many parts of the world. Telcos are moving to address this but the growth rate of data is outstripping the growth of bandwidth. Data sovereignty and privacy are also key issues. There are some industries who will continue to control their own data in order to meet tight regulatory and compliance requirements.
The majority of non-sensitive data will end up in some form of cloud. The costs of replacing on-premises storage solutions will help drive cloud storage adoption. There is also a greater demand for disaster recovery facilities.
5: Enterprise clouds will be the most secure IT
This is probably already the case and refers to managed clouds. Five years ago the reverse was possibly true, at least in the minds of many. There are several reasons why this argument has now shifted. One is the investment in security specialists by cloud companies. They are paying increasingly large salaries which enterprise customers are unable to compete with. They are also able to apply consistent and effective update policies for software.
Enterprises are unable to compete with some of this. They are struggling to maintain the patching of the application estate that they use. This leaves them vulnerable to attacks. They also lack the ability to respond to attacks such as Distributed Denial of Service.  While they can deploy their own updates and access controls they increasingly struggle to control security budgets and keep up with the changes in the security landscape. Cloud companies are therefore able to leverage their scale of expenditure on security. This effect scales up, the largest cloud companies can provide the latest security at the lowest cost per user. It is this consumerisation of cloud security that will see this prediction come true.
6: 80% of IT budgets will be spent on cloud, not traditional systems.
With 100% of test, 80% of apps and all storage provided by cloud computing there is little left to be hosted on-premises. End point computing is also changing with BYOD possibly reducing IT spend even more. There will be some expenditure though as the infrastructure and end points need to be protected as they are often the weakest point in the security chain. However Hurd is right in saying that the majority of expenditure will be in cloud, but only when looking at a specific subsection of the IT budget. If the overall IT budget is considered there will still be substantial staff costs, including consultancy costs. Many companies will still centralise end point security and other costs that will remain on-premises. Companies will still need an infrastructure and network to support the cloud-based solutions.
What will change is that the amount of capital expenditure based projects that form part of IT budgets.  That investment is likely to be departmental focused rather than centralised in future as initiatives nolonger need to support major data centre and sever expenditure.
7: The number of corporate data centres will drop by 80%
Cloud companies like Oracle are expanding their footprint. They announced new cloud regions at Oracle CloudWorld this week. The three new regions that will come online are Reston, Virginia; London, UK (in addition to the UK Gov region) and Turkey. This bring the number of regions to 26. Additionally in 2018 Oracle plans to add more regions in US, APAC and the Middle East.
As the arguments of data sovereignty like security diminish with greater choice and availability of local cloud data centres this prediction is likely to come true. Retailers and manufacturers should no longer concern themselves with owning and operating data centres. It is, after all, not their core business. With the choice that is evolving in the marketplace companies will no longer build their own data centres.  The size of the data centres owned by the major players will also increase, leading to greater economies of scale that smaller corporate owned data centres cannot compete with. Whether the number of data centres will drop by this amount is a stretch. Companies may have stopped building them, but they will still have the footprint and may stretch beyond 2025.
8: CIO's spend 80% of IT budgets on innovation, not maintenance
This is an interesting one and really depends upon whose budget the cloud applications form part of. Companies will still need to spend operational expenditure on cloud apps. Arguably this is not maintenance, neither is it innovation though. What is developing is the need for CIO's to spend more time working with the business and creating innovation with the business rather than just keeping the lights on.
The smart CIO's will deploy cloud apps that have a single code line, where IT departments do not need to spend effort on maintenance. The irony of this is often that as teams develop updates and specialist apps to enhance cloud solutions. These themselves need maintaining and upgrading, thus there will always be an element of maintenance following innovation.
So what is Oracle doing
Hurd then closed by revealing what Oracle are doing to meet this challenge. Investment, he commented: "We went on a path to rewrite virtually everything for the cloud. We couldn't stop doing what we were doing. But we had to invest and we  knew five years ago what was coming and that's why we started to invest at the levels we have done. "
That level is currently set at $5.2 billion according to Hurd. Hurd belileves that Oracle is leading a decade long transition to cloud, not just for itself but for its customers, old and new. The new generation of SaaS products is built on standards but Hurd commented that the Oracle strategy is best of breed. This is a bold statement and one that Oracle will struggle to prove in every sector. The Oracle platform was built for extensibiity and scale according to Hurd and he believes that they are in a class by themselves.
Finally Hurd believes that data is the key to improving business outcomes. The growth in analytics of large data sets is something that Oracle databases should be well set for. This is a hugely competitive market though with SAP HANA growing its share, sometimes at the expense of Oracle. Cloud companies like Oracle are also providing databases, especially for developers and large data sets.
Conclusion
Mark Hurd laid out the foundation for Oracle's cloud strategy at Oracle CloudWorld. The first half of his speech delivered the challenges that companies face. He also talked about how IT leaders need to react to those challenges. His eight predictions are in most cases obvious with hindsight. Whether the detail of those forecasts will be met is harder to say.
It is interesting that while Oracle began its investment in cloud at least five years ago, Larry Ellison predicted them well before that. This indicates that perhaps the oil tanker that is Oracle is already headed in a new direction. It is now the CIO's that need to turn their own companies off on-premises and onto cloud. That is easier said than done in many cases. It may be that inertia which stops these predictions from coming true.