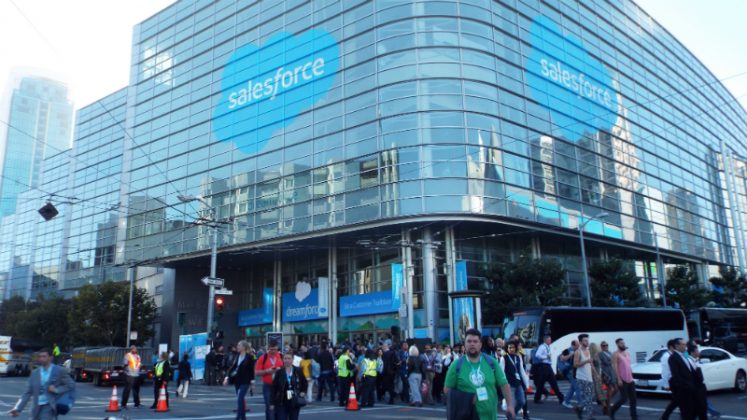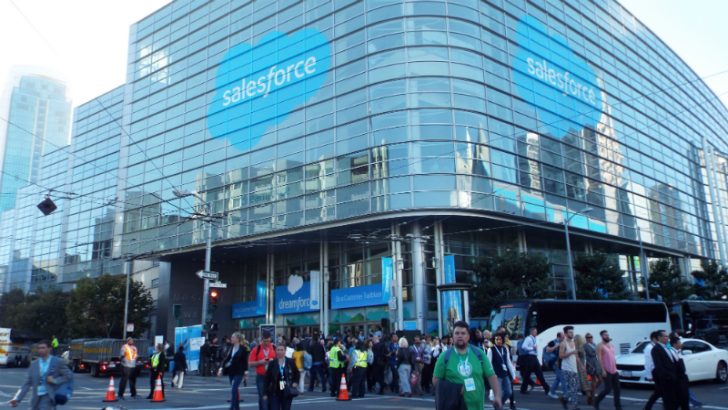 The experience of ones first Dreamforce can only be described as surreal. Along with a steady diet of sessions I had the chance to interview several people and talk to many more. Some of those interviews we will publish over the next few weeks. They included Jeremy Roche, CEO of Financial Force and Eric Berridge, CEO of Bluewolf.
The theme this year was a blazing a trail to success
Salesforce turned the Moscone conference center into a mini national park. The conference guides dressed as rangers and the heart of the conference centre was one giant parkland picnic area. People could sit and talk on benches or recline in hammocks with a log cabin café coutesy of Quip, the collaboration company that Salesforce acquired recently. To make the keynotes more relaxed, the central concrete pillars were decorated as trees. Meanwhile, all the walls had foliage projected onto them.
Nothing can prepare you for the number of people that attended the event. Salesforce themselves claim to have had around 171,000 registrations, with millions watching online. Although the actual number who did attend is not yet known, the first two days were certainly a sell out. With tickets being sold on sites such as Craig's Net, Salesforce warned everyone that access to the U2 concert would require conference badge and government issued ID.  All of the buildings were busy with people walking to their next session or sitting near the power points as they worked on laptops or phones.
Manic Thursday
If Tuesday and Wednesday were busy Thursday was insane. A journey of perhaps 50 yards on Wednesday took well under a minute. On Thursday the same journey took more than five minutes such was the crush in the exposition hall. This was because the people with free registrations were now able to attend the event. While the most important keynotes had finished, Thursday still saw a packed schedule of sessions and briefings. This meant it was worth the effort to attend, something that the assembled throng seemed happy with.
Access to the conferences meant going through airport style metal detectors. This is commonplace these days and most security teams are well versed at handling it. The problem at Dreamforce was that the number of people who needed to be processed meant that any alerts led to just a cursory check. All of this was in stark contrast to the long queues at San Francisco airport.
The keynote itself was just a little surreal. Benioff talked about ohana. It is a Hawaiin word meaning family. He demonstrated how Salesforce looked after not just its immediate ecosystem but also helped the wider world. Ohana was the theme he used to help to promote the philanthropy that he, Salesforce and the numerous attending celebrities are involved with. This is becoming a popular approach among Silicon Valley's elite. Delegates at Cloud Foundry Europe were treated to a discussion of what 'self=' means for the modern workplace.
Product news was a light touch. Einstein made an appearance in CGI form as Parker Harris and Benioff ran a slick show together explaining the possible futures that AI could bring to the customer base. There was a mention of the IOT platform, Thunder and of the recent acquisition, Quip. As Salesforce develops that application one wonders whether the Benioff vision is for companies to only require the Salesforce ecosystem and have all their needs met within the family.
The meaning of ohana
That Salesforce is a family sounded more like hyperbole than reality. There is no doubt that the Salesforce people are happy and proud to work for the company. Customers want to be on the platform and take advantage of the functionality and partner applications.  There is an enthusiasm for the software that is rarely present in Business software vendors.
Understanding what ohana means took a while to sink in. One could intellectually understand it but to fully appreciate what it meant to people was revealed in an interview with Nana Gregg, a Salesforce Guru. She described it without knowing she was doing so at the time. She is a Salesforce MVP, one of only 140 globally. The title is renewed every year and she has retained her position as one for several years. She works for BRG as their Salesforce administrator, who were acquired by JLL during the last year. She looks after the Salesforce and FinancialForce applications for BRG and also new creates applications for the company within Salesforce. The task of an MVP is to be a Salesforce evangelist and to help others.
From disaster
Her house was destroyed by a tornado on the day after Christmas last year.  She and her family, her husband and three children were suddenly without possessions or a house to live in.  She tells her story beautifully in a blog, read it and it will make you sad and happy in the same paragraph. We can never appreciate the trauma she and her immediate family went through together. However hearing her speak about it, her eyes glistening with emotion as she spoke about the support she also received from the Salesforce extended family.
As she spoke about the phone calls, texts and emails of support and even offers of help you could hear how grateful she was for them. Through the nine months there was barely a day when she did not receive a message of help.  This truly demonstrated that what Benioff was talking about in his keynote. It is a family, beyond the organisation that is Salesforce, amongst its customers and partners. It is a family that helps one another, supports one another and truly cares for one another.
Conclusion
In that one conversation I understood how strong those bonds are and what Benioff has managed to create. This is the power that Salesforce has become, one that goes beyond the software and has become a true community. One can only hope that it manages to retain ohana in the future.