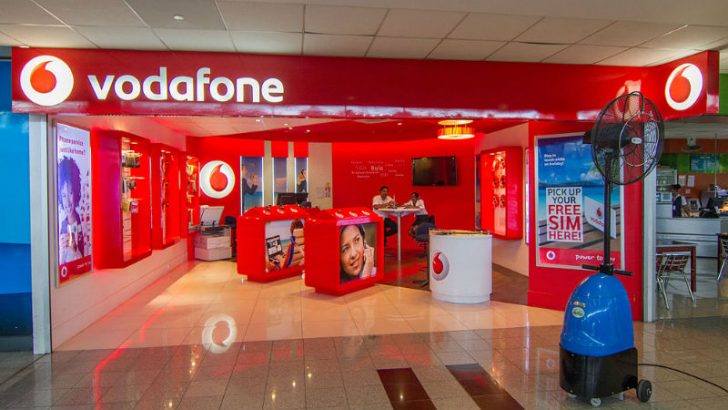 Vodafone has announced a new program entitled "VODAFONE UK GOES LOCAL FOR BUSINESS". It will see the creation of twelve regional hubs across the uk and the stationing of dedicated teams in towns and cities within those regions. In each region business account management, customer services and network teams will be placed to better serve business customers.
The new teams will be headed by Dave Langhorn, Vodafone's Head of Regional Business. The aim is for them to provide local knowledge combined with the national backing of Vodafone to companies as well as public sector organisations across the UK. The account managers will be based out of Vodafone retail shops  and the intention is to work with local businesses to deliver business events at those stores, one assumes out of normal retail hours in most cases.
Phil Mottram, Vodafone UK Enterprise Director, explains what they are doing by saying: "We're changing how we do business, putting more of our people where our customers are and where they run their businesses. We know that being able to respond quickly to our customers and being available when needed, is really important to organisations of all sizes up and down the country. Our new approach will enable us to do this better than ever before and see specialist business advisers and support teams becoming an integral part of local business communities across the private and public sector."
So why are Vodafone doing it and what are the risks.
Vodafone are justifying this move at a high level on the basis of government statistics that have seen the number of business grow in the UK for the last fifteen years by an average of more than 3% per annum. By 2015 there were 1.9 million more companies in the UK than 2000. Vodafone carried out a survey with YouGov of 1,124 business leaders and found that 44% thought that local companies offered a better service and 60% were more likely to understand their business.
It will be interesting to see how this move to local will affect their customer loyalty and what service improvements they can offer. For example if one local business suffers from poor coverage will the local teams be able to facilitate the modifications to masts that might allow that coverage to improve. As Vodafone seeks to push One Net business does this mean that they are moving to solutions selling.
There is a 2012 article by Brent Adamson in HBR that advocated in order to sell solutions like One Net Business, companies would need to engage with change agents within business and this means business leaders. In trying to set up business networking within their retail stores they might just accomplish this by getting closer to the smaller customers and delivering them a full range of services.
It is an interesting tactic but one wonders how scalable it is. While the consumer industry retail market is failing in favour of online, perhaps for businesses the ability to discuss the business challenges properly might just be the thing that brings profit margins back to the retail stores.  It is a brave move but it is also an interesting one and if Vodafone can gain the trust of local businesses they might just get an early advantage on competitors.
It is not without its risks though as businesses may still prefer to buy online and they will certainly compare prices there. Will Vodafone ensure that online and in-store deals are equivalent or even be willing to offer additional discounts via the One Net Business teams in-store? The latter is important because it will enable that sales team to adapt to a customer walking in with a better deal from a competitor.
So where does this leave the channel?
There may be some channel partners who will be concerned, but it is likely to e the smaller ones. Those serving mid-sized organisations and above are likely to be offering more complex solutions that Vodafone won't be able to deliver, although it will be interesting to see how much Vodafone engage with their local channel to improve their offering in these stores.
In some ways it is surprising that running business advice from a base in the retail stores has not been done earlier. However customers of Cable and Wireless will remember a time where they were told that if they were not of a certain size they would be farmed out to the channel. It seems that Vodafone has decide to reverse this trend and will be going after direct sales. So will this impact their channel and channel sales, it might while Vodafone tested the project in Leeds successfully there has been no mention of any impact upon channel partners there.
With falling margins in mobile and fixed telephony services the telecoms channel is itself not as local as it was before. Many partners have been amalgamated over the last few years and so there may be less conflict than one would expect. The question is what kind of service will you get from the Vodafone teams?
It is interesting that Vodafone has not announced a new recruitment drive to employ all these new staff so one does wonder where they all come from. If they are taking customer service people out from the existing call centres it seems unlikely that they will want to move to the region that they are meant to cover. Although it maybe that the customer services teams might be dedicated to a region but may not actually sit there.
Reacting to market pressure
There is growing pressure on Vodafone to do something different, with the legal dispute rumbling on in Belgium around the future of the O2 mast sharing agreement following the likely acquisition by Hutchinson. Vodafone are also feeling the pressure from the BT+EE acquisition and knows that it needs to do something new. Over the last two years Vodafone has increased the number of its retail stores to 500 and spent £2 billion improving its network and services.
Mottram added: "That pilot saw customer satisfaction rates significantly increase. We were able to get to know our customers even better, and run or support events within local business communities. This move to work with SMEs, mid-sized and even larger businesses, as well as local public sector organisations within a defined local area, will see us become more responsive and help us to transform the relationship we have with our customers and enable us to become a trusted, local partner."
There will still be a major business unit to service national companies but this is a major re-organisation of the sales function of the business and its supporting services. The details on what is actually changing is light though. Where are the staff coming from and what will be their training?
Conclusion
This is an interesting move by Vodafone and one that might set a precedent if successful.  If Vodafone can substantially increase their business through this move then other companies might look to follow. The question is whether this is what small businesses want and whether Vodafone can actually offer the services they are looking for.
With a successful pilot under their belt though Vodafone are clearly confident in making the investment in the change. It will be interesting to see what impact this has on their staff and also whether the Leeds location was addressing short term need or if it is sustainable.