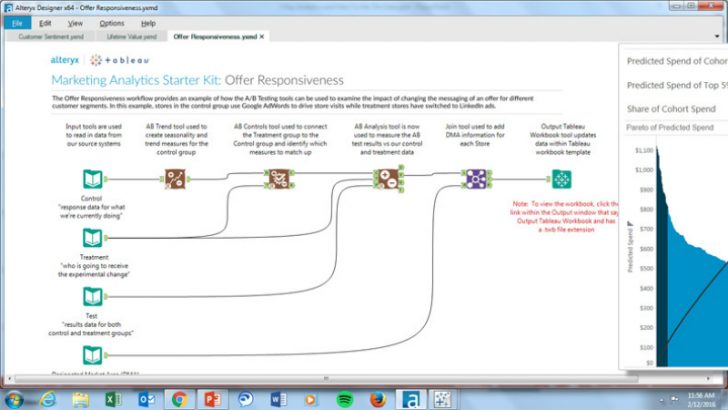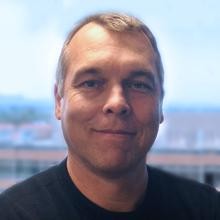 Alteryx has announced the availability of their Alteryx & Tableau Marketing Analytics Starter Kit in a blog by Brian Dirking, Director of Product Marketing at Alteryx. The kit allows customers to deliver marketing analytics in their businesses faster. It concentrate of five key areas of analytics that help drive business:
Customer Acquisition
Customer Segmentation
Customer Sentiment
Lifetime Customer Value
Offer Responsiveness
To help customers the kit contains several applications, visualization and some tutorials. The applications and modules are designed to help users perform analytics on the five key analytics areas above. Each module within the Alteryx & Tableau Marketing Analytics Starter Kit contains a workflow that guides the user through the process of connecting their data to be analysed.
There is also a suite of Tableau workbooks that provide pre-configured dashboards for each of these analytics areas so that customers can quickly gain insights using the tool.  There are also tutorials that allow customers to deliver improvements to the dashboards, bringing in additional of up to date data that bring further insights.
Once the data has been populated onto the dashboards users can look at, and drill down into their data from these preconfigured dashboards. The starter kit can be used with the Alteryx Trial and the Tableau Trial so that companies can try before they buy. Once signed up for the trial users can download and use the Marketing Analytics starter kit and rapidly deliver insights on the data sets that they can use within the trial.
The kit enables you to get started performing Marketing Analytics with Alteryx and Tableau faster using an Alteryx workflow that demonstrates the steps necessary to develop the data set to analyze. Each workflow then outputs the results to Tableau, driving a pre-built dashboard that shows the results in a few different contexts.
Users can then dive into the dashboards and explore the data. With more than 500 customers using both Alteryx and Tableau  this new feature will help companies to prepare their data for Tableau analytics faster. Alteryx believes that their customers are often able to change the balance of time resource from preparing their data to actually analysing it.
Conclusion
This is a smart move by Alteryx and by delivering starter kits to help users adopt Alteryx alongside their Tableau implementations they will hope to see their market grow at a rate that is analogous to Tableau. Alteryx delivers workflow based tools to help data analysts prepare their data in a way that delivers efficiencies that integrates well with analytics solutions.
Alteryx recently brought their solution onto Azure strengthening their relationship with Microsoft after they integrated with PowerBI. This latest announcement sees them widen their partnerships again. It will be interesting to see what other starter kits the company develops.