Football, Sandwich and Money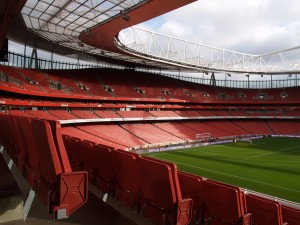 As the event was held at the Emirates, a Netsuite customer it was apt that part of the Netsuite news was around several customer wins. Misys recently went live with their Netsuite implementation and this puts a stake in the ground for where Netsuite and Zach Nelson see's his product. This is one of the billion dollar plus companies that he really sees as the target market for the SaaS solution.
Misys will be NetSuite's largest customer with 5500 users on the ERP solution across around 190 subsidiaries. Talk to Multinational CFO's and consolidation is always a key issue. The idea of using a single platform for accounting, enabling consolidation across a global entity makes sense.  Nelson was keen to share the information that Misys had cut their time to close the books from 6 weeks down to five days. This was helped by MIsys reducing the number of accounting packages down from 30 to just Netsuite.
The second win was Pret-a-Manger whose decision to use NetSuite OneWorld was summed up in the press release by Andy Chalklin, Group Director of IT at Pret-a-Manger saying "As we continue to grow both in the UK and internationally, we need a system that can scale with us while ensuring that we have the currency, language and tax compliance features we need," said "NetSuite will give us what we need, without the investment in IT that an on-premise system would require."
NetSuite OneWorld enabled the company to coordinate the business finances across multiple boundaries in five different currencies Euro, US dollar, and British pound as well as supporting languages that included English, French and Cantonese. That Netsuite OneWorld supports more than 19 languages and over 190 currencies indicates its potential strength in this market.
The Pret-a-Manger implementation was supported by Deloitte and Nelson explained it is a multi-phase implementation with ERP being first, followed by supply chain solution and finally eCommerce.
Conclusion
These announcements are important for the growth of NetSuite both globally and especially in Europe. With data centres in the Netherland and Ireland it should make it easier for larger EU companies to store their data in the Netsuite cloud.
The deal in France with Cap Gemini is different and could be a model that other cloud vendors look to follow, but as NetSuite has been working with Cap Gemini for more than five years it is something that cannot be replicated overnight.
The change to the SI model, and the creation of accelerators by them is a maturing of the NetSuite product that may see its growth rate accelerate and become a serious threat to Oracle and SAP as well as challengers such as Workday and Financial Force.
Many people will wait to see the speed at which NetSuite acquires new customers over the next 18 months in Europe. While it has been the fastest growth region for the company, that needs to continue for the investment to be deemed a success.