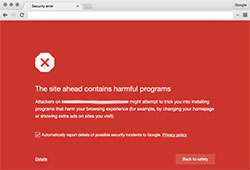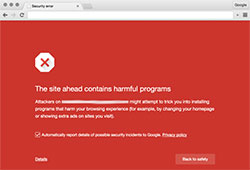 Google Chrome is expanding the use of its Safe Browsing big red screen to help stop users downloading malware.
The plan was announced in a blog by Moheeb Abu Rajab and Stephan Somogyi of the Google Safe Browsing Team. In the blog the authors say: "In the coming weeks, these detection improvements will become more noticeable in Chrome"
For a number of users, especially those that use torrent sites the increase in blocking has already started. TorrentFreak recently reported that several sites such as KickassTorrents, Torrentz, ExtraTorrent and RARBG were already being blocked. Operators of the sites told TorrentFreak that they were clueless as to why they had been targeted although Google has since provided sites with more information.
Google Chrome a webmasters new friend?
Small websites suffer from the joint problems of making enough money from advertising to exist and staying secure. The latter means remembering to apply patches and hoping that they have strong enough passwords.
It is the former where the law of unintended consequences may backfire on Google and website owners. To get ads, many sign up to agencies who control what ads are pushed to the website in the same way that Google sells ad streams. The problem is that some of these agencies don't check ads even acting sometimes as an aggregator, sweeping up ads from a lot of smaller companies.
A lot of ads have links to count the number of clicks and to take users to a vendors website. The problem here is in constantly validating that the site where people are redirected to is safe. Rather than target those sites, Google is targeting where the ad is being displayed and this will inevitably include a lot of small websites.
What is required alongside this is a process whereby Google perhaps issues a warning to the site before blocking or just blocks the link in Chrome rather than the entire website.
Users may abandon Chrome if it causes too many problems
There is another issue here for Google and that is loss of users. Many people have switched to Chrome in preference to Microsoft Internet Explorer and Apple Safari. One of its key attractions is that it runs across multiple platforms and allows bookmarks and other items to be shared easily.
If users begin to experience too many page blocks then they are likely to consider changing browsers. Of course, it isn't as easy as you might think to avoid this protection screen. As the authors proudly point out in their blog: "We provide this protection across browsers (Chrome, Firefox, and Safari) and across platforms (Windows, Mac OS X, Linux, and Android)." Nevertheless, having attracted users by having a better user interface than the competition, it needs to avoid alienating those same users and sending them elsewhere.
False positives run the risk of being seen as anti-competitive
Google will have to be aware of the risk of false positives and be proactive in remediating any impact that they may cause. If it doesn't it won't be long before an ad agency complains to the European Commission that this move is nothing more than a cynical attempt by Google to further damage competition.