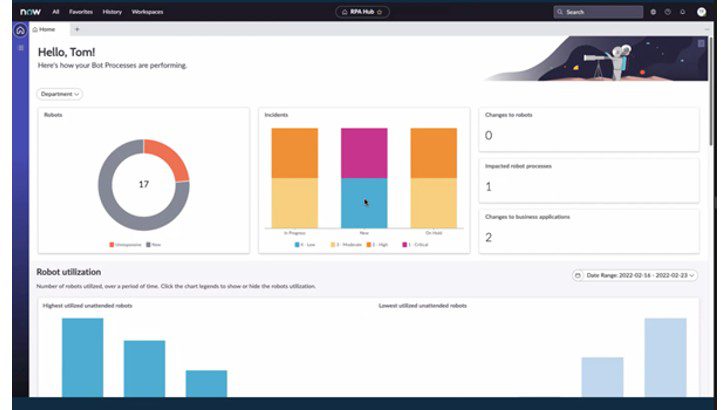 ServiceNow has unveiled the San Diego release for the Now Platform. The update consists of three major improvements. It has introduced a new UX, named the Next Experience, which brings a new design and several features to enhance usability.
There are new RPA capabilities, which, when coupled with the Integration Hub, will enable customers to automate processes within and beyond the Now Platform. The third new feature sees the introduction of industry solutions. These packages rapidly accelerate the time to value for customers in specific industries with prebuilt automations for common processes.
In addition to the features updates, San Diego also includes a new Major Security Incident Management (MSIM) solution. MSIM works alongside the Security Incident Response module (SIR) and the Vulnerability Response module (VR), enabling organisations to track security incidents better.
Chirantan "CJ" Desai, chief operating officer at ServiceNow, commented: "From the great resignation, to supply chain disruption, to the new world of hybrid work, seismic shifts in our global workforce and economy underscore that the technology strategy has become the business strategy. With our Now Platform San Diego release, we are empowering digital-first leaders to create smarter, faster, better ways of working, and unlock the true potential of hyperautomation across their organisations."
Addressing the challenges faced by organisations
During a briefing, Nerys Mutlow, Evangelist, Chief Innovation Office at ServiceNow, introduced the new features. She also explained how the new release aligns with ServiceNow's purpose, "We make the world work better for everyone.
"ServiceNow was born to help organisations. Our single unified platform has all the capabilities needed to digitise those business problems across the entire enterprise."
Mutlow also spoke about how the Now platform helps automate processes across the enterprise, freeing people to focus on higher-value work. She noted: "We're investing in seamless, smarter, and more personalised experiences across the Now platform. We're expanding our hyperautomation solutions with new RPA capabilities to help our customers really accelerate their productivity and digital transformation. And we accelerate value with purpose-built out of the box industry solutions."
The Next Experience
The new user interface is not so much cleaner as more intuitive and responsive to the needs of each user. ServiceNow has hidden the navigation bar down the left-hand side. It is now a drop-down from the top menu bar. This provides the users with a bigger screen estate to see more data. However, users can pin the standard navigation bar as in the classic view or can instead pin an alternate menu bar such as favourites or history. This personalisation of the home screen is welcome.
The new features don't end there. There is now an ability to switch between light and dark mode for workers in dim light situations. Also, users can adjust how they view tabulated data. Rather than having wide columns to see descriptive data, users can activate a Wrap function similar to Excel that extends long text onto two lines and enables greater visibility for each line of data without needing to scroll right. Fewer rows are visible on the screen, but this is easy to switch on and off.
ServiceNow has also introduced 25 purpose-built workspaces. These provide role-based dashboards with actions to tools and visualisations commonly used across different roles. Some of these new dashboards are:
CSM Configurable Workspace
Dispatcher Workspace
HR Agent Workspace
Cloud Operations Workspace
Service Operations Workspace
Hardware Asset Manager Workspace
James Neal, Principal Solution Consultant at ServiceNow, summarised the Next Experience saying: "There are some very simple and very powerful capabilities. We're looking forward to our users getting their hands on this. Many of our customers have very strong brand identities and theming. This new experience allows that to be brought into the day-to-day core UI for the people working for them."
A new Automation engine to power industries
Working hand in glove with the Integration Hub, the new RPA capabilities aim to deliver hyperautomation to customers. The new Automation Engine combines components such as the Integration Hub the App Engine alongside the new RPA Hub and RPA Desktop Design Studio.
It enables organisations to create workflows using a simple drag and drop interface, connecting ServiceNow with data and components on other systems. The aim is to remove the time consuming and sometimes complex processes that are repeated many times a day. Automations can either be attended or unattended, enabling users to maintain control over the robots they create.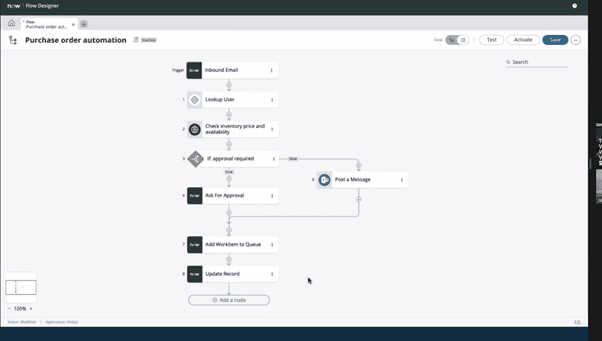 Users can create, test, monitor and manage automations in the Design Studio. Neal demonstrated how simple the product is to use, building a process that initiated an internal purchase order from an email. The RPA Hub has more than 1300 pre-built components and enables developers to leverage the no-code access alongside their code.
Industry solutions
Many of those components were used to build the new industry vertical solutions. The new industry vertical solutions include Banking, Insurance, Technology providers and telecommunications. Service Now has created automated processes that organisations in these industries use repeatedly. For example:
Customers welcome these solutions. Gary Wright, Head of ServiceNow Platform Engineering for British Telecom, commented: "ServiceNow telecommunications solutions help BT accelerate and simplify our digital transformation by bringing a single platform to replace many complex tools and systems.
"Using both ServiceNow Telecommunications Service Management and Order Management for Telecommunications, we provided a simple powerful workspace agents love to use, and we accelerated time to market, launching order management workflows in just 5 weeks."
Enhancing security
The Major Security Incident Management (MSIM) Workspace provides a collaborative workspace where all functions within a business can react to a security incident. Security incidents go beyond the boundaries of the security team and often need to involve the C-Suite, Marketing, PR, HR and others.
The solution provides a dedicated workspace to manage, view and review every security incident. It can contain predefined workflows. For example, to trigger notifications to key stakeholders. The dashboard can also host files and chat channels for stakeholders to update each other.
Data is displayed in visualisations that enable customers to see key metrics associated with each incident. These include affected assets, users and locations, and progress metrics for tasks and collaboration activity to help security teams drive coordinated responses to critical security incidents.
MSIM workspace is designed to help track and resolve major security incidents. It works with ServiceNow's existing Security Incident Response (SIR) and Vulnerability Response (VR) product capabilities. Key capabilities include affected assets, users and locations, and progress metrics for tasks and collaboration activity.
The new module does have several requirements, including several Microsoft applications such as Teams and SharePoint, as well as four Integration Hub applications
Enterprise Times: What does this mean
San Diego does not disappoint. From the modern user experience to the ability for organisations to adopt hyperautomation. The Next Experience delivers a flexible, personalised, and configurable interface. It will help with adoption and improve efficiency. The simple wrap function will remove the frustration many users will have had.
The new security incident Management also addresses another board-level issue: security. Over the last few years, cybersecurity has been at the top of the agenda. Several security consultancies offer solutions and services around this. The extension to the Now platform will enable customers to take advantage of the knowledge they have to build and extend existing process flows to address any potential incidents.