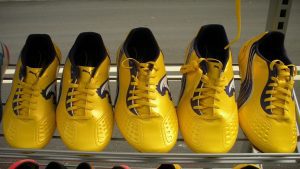 Retail and eCommerce highlights this week include: Sportsman's Warehouse has selected Kibo Personalization, powered by Monetate and Certona, to support its testing and personalisation efforts. Salesforce and AWS Deliver Offering That Helps Content Distributors Easily Deploy, Scale and Personalize High-Quality Video Streaming Subscriptions. Squirro, is launching a series of live discovery sessions that offer practical Machine Learning (ML) training to non-technical business line employees. Nutanix has announced the global availability of their simplified product portfolio to align with rapidly evolving customer requirements.
Sportsman's warehouse chooses Kibo to expand Omnichannel Personalization
Sportsman's Warehouse has selected Kibo Personalization, powered by Monetate and Certona, to support its testing and personalisation efforts. It chose Kibo for the company's experienced leadership in the testing and personalization category, as well as its demonstrated ability to help the Sportsman's Warehouse team scale digital transformation goals quickly and efficiently.
The mission of Sportsman's Warehouse is to provide outstanding gear and exceptional service to inspire outdoor memories. With stores staffed by knowledgeable associates that don't rely on commissions or high-pressure sales tactics, Sportsman's Warehouse will now expand that hyper-personalized experience to its digital channels. Kibo Personalization enables Sportsman's Warehouse to deliver compelling and tailored experiences across touchpoints. Some of the other reasons why Sportsman's Warehouse selected Kibo include:
True Partnership: Kibo Personalization, along with a deeply experienced services team, enables Sportsman's to develop a Personalization Center of Excellence.
Data Democratisation: Kibo Personalization enables Sportsman's to ingest relevant customer data to test, target and personalize across digital channels more effectively.
Leading Recommendations: Kibo Personalization, powered by Monetate and Certona, uses powerful machine learning, while still providing merchandisers with the control to easily launch, test and iterate new recommendations in minutes.
Salesforce and Amazon Web Service partners to provide video streaming technology
Salesforce and Amazon Web Services (AWS) announced an offering that combines high quality video streaming technology with unique viewer data and feedback analysis tools. The solutions aims to help content distributors deliver more scalable, personalised viewer experiences.
The global offering is supported by Salesforce Customer 360 and Media Cloud subscriber lifecycle management capabilities. It includes artificial intelligence (AI)-enabled personalisation, customer data and analytics, and AWS media, data, analytics, AI and machine learning capabilities.
Three benefits for content distributors
The technology streamlines how the subscriber journey is managed from registration to new service features. It provides content monetisation, payments, and entitlements; supports the delivery of more dynamic, targeted ads; and improves customer interactions and campaigns to reduce customer churn. The benefits to content distributors include:
More Integrated, Personalised Experiences: Content distributors can personalise viewer experiences while driving new subscriber acquisition, generating incremental revenues while increasing customer loyalty, retention and support. For example, a subscription streaming service can recommend upcoming pay-per-view content, such as a professional car racing championship special for a car-loving subscriber, while integrating new content delivery models — like live streaming — on top of existing subscription services.
Increased Retention with Additional Insight into Viewer Intelligence: Content distributors can gain deeper insight into subscriber engagement with content such as clickstream actions or likes and dislikes on specific content recommendations served up to a subscriber. Access to these insights help personalize marketing campaigns to the customer, ultimately helping to convert them to longer-term subscribers. For example, if a fitness video service notices that a subscriber's engagement is beginning to fade, it can offer classes from that subscriber's favorite instructor to initiate new engagement.
Configurable Platform to Easily Support Commerce-Driven Experiences: Content distributors can easily customize the experience, such as introducing and scaling content-driven commerce experiences and targeted ad placements. For example, a brand can do product placement in a video stream, enabling the viewer to purchase that product at the same time they're watching a video.
Squirro launches hands-on machine learning training programme for citizen developers
Squirro, the Augmented Intelligence solutions provider, is launching a series of live discovery sessions that offer practical Machine Learning (ML) training to non-technical business line employees (known as citizen developers) and business analysts.
There is a new offering from the Squirro Academy. The Digital Discovery Sessions provides instructor-led, practical education on various digital topics. These include learning about ML using Squirro's No-Code solution – the Squirro AI Studio – and building complex pipelets using the Squirro Insight Engine and Data Pipeline. The first practical session will be led by Amin Hasan, ML expert and solutions engineer, Squirro, and will focus on No-Code ML Model Building.
The Squirro Academy was launched in 2021 as a place for people to access knowledge and education about ML and AI easily. It is accessible to Squirro partners and clients and serves as an introduction to the Squirro Insight Engine. Attendees are shown how to set up their own self-service instance and use Squirro and its Data Pipeline.
The training proved highly popular, and Squirro has launched the Digital Discovery Sessions to cater to a wider audience of citizen developers with a new format of live, interactive and hands-on sessions. The sessions are completely free of charge, led by Squirro's ML experts, and do not require any technical skills to attend. Participants will have the opportunity to understand the process behind model building, create their own ML models, identify ML use cases within their organization, and become more confident in technical discussions around ML and augmented intelligence.
Nutanix launches new product portfolio to ease the path to hybrid multi-cloud
Nutanix has announced the global availability of its simplified product portfolio to align with rapidly evolving customer requirements. The Nutanix Cloud Platform delivers a consistent operating model across all types of clouds: public, private, and hybrid. With this launch, the company has further streamlined customers' digital transformations by delivering an easy-to-consume set of solutions.
In addition to making it easier for customers to execute on their hybrid multi-cloud strategies, the new portfolio removes the complexity often associated with enabling a full range of hybrid cloud services across multiple environments. This is achieved by simplifying packaging, metering, and pricing to enable customers to plan for changing needs more easily, including workload expansions, cloud preferences, tech refreshes, and more. Customers can further accelerate their cloud journey by taking advantage of Nutanix validated designs and deployment best practices for common use cases.
The company has built an enterprise-ready, unified cloud platform with its market-leading HCI (hyper-converged infrastructure) solution as the foundation. The new, simplified portfolio includes:
Nutanix Cloud Infrastructure (NCI) provides a complete software solution including virtual compute, storage and networking for virtual machines and containers, that can be deployed in private data centres on the hardware of your choice or in public clouds with built-in resilience, self-healing, performance, disaster recovery capabilities, and security. Running NCI on public cloud, Nutanix Cloud Clusters (NC2), enables customers to accelerate their journey to hybrid cloud for agility, elasticity, and application modernisation while maintaining the operational efficiency of a unified cloud environment with common management and policies across clouds. Key use cases include cloud bursting, disaster recovery, and datacentre lift and shift.