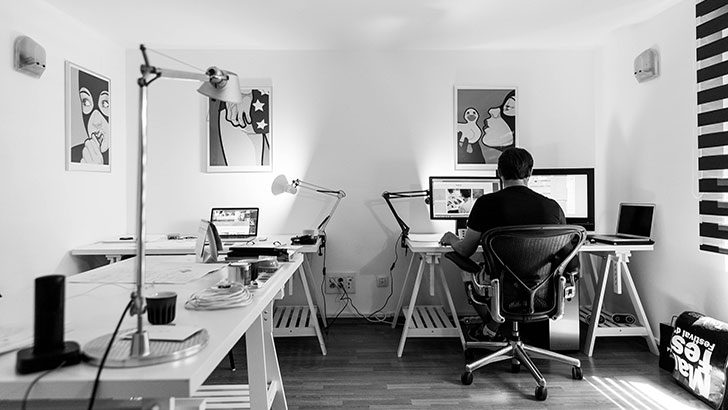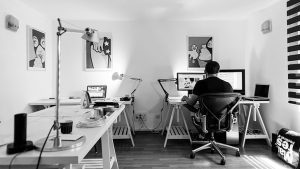 We have entered a new era where hybrid work is now standard practice. Employees are splitting their time between the office and an alternative workspace – but who said this has to be their home?
As the world begins to move past the pandemic, holding onto the flexibility that remote working brings means that we're seeing the rise of "third workplaces" – whether that's in cafes, hotels or co-working spaces. While this trend is not new, it has gained significant momentum over the past year. But what's driving this trend, and how could it change our working habits for the better?
WFH: Not Working for Everyone
Remote working (especially during lockdowns) made many of us realise the amount of time we lose to commuting. This is time that could be spent with our loved ones, learning new hobbies, or just relaxing. Once our eyes were opened to the possibility of spending less time commuting, it seemed as though there was no going back.
But there needs to be a balance, as 46% of remote workers admitted experiencing feelings of isolation during lockdowns. Despite having technologies like Slack, Zoom, and Google Meets at our fingertips, nothing could quite replace face-to-face interaction, an important feature that can reportedly make companies 25% more productive. Plus, many organisations made the mistake of overusing video meeting technology. So much so that Healthline officially documented 'Zoom fatigue' as an informal burnout-style diagnosis.
To add fuel to the fire, remote working is now coupled with new distractions. Parents are now juggling work with child care, while flat sharers are dodging roommates so they can take important calls. Avoiding these distractions is often easier said than done. Even if you didn't intend on doing the dishes or hanging the washing up, just seeing it there can quickly transform a wandering eye into a spotless kitchen and freshly folded laundry. With work and life blending like never before, we must reassess what this really means for our performance.
The office hub: 5 days are just too much
Right now, we're all being asked to work from home if we can. But even before Omicron had let loose, most of us hadn't ventured into the office five days a week for quite some time. The thought of it is somewhat exhausting. Most of us wonder how we ever did it in the first place. While five days may just be too much, having the office hub function is no doubt still important, especially when it comes to collaboration.
In a WFH environment, it's easy for your networks to shrink considerably to include only those you work directly with. However, being in the office allows you to connect with a wider circle. And, these 'water cooler' conversations are hugely valuable. These moments can provide people with new ideas and collaboration opportunities. All the while, it ensures the social element of working doesn't die out behind a screen. With that said, what may feel like 'time off the clock' is actually a very rich addition to your career. In fact, a recent study by Savills found that entry-level employees were more likely to prefer office working than WFH to feel seen, allow for colleague collaboration, and learn on the job more efficiently.
A physical workspace still has value
The office also offers a form of escapism, which helps to maintain a healthy work-life balance. Even if you love your job, it's certainly not healthy to feel like you're working during every waking hour. Take millennials or Gen Zs, for example, who may need to set up a workstation in their bedroom out of necessity and lack of space. Combining where you should be relaxing with a place of work can actually have a negative effect on mental health. According to clinical psychologist Dr Brian Wind, "working from your bedroom can be disruptive to your sleep because your bedroom becomes associated with being alert and awake, especially if you already find it difficult to switch off from work at home." Therefore, by having a clear 'place of work', one can physically leave it and draw a line under that part of the day.
The third workplace: the answer we've been waiting for
Both the office and remote working clearly have their perks. However, committing to either one is arguably going to stir up a few issues (operationally, culturally and from a wellbeing point of view). What people want is a balance between the two. This is where 'the third workplace' is gaining traction globally. Specifically, 76% of workers Accenture surveyed want a "third workspace" outside of the traditional office and home.
Whether a co-working space, a hotel, a business centre or even a restaurant – more buildings are being converted to offer employees the best of both worlds. This is allowing employees to pick and choose where and how they work best. These spaces provide the standard features of a typical office whilst saying goodbye to pesky complaints about unsuitable home setups or grumbles over paying for a tube they'd rather not sit on. Already, people are striking a good balance between home, the office and a 'third space'. In a recent NearU study, we discovered that 40% of workers are heading to a workspace near them on Thursday.
One size doesn't fit all
Plus, how we work is never a 'one size fits all'. Some may prefer more open spaces that allow for breakout discussions. Others may prefer quieter spaces, where you can book a private pod. Whatever this may be – the important thing is to provide the freedom to access whatever workspace suits your employees. So while you're slashing potential real estate costs, you'll also be making your staff happier – and a happy workforce is 12% more productive.
But these spaces go far beyond that; the 'third workplace' means we can share skill sets with individuals we would never have had the opportunity to before. While the office hub allows for connections to grow company-wide, a third workspace means you can engage with people from all walks of life. In turn, reinvigorating local communities and bringing a breath of fresh air to how we collaborate.
The bottom line
Therefore, the rise of the 'third workplace' is a welcome byproduct of the disruption we have seen these past few years. While still in the early stages of adoption, this trend suggests that the future of the workplaces will soon have looser boundaries. Employees will work in a space that truly brings out the best in them. Whether it's at home or away, it's this freedom to choose that will transform the workplace for the better.
---
NearU has launched an award-winning app that connects employees to flexible desk space and meeting rooms, putting flexible working at your fingertips. Traditional office working is a thing of the past and working-from-home has a high impact on our mental health – NearU's pay-as-you-go booking platform lets you choose to work-near-home when you want, eliminating the need  for a commute, expensive office rental contracts, and giving you the freedom to do what works for you.