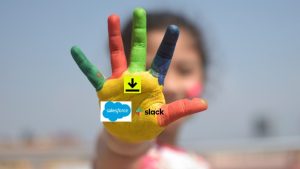 Salesforce has expanded its partnership with DocuSign. The intent is to create AI-enabled solutions that will automate the preparation, signing and managing of agreements. In addition to increasing organisational efficiency, it will provide a faster ROI for joint customers and increased collaboration for customers using Slack.
In combination, DocuSign, Salesforce and Slack are enabling organisations to realise their own digital HQ. The intent is to realise a collaborative digital workspace where employees, customers and suppliers can operate without paper with no requirement for physical interaction to complete operational processes.
The partners announced five joint solutions they would build across the DocuSign, Slack, and Salesforce platforms to achieve the above objective.  Notably, these solutions will all be built on the Salesforce platform, Salesforce Customer 360.
Ryan Aytay, Chief Business Officer, Salesforce commented, "Our partnership with DocuSign allows customers to succeed in the all-digital, work-from-anywhere world. Together, we're enabling our customers to streamline business contract workflows, reduce costs, and increase productivity in the new digital HQ."
What are they building?
Three of the solutions are available now, demonstrating that this partnership is already delivering benefits to their joint customers. Scott Olrich, COO, DocuSign added, "Salesforce has been an essential partner for more than a decade, as our joint customers have been transforming their business digitally.
"As we deepen our partnership, we're excited to offer customers new ways to solve emerging challenges from anywhere by bringing their agreement processes and agreement intelligence into the Customer 360."
Agreement collaboration with DocuSign and Slack platforms
The partnership aims to automate the end to end process of the contracting processes and make it accessible in the flow of work. The DocuSign eSignature for Slack enables users to generate and sign documents from within a Slack channel without accessing DocuSign. Users can send and sign documents from any device, access their template library to generate agreements quickly and receive notifications of signatures or actions from Slack rather than email. The solution is available on the Slack Directory already, with free and paid plans available.
The R&D teams are also working on DocuSign CLM for Slack, which will be available in 2022. This will integrate the DocuSign Agreement Cloud with Slack. No details were available about what this will do.
DocuSign Gen for Salesforce Billing
Announced back in March, DocuSign Gen for Salesforce Billing is available now, and more details are included within this video. Integrated with Salesforce Revenue Cloud, it enables the rapid generation of invoices within Salesforce Billing.
The solution enables the rapid generation of templated invoices. Once created, the user can preview and then send invoices quickly. Branded templates ensure consistency across the client base. It enables the raising of invoices at the point of sales, automating the quote to cash cycle and thereby accelerates payment and improves cash flow.
DocuSign Gen for Salesforce CPQ Plus
This solution, available now, enables organisations to leverage the agreement platform of DocuSign to create complex quotations and agreements for customers quickly. The entire process is accessible from within Salesforce without users having to switch to DocuSign. It speeds up the quotations process and increases the efficiency of the sales teams. Details of DocuSign Gen for Salesforce CPQ Plus is available on this video.
DocuSign Gen for Salesforce is listed on the AppExchange as a single product, and pricing starts at $20 per user per month. What isn't clear is whether this relates to the two above solutions. Both solutions support the creation of up to 12,000 documents per year per Salesforce customer org, though this is extendable for an additional fee
DocuSign CLM for Salesforce Field Service
Another future feature will automate Obligation Management by tracking, enforcing, and updating key contract terms across departments. DocuSign CLM can extract relevant terms and obligations from contracts and can then apply these to Service Cloud contract objects.
This ensures that modifications to standard terms during the contracting process are captured and passed automatically to the service teams without the time consuming, manual and frequently error-prone process that occurs during onboarding. Once released in 2022, this will be a significant step forward for many organisations looking to ease the pain of onboarding, where contracts are frequently personalised during negotiations.
Enterprise Times:  What does this mean
Just one of these new features will be appreciated by customers; delivering three now and two in the future is a huge boost to the partnership. While some pricing is unclear, the benefits that these solutions will deliver is big. For existing, joint customers, these new solutions will address several pain points.
The accuracy of the DocuSign CLM for Salesforce Field Service is the one thing that will need to be answered once it is delivered. What validation of contractual terms will take place? Will there be a checking process to complete the onboarding of contracts within the field service or procurement teams?
The announcement also brings the two companies closer together. While DocuSign has a market cap of $55.2bn could it become an acquisition target for Salesforce? As the dust settles on the Slack acquisition, Salesforce has shown that it can rapidly leverage the collaboration platform. T
his announcement sees it bring these technologies together before any potential merger. It would, however, be a huge deal. However, it is equally likely that Salesforce sees DocuSign as the right partner moving forward strategically for agreements. It will be interesting to see what else is on the roadmap, perhaps government contracts?