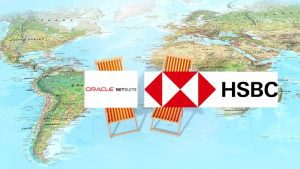 During its annual keynote, NetSuite is making four major announcements. Evan Goldberg, Founder and EVP Oracle NetSuite, gave a briefing ahead of the conference about the announcements. The first and possibly the most innovative is SuiteBanking. Goldberg claimed that it is the first time that a cloud-based ERP for fast-growing companies.
The announcement is the next generation of the Banking as a Service that NetSuite launched in October 2018. The important difference is that it has partnered with HSBC to deliver several new services. HSBC is the first SuiteBanking Alliance partner. That infers that more will follow, possibly in the coming months.
Goldberg commented, "Growing organisations cannot afford to have teams of people entering data, dealing with banks, monitoring transactions from multiple systems, and manually processing vendor payments. The time saved from automating these processes could be spent on strategic projects that help drive further growth for the organisation. SuiteBanking is the first step in bringing the worlds of ERP and fintech together. It will help our customers automate all of these processes in one single suite and increase visibility and control so they can maintain healthy cash flow as they grow."
SuiteBanking automates many of the transactions where companies interface with a bank for. Goldberg stated, "At the core of it is AP and AR automation, accelerating productivity through efficiency, less entering of data, less dealing directly with the with the bank, less manual matching of transaction."
Adding value to fast-growing businesses
This type of integration is not unknown in the software world. Xero has teamed up with several financial institutions to deliver automation and funding to small businesses over the last few years. Sage recently partnered with Tide for similar reasons. However, the complexity for a mid-market ERP solution to do this is much greater.  However, now that NetSuite has created the interfaces and worked through the inaugural integration, more should follow.
SuiteBanking extends the capabilities first offered within Banking as a Service, and NetSuite highlights seven features
Accounts Payable automation
This automates much of the AP process, leveraging AI, machine learning and OCR.  Purchase invoices are scanned and automatically allocated. SuiteBanking now supports three-way invoice matching and can automate outbound payments. Companies can use one of several payment options include ACH, debit or credit cards and a new virtual credit card. These processes help accelerate accounts payable processes increasing efficiency.
Accounts Receivable automation
Automating the account receivable process through offering a payment link on an invoice, backed by automated reconciliation processes, increases efficiency. NetSuite further supports AR teams with reminders and support for credit/debit cards, ACH transfer, or a third-party payment provider like PayPal. This reduces the time to payment, increasing cash flow. Goldberg also revealed, "There's a full portal called MyAccount, which lets them manage all of their invoices and other information that resides in NetSuite, 24×7, on the web."
Bank Reconciliation
Bank reconciliation is a notoriously time-consuming and tedious job.  SuiteBanking helps automate the AR process with increasing accuracy and efficiency.
Spend Management
Spend Management helps an organisation to manage corporate expenditure, matching purchase requests to budgets and including appropriate approval workflows for that expenditure. Reports enable manages and finance leaders to check potential overspend before approval.
Expense Management
NetSuite has extended the existing expense management capabilities with the SuiteBanking virtual payment card. This enables employees to pay expenses with a virtual payment card which automatically matches the expense transaction eliminating much of the administration. Customers using the virtual payment card can also generate cashback rewards if the card is used.
International Payments
A global wallet enables customers to make and receive payments from a single account in more than 60 countries. This means that accounts teams no longer need to identify and set up payment mechanisms in foreign countries. What isn't clear are the terms and fees due for this account.
Access to Working Capital
SuiteBanking also now includes an invoice factoring capability. It effectively means that organisations can turn invoices into cash before they are paid. This can significantly help with short term cash flow issues; though there is always a fee for doing so, it is often economically sensible. The global alliance partners will have visibility of NetSuite data for those businesses that sign up, to manage the risk associated with pre-payments.
Enterprise Times: What does this mean
SuiteBanking seems to combine many of the features that are already included within NetSuite Financials. However, the closer tie to initially one bank will see it open up far more opportunities for the businesses they support. Improving cash flow is often critical for fast-growing businesses. The AR automation and new working capital features are critically important for this.
What will be interesting is where NetSuite takes it next.  Will customers consider opening up their financials to potential investors? Can NetSuite help its customers find funding in the future through new facilities? NetSuite will almost certainly add more banks in the coming months, including, one suspects, a US-headquartered one, but will it also look to other financial institutions, possibly partner with some of the neo banks as well?