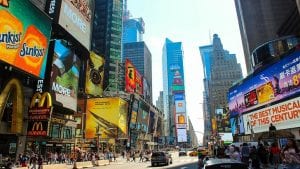 Salesforce has launched its Advertising Sales Management for Media Cloud, a new industry-specific application for managing cross-channel advertising sales. With Advertising Sales Management, cross-channel planning and execution, automated client reporting and campaign optimisation converge in a single platform. The company says it will help drive revenue for publishers.
Managing media complexity
Publishers such as online and print newspapers, social media platforms, streaming networks, television and radio stations, and retailers generate revenue by selling advertising campaigns to brands. As the number of advertising channels increases, so does the complexity of managing available advertising inventory and tracking campaign results.
Managing across an average of 23 systems can be cumbersome and error-prone due to frequent switching and distributed capabilities. What publishers need now is one streamlined platform that integrates workflows. A single platform where they can track campaign performance and view available advertising sales inventory from across a channels.
Salesforce Media Cloud's Advertising Sales Management application lets publishers accelerate advertising sales and streamline operations on a converged platform.
With Advertising Sales Management for Media Cloud, publishers can maximise advertising revenue by bringing together media planning across channels.
Advertising Sales Management for Media Cloud
The platform analyses campaign performance from multiple first- and third-party sources. This includes:
Growing Advertising Sales with a Unified Platform. Normally, when publishers run a campaign using different media channels, such as digital, audio or television ads, they have to log into different systems to book and run the ads. With Advertising Sales Management, they have a single platform to plan and monitor campaigns across different formats and platforms. There is no need to jump across different systems — ultimately reducing time spent logging into different systems.
Streamlining Ad Operations and Sales with Automation. Publishers with legacy systems are burdened with manual processes and data entry. This includes inputting data from insertion orders into different linear and digital systems. This can often be error prone, resulting in costly makegoods, such as advertising credits and ad re-runs. With Advertising Sales Management, data can flow across advertising systems consistently. Automated approvals along the workflow can be configured to provide visibility at each phase of the campaign.
Optimising Campaign Performance with a Single View of Truth. Embedded analytics and dashboards provide timely, actionable insights, all in a single view. This helps optimise campaign performance. Publishers can easily fix pacing and campaign performance problems in real time. While sales teams can analyse historical performance to uncover upsell opportunities, like recommending new and niche channels for incremental reach. For example, while a campaign is running, publishers can monitor if one channel running ads is underperforming. They can re-allocate remaining resources from that underperforming campaign to another channel that is performing more strongly. As a result, maximising their return on investment.
A room with a view
Publishers now have a converged view of all their advertising channels across various channels. "We understand the complexity that comes with managing advertising sales in today's increasingly digital world. Especially with publishers managing data across many different advertising channels and formats," said Christopher Dean, VP and GM, Media Cloud. "With our solution, we're giving publishers one simple platform to help their teams manage everything in one place."
"Sales operations automation is a key area of need in today's market," said Karsten Weide, Programme Vice President, Media & Entertainment, IDC. "Media companies need the right technology in place to simplify the complexity from RFP ingestion to post-campaign reporting," Weide added.
Publishers like Sony Pictures Networks India (SPNI) will begin implementing Advertising Sales Management for Media Cloud. SPNI reaches 700M viewers with 26 channels across 167 countries. SPNI will use Advertising Sales Management to modernise its systems, unify data sets from multiple channels, and sell smarter.
Several Salesforce partners are now equipped to implement Advertising Sales Management for Media Cloud for publishers globally. This includes global strategic partners like Accenture, Deloitte and PwC. In addition to partners like dentsu, Shift CRM — a Silverline Company, and V2 Strategic Advisors.
Enterprise Times: What this means for business?
It sounds really good news on paper. A new platform that allows publishers to manage digital and traditional advertising sales planning, execution and measurement — all in a single view. However, there are so many new and emerging formats in digital advertising. These new formats jostle for consumer attention with traditional ATL and BTL marketing, social media and other mainstream advertising. And unfortunately, Salesforce has been very thin on the actual advertising formats that can be integrated into the Advertising Sales Management for Media Cloud solution.
Moreover, what will be the role of media buying companies within this new environment? Will brands still require the services of such companies? They now have access to a platform that manages and automates that role and makes such companies redundant. There are far too many loose ends regarding this announcement. Needless to say, we will have to wait for the proof in the pudding. i.e. The real use case from the likes of Sony Pictures Networks India. Will Salesforce's new solution truly provides businesses with a room with a view! Or at least a dashboard with real-time campaign metrics and performance availability.