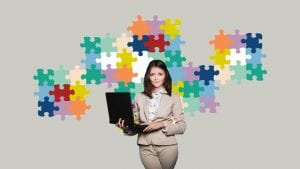 Profi has announced the launch of its professional services platform. The platform enables professionals, including coaches, trainers, consultants and therapist, to automate processes from sales to revenue. The platform works for individuals through corporations
Alina Trigubenko, founder and CEO of Profi, commented: "Traditional tools are fragmented and don't take into account the unique needs of today's busy, remote working professionals and their clients. We have been working with fellow professionals and their clients from a variety of sectors to design what they need in a comprehensive solution, and then we developed a secure, easy-to-use platform that addressed those needs. There is no other all-in-one platform that is specific to this niche."
Profi is a name people will not have heard before, mainly because the company up to last week was known as Awarenow. The rebrand aligns the brand with the solopreneur and the larger teams it markets to. The announcement coincided with the arrival of Adam Miller as Executive Chairman of Profi. Miller was the founder of Cornerstone OnDemand and is still the Exec Co-Chairman there.
Who is Profi for
Hosted on AWS and currently available in the US Region only, it includes a wealth of features to support professional services business. The list of sectors it aims to cover is broad; the press release mentions
training
accounting
financial services
legal
marketing
HR
wellness
coaching
healthcare and more.
However, while the functionality is extensive, Profi should probably focus on its core market rather than extending into legal and accounting especially.
Profi already has several international customers, and the platform is available in English, French, Italian, Russian, Spanish, Arabic. The solution is already hosted locally with partners in Europe and the Middle East. This enables customers to comply with local data protection regulations. In the future, it is planning to roll out Portuguese, German and Chinese.
What does Profi do
Profi appears to have an incredibly extensive functionality already
An appointment booking solution that is integrated into both Outlook and Google Calendar.
A secure, HIPAA compliant video conference solution embedded on the platform enabling remote consultations. There is also an integration with Zoom.
A CRM solution that will include online messaging, document sharing, contact management and a quotation, invoice and payments solution. Some features are still in development.
The ability to create interactive contents and courses with progress tracking and questionnaires.
A client portal that enables collaboration with clients.
Landing page for each service.
Several features support multiple user and professionals for organisations with more than one person, including the booking system. Company details such as branding and calendar are shared so that a company standard is adhered to.
Profi has already developed several integrations. These include payments engines such as PayPal and Stripe. One omission is accounting systems. Profi informed Enterprise Times that integrations to Oracle NetSuite and QuickBooks are in development.
A free trial for 30 days is available, and pricing for a solopreneur starts at $49 per month for 25 clients. The price increases to $79 for 100 clients, and the premium level is £149 per month with an unlimited number of clients. Pricing is available on request for teams. This seems expensive, especially the entry-level subscription. Competitor solutions are cheaper and 25 seems a low limit unless that is the number of active clients per month.
Enterprise Times: What does this mean
Profi intends to bring a complete solution to the market for professionals. While the system is comprehensive, the lack of integration to an accounting solution is an obvious omission. The question is will Profi target the smaller businesses alongside QuickBooks or larger organisations alongside NetSuite. It also needs to consider integration to Xero, Sage and perhaps some of the SaaS bookkeeping solutions.
Miller commented: "Profi was built by service professionals for service professionals. A lot of professionals struggle with finding and using technology to support their business. The lack of purpose-built solutions in the market has cost professionals time and money due to inefficient and outdated technology. Profi fills the gap with an elegant solution to help professionals and professional service companies scale their businesses."
It is also to forget that Profi already has a considerable user base, including some reasonably sized companies. Reviews on G2 indicate the platform is well-liked and has made a positive difference to any organisation.
Michael Kearns, Director at Scottish based Uxl Limited, commented: "The Profi platform has transformed our business model and the direction we are taking our company. We are building a community of coaches and consultants with a shared identity and purpose. We are excited about the future and working with our partners at Profi."
With a newly enlarged marketing team and the involvement of Miller, this could be a company that explodes in growth. Certainly, one to keep an eye on and consider if you are looking for a business platform.