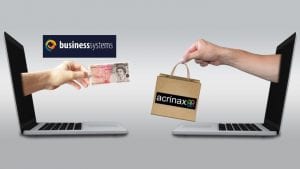 Business Systems (BSL) has acquired Contact Centre-as-a-Service ("CCaaS") and Workforce Engagement Management ("WEM") solutions vendor acrinax. Terms of the deals were not announced. However, the acquisition was funded by the investment that August Equity made in the business earlier this year. Mickey Patel (Partner) and Richard Muckle (Director) from August Equity commented: "acrinax will combine efforts with BSL in penetrating the high growth CCaaS space. This acquisition builds scale in the group and completes another pillar for BSL to create a broad set of services to its mid and large enterprise customer base."
Who is acrinax
Acrinax delivers services built primarily on the Genesys Cloud Platform. This includes the innovative chat technology it has built, which delivers real-time translation, acrinax chat. The solution supports over 100 languages. With an impressive customer roster that includes Ao.com, the Dentsu Aegis Network, and Skanska, this will bring a new target list for BSL solutions. The question is whether BSL will also support the Genesys platform, its own, as well as the NICE platform.
What acrinax does have is a strong engineering and consulting team. This will help boost BSL's capability to assist clients in migrating contact centres to modern cloud-based technology. According to its site and LinkedIn, it will bring 16 employees across to BSL. These will include its founders, Damian Bowen, David Baughan, and Andrew Jacobs, who will join the BSL leadership team.
Damian Bowen, Director of acrinax, stated: "The coming together of acrinax with BSL, will enable us to deliver even more strategic and transformational Contact Centre solutions to our combined customers. Migrating to the cloud is right at the top their priority list and this partnership will enable us to deliver this strategic transformation for all of them. This, along with providing new opportunities for our staff, is why David, AJ and I are extremely excited at the prospect of working with Adam and the whole team at BSL."
Why acquire acrinax
Adam Kantor, CEO of BSL explained the reasoning behind the acquisition. He stated: "Joining forces with acrinax is a logical step for us and brings additional depth to what we can offer to our customers as they look to transform their contact centres with best of breed solutions. Combined with our existing Cloud Contact Centre and Workforce Engagement Management practices and backed by our long history of providing Monitoring & Compliance services to the world's largest financial institutions, we will continue to increase the value and innovation we bring to our customers.
"This is a very exciting day for us, and we are proud to announce that AJ, Damian, David, and the rest of the team are joining the family. This was a strategic decision for us, and we will continue to look for selective acquisitions that bring unique strengths and accelerate our growth journey."
There are some questions about what the combined company will offer around contact centre platforms. Also, what is the future of acrinax chat? Will BSL extend and integrate it to the other cloud platforms they use? and what does the product roadmap look like?
Enterprise Times: Whats does this mean
In its own right, this increases the customer portfolio of BSL with more blue-chip customers. BSL has brought three experienced leaders into the company, which should help it grow further. It is also a signal that August Equity is willing to invest in growth through acquisition. It will be interesting to see how the integration of these firms services and products evolves. Also, what type of company BSL looks to acquire next. Both companies work with international customers, but as yet, there is no presence in any foreign country. Will BSL continue to acquire technology companies in the UK, or will it expand into Europe or beyond?