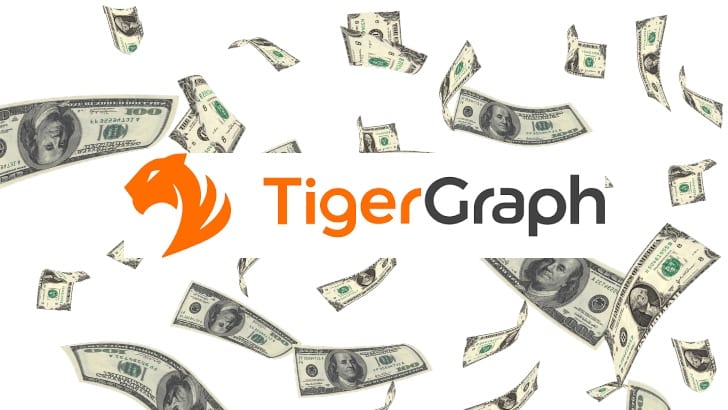 TigerGraph has raised the largest amount for a Graph Analytics company, raising $105 million in a Series C funding round. Hitherto, the $80 million raised by Neo4J in 2018 in its Series E funding round was the largest. While the two amounts are not dissimilar, TigerGraph getting that amount in Series C is a reflection of the growth of the Graph Analytics market. Marketandmarkets estimated that the market could grow to $2.522 billion by 2024 at a CAGR of 34%. Those figures were also pre-pandemic, and the growth rate may have increased.
Tiger Global Management LLC led the funding round. The name similarity appears to be a coincidence rather than having any direct connection between the two organisations. Oddly TigerGraph did not reveal any other participants in the round, either in the press release or when asked. Nor did it reveal whether Susquehanna International Group (SIG), the lead investor in its previous round participated, or exited. It did reveal that the round was oversubscribed, but it is not clear whether Tiger Global will have a presence on the board or act solely as an investor. This amount brings the total funding raised by TigerGraph to $170 million. It did not reveal an updated valuation.
Funding for growth
TigerGraph has continued to push the boundaries of Graph Analytics in the cloud over the last few years. In 2018 it made its platform available on AWS. Since then its growth has been meteoric. It has more than doubled its revenue and its customers in the last year. With COVID accelerating digital transformation across organisations, the amount of data to analyse has grown exponentially. This is where the TigerGraph cloud-based Graph analytics solution can deliver significant insights. The TigerGraph platform is also recognised as a market leader. Forrester gave it top scores in five categories in the recent Forrester Wave for Graph Data Platforms.
Enterprise Times asked TigerGraph how it would invest. The response was: "The company decided to take more investment to speed up our growth and expand the TigerGraph ecosystem globally, build cross-cloud product offerings and further develop its core technology as graph is foundational to advanced analytics, machine learning and AI applications."
TigerGraph will make its solution available on Google Cloud Platform in March 2021. It is also planning to build out support for additional regions on AWS and Azure. To support that growth, it plans to hire local support in Asia and ANZ. Whether that is through partners or a direct presence is unclear. While TigerGraph noted in the press release that it would hire in the Americas, EMEA and APAC, its current open positions only reflect the first two. It has 46 open positions in the US and 10 in EMEA as of writing. The number of open positions is significant. They are also across all functions including service, sales, marketing and R&D, indicating that the company should rapidly expand in the next year.
The importance of Graph Analytics
As the Market data shows, this is an important category. TigerGraph is now well poised to take advantage of the demand. As Mark Beyer, Distinguished VP Analyst with Gartner said: "By 2023, graph technologies will facilitate rapid contextualization for decision making in 30 percent of organizations worldwide." His words followed the publication of a report, the title of which was even more bullish: "To Graph or Not to Graph? That Is Not the Question — You Will Graph."
TigerGraph is one of the organisations championing Graph technology. It is on the steering committee for GQL alongside other database vendors such as Neo4J, Oracle, SAP and Amazon. It organised the first open industry conference Graph + AI Conference, the sessions from which are now available on-demand. Speakers were from different industries and software vendors.
Dr Yu Xu, founder and CEO of TigerGraph commented: "For over 40 years, business's #1 data management challenge has been how to easily ask business questions across all of their data in real-time to guide their operations. The human brain connects data to derive new insights and helps us decide what to do next. TigerGraph's mission is to power an enterprise brain with graph and AI that discovers these new insights within the enterprise data stored in the cloud and on-prem. TigerGraph is leading the paradigm shift in connecting and analyzing data via scalable and native graph technology with pre-connected entities versus the traditional way of joining large tables with rows and columns. This funding will allow us to expand our offering and bring it to many more markets, enabling more customers to realize the benefits of graph analytics and AI."
Enterprise Times: What does this mean
$105 million is a significant investment for a rapidly growing company. The question is, how quickly can it grow. Neo 4J may seek additional, even bigger funding and larger companies such as Oracle, SAP, Microsoft and Amazon all have competing products. While TigerGraph will need to expand internationally to capture a greater share of the market, it will also need to invest in its product to maintain a lead over its rivals. This funding should enable it to do so. The big question is what it will invest in? The release indicates the investment in infrastructure for global expansion but gives less detail about product.
TigerGraph has consistently innovated over the last few years, but there are several avenues it can now take its product. Will it choose to strengthen the vertical industry intelligence it already has or introduce new applications of AI into its platform. 2021 could prove to be an interesting year for the company in terms of expansion and innovation.