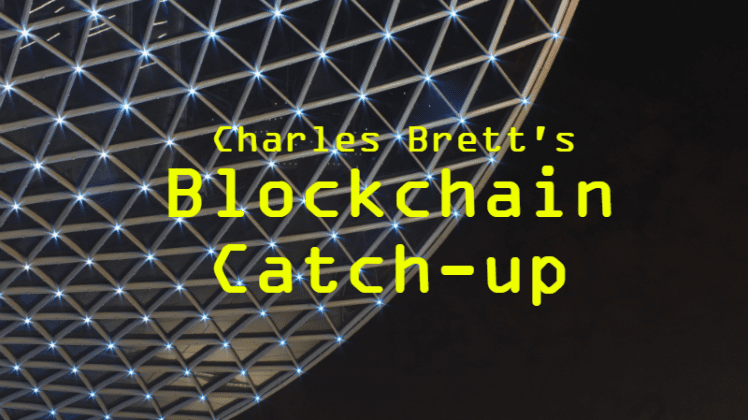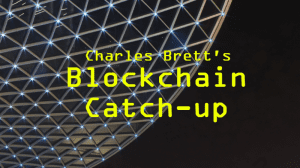 This is a Charles Brett's start-of-the-week Enterprise Times 'blockchain catch-up' for Week 44. Necessarily it is idiosyncratic and selective.
It is not intended to be comprehensive but does seek to highlight 'Quick Takes' on specific developments as well interesting pieces to read, a listing of some (not all) announcements/press releases and pointers to upcoming events.
Quick Takes – Charles Brett's Blockchain Catch-up Week 44
Don't sleep on China's new blockchain internet 
U.S. national security policymakers are working aggressively to push back China's global market advance in 5G and artificial intelligence technology. Meanwhile, the Chinese Communist Party (CCP) is progressing unfettered in a parallel technological campaign: expanding global blockchain infrastructure (via a BSN or Blockchain Service Network).
According to the BSN website, the network's purpose is to become the "blockchain Internet." CCP leadership believes that blockchain technology offers a foundational infrastructure for future technological innovation and that China should set the global standards in that arena. … The BSN describes itself as a "cross-cloud, cross-portal, cross-framework, global infrastructure network." Essentially, it is the plumbing for people to run decentralized computer systems via the network.
Quick Take: According to Lawfare "The BSN charges several hundred dollars per year for server space that would cost developers tens of thousands of dollars if it were provided by Amazon Web Services (AWS) or even the private Chinese internet firm Alibaba. … The CCP's pitch is that the BSN uses a distributed system to take advantage of traditional server architecture and innovate beyond it. … The elusiveness of global blockchain adoption is exactly why China's strategy deserves attention. For one, the BSN is trying to significantly reduce the input costs of blockchain development, which would increase cost-savings and help keep blockchain projects alive as they seek users and profitability." For those hoping that China might lag in blockchain developments, this analysis suggests the reverse. A well worth while read.
IBM Food Trust broadens QA to more olive oil brands on a blockchain
More olive oil producers are joining IBM Food Trust to help ensure product integrity and protect against fraud. Conde de Benalua, a co-operative in Spain made up of more than 2,000 farmers, and Rolar de Cuyo, an olive oil supplier in Argentina,  are using IBM Food Trust on IBM Cloud to trace the lifecycle of their products and to provide traceability, authenticity and quality for consumers. They join the Terra Delyssa brand olive oil, and I Potti de Fratini, a family-run oil mill in Italy, which joined IBM Food Trust earlier in 2020.
According to IBM "Using blockchain technology, these companies from around the world are promoting greater consumer trust in their olive oil and working to create a more efficient and transparent supply chain. Consumers' demand for transparency and general distrust have been driven by recent reports of olive oil counterfeits and adulteration. That trend is reflected in a broader context, according to a recent IBM Institute for Business Value study, which found that 73% of consumers will pay a premium for full transparency into the products they buy."
Quick Take: There are at least three facets to this: the integrity of olive oil quality; the blockchain technology; and the consumer. Enterprise Times has discussed the first elsewhere. The use of blockchain technology makes sense in principle. But… Whether consumers really can be bothered to run the desired quality and sourcing checks remains one of the great unknowns. Certainly, consumers should do this – to ascertain where premium EVOO (Extra Virgin Olive Oil) comes from. Will they?
CertiK launches QuickScan to analyse smart contract security
CertiK, a vendor of end-to-end cybersecurity solutions, has launched QuickScan. This is security toolset which seeks to exploit automated scanning to check deployed smart contracts against a wide range of known vulnerabilities. The result of a scan is a highly accurate smart contract security score.
Daryl Hok, Chief Operating Officer of CertiK, said, "Depending on the complexity, with QuickScan, it is estimated that it will take 40-60 minutes to complete a smart contract analysis. Risk levels are indicated through real-time security scores, with lower scores signalling a higher potential for hacks and malfunctions. Through a combination of cutting edge security tools and products, and an unrivalled team of cybersecurity experts, CertiK is paving the way for new security standards in blockchain and beyond. With unparalleled security, accuracy, and speed, the development of QuickScan will help reduce the impact of system vulnerabilities in blockchain-based platforms. While security experts still play a crucial role in analyzing complex systems and carrying out full formal audits, QuickScan, along with CertiK's other security-focused products, will help increase the speed and accuracy of security auditing."
Quick Take: Similar to security service endpoints, CertiK appears to use a combination of static and dynamic security primitives. Focused on different security areas (whitelist, blacklist, quality, bytecode and source-code) and implemented via proprietary technologies and tools, each security scan delivers scores which add up to produce a final security evaluation result. With smart contracts being a singular point of vulnerability – because contract terms are implemented in code – anything which can minimise smart contract risks has to have value.
7 pieces to read – Charles Brett's Blockchain Catch-up Week 44
Selected announcements/press releases – Charles Brett's Blockchain Catch-up Week 44
Selected upcoming events